How One V/H/S/99 Entry Paid Homage To Phantasm [Exclusive]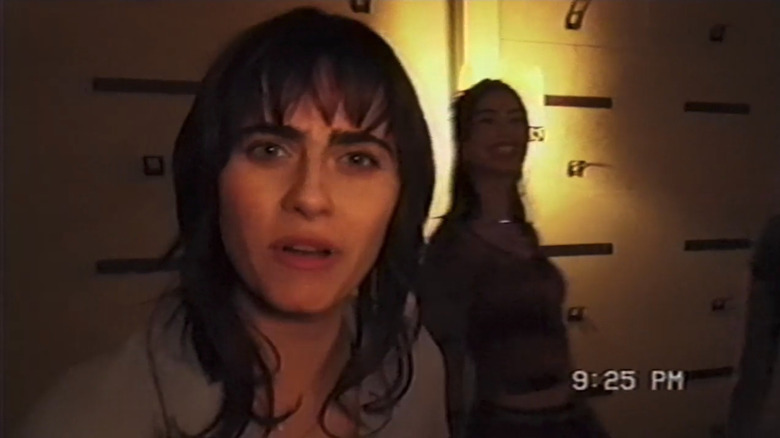 Shudder
Whether they're seasoned filmmakers or voices on the rise, the "V/H/S" series has been a great den for all sorts of talent to try their hand at a miniature horror story. Horror anthologies have been going strong for decades, but it really wasn't until 2012's "V/H/S" where the concept was crafted to fit the mold for found footage. Since then, the series has ushered in five feature films. 
The most recent entry in this series, "V/H/S/99" features another fun list of names, but the entry that stands out is "Suicide Bid," which happens to be come to us from director Johannes Roberts.
Roberts is a name that may not immediately stand out, but he's been making a name for himself in the world of horror. I don't share much love for "Resident Evil: Welcome to Raccoon City," but at the same time, I consider "The Strangers: Prey At Night," one of the most underrated slashers of the 2010s. It's a film which /Film's Chris Evangelista even describes as a "schlocky slasher showcase."
The segment that Roberts was responsible for partially takes place in a mortuary, which inspired him to pay tribute to a classic late '70s horror flick.
The ritual is about to begin...PLEDGE!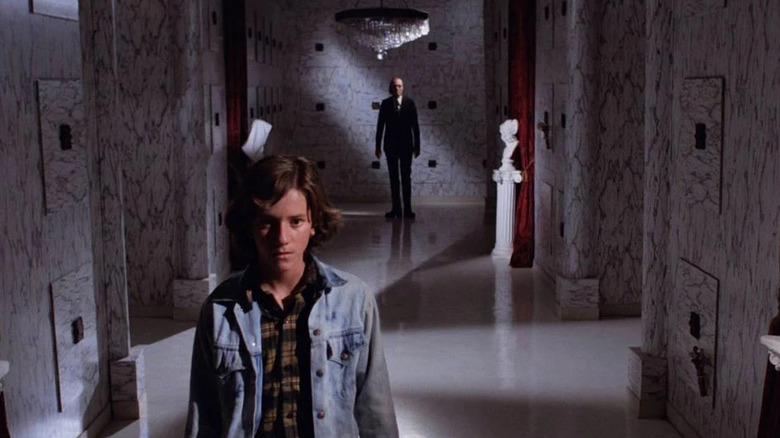 Embassy Pictures
"Suicide Bid" sees a college freshman named Lily (Ally Ioannides) seeking to pledge herself to the most notorious sorority on campus. The heads of Beta Sigma Eta guide their newfound pledge to her hazing ritual, which requires Lily to spend the night in a coffin. That's already a whole lot of nope, especially since the ritual was born from an urban legend that has come to associate itself with the sorority.
Right before the Beta Sigma Eta girls guide their pledge to her claustrophobic nightmare, they take a quick stroll through a mortuary. The decision to film in one was a request at the hands of Roberts because he wanted to pay tribute to Don Coscarelli's 1979 dreamlike chiller "Phantasm."
According to an exclusive interview with /Film's Jack Grioux, Roberts mentioned that while shooting in Pasadena, he just had to include it. Roberts said:
"I've been there before and the actual mausoleum there just made me think, 'Oh, 'Phantasm.' Got to have it.'"
While the mausoleum doesn't feature flying silver death spears, the creepy California location did, however, come with its slightly own version of the main antagonist from "Phantasm," which /Film's Jacob Hall describes as "horror's weirdest, wildest, silliest crown jewel."
The SAG-registered Tall Man was a big help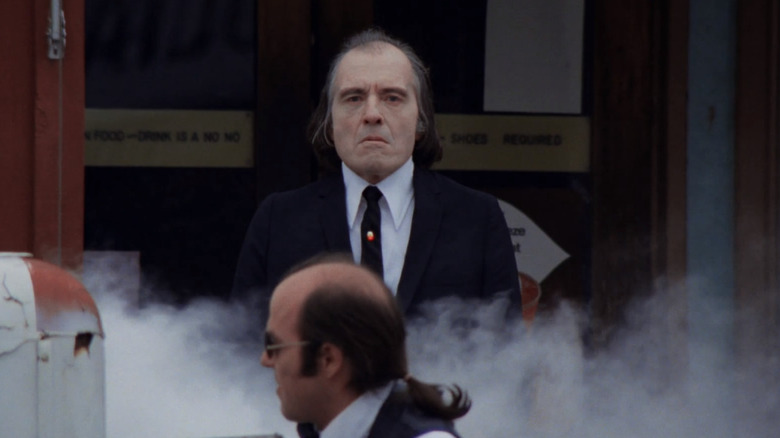 Embassy Pictures
The face of Coscarelli's "Phantasm" series is that of an enigmatic figure from another dimension known as The Tall Man, who was creepily brought to life by the late Angus Scrimm. When Roberts went to go see the mortuary location he would be shooting at, it turned out that he had his own guide who carries a very notable distinction:
"They have this guy that every time you go there, he goes, 'I am the only SAG-registered funeral director in America.' [Laughs] But every time you go back, he forgets that you were there yesterday and he's like, "I am the only, the only SAG-registered funeral director in America." And I'm like, 'Yeah, yeah, we got the spiel yesterday, just show me the grave, man.'"
Thankfully, Roberts and the director got along nicely, and even gave the "47 Meters Down" filmmaker free rein to explore the area as he saw fit. You may have even seen the Mountain View Mortuary used with other productions such as Netflix's "Lucifer," but Roberts uses it to great effect here.
Mortuaries are inherently scary, especially at night with only a select few lights on – not to mention the content beneath the walls. "They have all these remains [that are] hundreds of years old, like little kids and stuff ... It's a freaky place to go," says Roberts. Being in that environment sets a chilling mood for the claustrophobic horror that "Suicide Bid" ramps up once it gets going.
"V/H/S/99" is currently streaming on Shudder. There's also already a new installment on the way, titled "V/H/S/85," which features such directorial talents as David Bruckner, Scott Derrickson, and Gigi Saul Guerrero.