Tenoch Huerta Hopes Black Panther: Wakanda Forever Isn't The End For Namor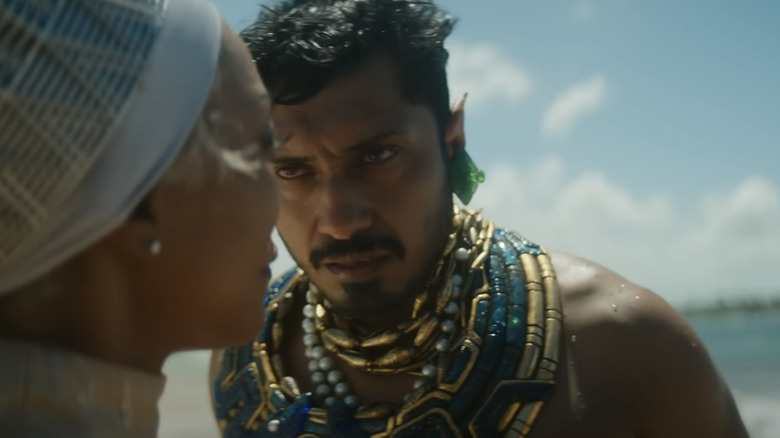 Marvel Studios
Though the character has traditionally been portrayed with wings on his ankles, it's been a long swim for Namor the Sub-Mariner to the big screen. In "Black Panther: Wakanda Forever," Namor is finally set to make his live-action debut after years of false starts on his own solo film and a web of "complicated" rights issues, as Marvel Studios president Kevin Feige has described it. For Tenoch Huerta, the actor portraying Namor in "Wakanda Forever," there's a hope that this won't be Namor's last appearance onscreen, either.
Namor's comic book history actually goes all the way back to 1939 when he made his first appearance in "Marvel Comics #1," published by Marvel's predecessor, Timely Comics. Development on a Namor movie first began a good 25 years ago, with Variety reporting in 1997 that Philip Kaufman ("Invasion of the Body Snatchers") was putting together a deal with Marvel to bring the character to the big screen. This was even before "Blade" paved the way for "X-Men" and the many Marvel movies of the new millennium.
Speaking to Total Film magazine (via The Direct), Huerta responded favorably to the idea of Namor showing up again after "Wakanda Forever," as you would expect any actor who likes working to do. When asked if Namor could appear in other spin-offs or crossovers, Huerta said:
"I hope so! I hope so!! Because I want a bigger contract! I want more zeroes in my contract! No, I'm joking. I mean, the mythology around Namor is huge. You can be crazy with all this cultural aspect, and you can create a lot of things with Namor, because they take a fantastic source of stories and mythology and religion and everything. So I hope they decide to keep going with the character, past its own story or whatever."
Namor may be in the Hulk boat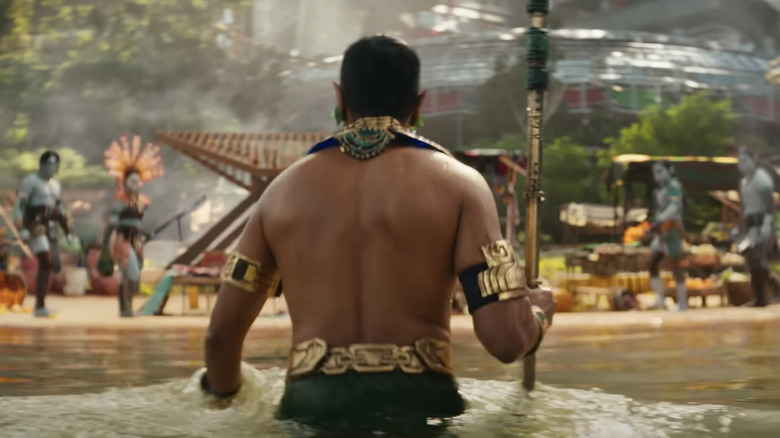 Marvel Studios
In the comics, Namor was a member of the Illuminati, a group that showed up, however briefly, in "Doctor Strange in the Multiverse of Madness." He's also had some history with the Fantastic Four, including a romantic interest in Sue Storm, aka the Invisible Woman, wife of Reed Richards, aka Mr. Fantastic, played by John Krasinksi in "Multiverse of Madness."
With Namor taking on an antagonistic role in "Wakanda Forever," you'd almost expect Marvel to kill him off after one movie, the way it has with so many other villains. However, this character is not strictly a villain, but rather an antihero whose motivations sometimes involve bearing a grudge against the surface world because of its pollution of the oceans.
With a "Fantastic Four" movie now officially in development at Marvel Studios, maybe we'll see Namor pop up again in that corner of the MCU. The rights to the character seem to have landed back at Marvel circa 2016, but based on what Feige has said in previous interviews, it sounds like Namor might be in the same (again, "complicated") rights boat as the Hulk in that the studio can use him as a supporting character but not necessarily have him headlining his own solo films.
One thing's for sure: Namor is definitely in "Black Panther: Wakanda Forever," which hits theaters on November 11, 2022.