Namor's Motivations In Black Panther: Wakanda Forever Are 'The Opposite' Of Aquaman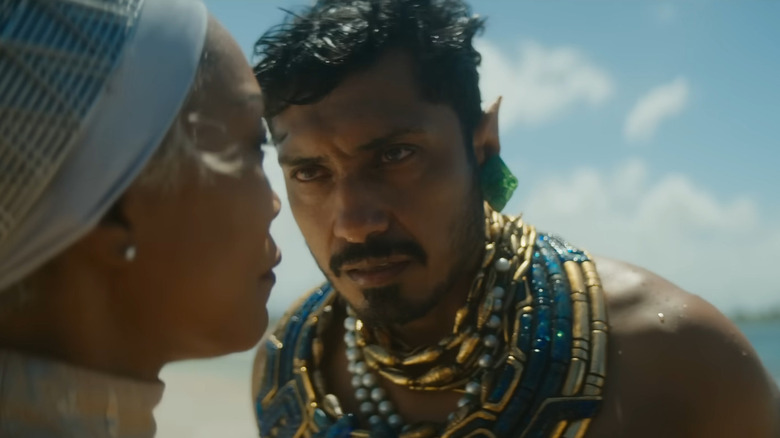 Marvel Studios
They're both underwater rulers, come from the pages of a comic book, and have superpowers. However, Marvel's Namor (Tenoch Huerta) and DC's Aquaman (Jason Momoa) are very different characters with very different motivations. We're going to meet Namor in the upcoming film "Black Panther: Wakanda Forever," and a new feature in the November 2022 issue of Total Film (on sale October 13, 2022) gives us a bunch of new information about him. 
Namor, also known as the Sub-Mariner first appeared in Marvel Comics #1 in October 1939, two years before Aquaman's premiere. In the comics, he's half Atlantean and half human, though in the Marvel Cinematic Universe, Namor is the ruler of the underwater kingdom Talocan. The fictional nation will be coming into conflict with the African kingdom of Wakanda. 
In the feature, Tenoch Huerta said that Namor is a mutant as he is in the comics. He can breathe underwater and on land, unlike others in his kingdom. As we saw in the trailer for "Black Panther: Wakanda Forever," he has wings on his ankles and can use them to fly. Huerta told the publication that they changed some things from the comics and that his version of the character is "more angered." He said:
"But at the same time, he's [also] sensitive. He has this philosophy that the king is not a ruler. The king is the first servant of the people. He has to serve his people. He has to protect his people. This aspect is new for the character."
'Namor is very different from Aquaman'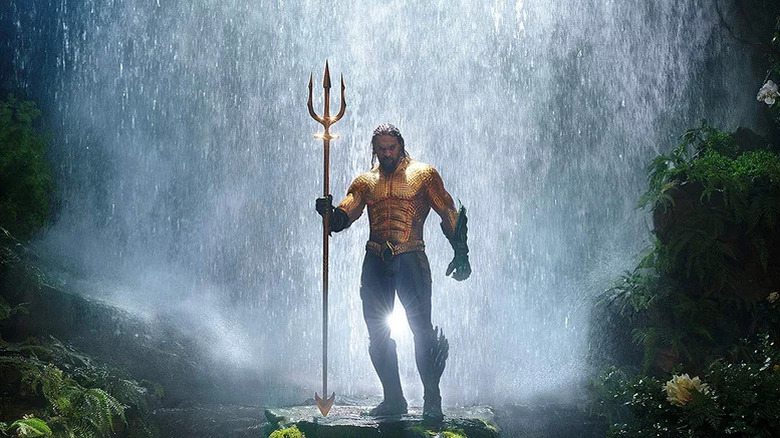 Warner Bros. Pictures
Huerta was asked about whether he thinks people will compare him to Jason Momoa's Aquaman, and it would be really hard not to. We don't see a lot of underwater kings, and to have two of them in upcoming films ("Aquaman and the Lost Kingdom" will be released December 25, 2023) means comparison is inevitable. Huerta explained the difference: 
"Namor is very different from Aquaman. Jason is a fantastic actor, and he's great at making that character. These two characters are so different. Their motivations are the opposite. I mean, it's an honor to be compared with different actors, but I think that, this time, people are going to find that we are speaking about different things."
When he speaks about motivation, they are very different. In fact, Namor's motivation is more like another character in "Aquaman." While Arthur Curry aka Aquaman is trying to protect the world on dry land, Orm (Patrick Wilson) is focused on the world under the sea. Namor is going up against the surface world, just as Orm does. 
Wakanda vs. Talocan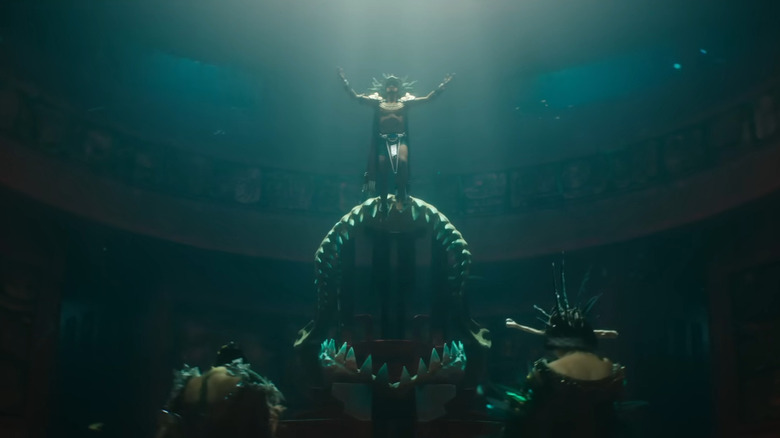 Marvel Studios
That will bring him into conflict with Wakanda, protecting the kingdom they've just opened up to the world, and reeling from the death of T'Challa (the late Chadwick Boseman). Producer Nate Moore told Total Film that the conflict has something in common with "The Godfather," and the idea of "families at war. Because this movie is very much about Wakanda finding an equal to itself and Namor's world of Talocan." 
He continued:
"But these two isolationist nations that are incredibly powerful — probably more powerful than any other nations in the world — [are] figuring out how they can both co-exist. The film is very much about Wakanda opening up its borders to some degree, and impacting Namor's world in a way that's unexpected. Namor kind of comes to Wakanda with a proposal that's not unlike, you know, one of the five families coming with a proposal. And Wakanda is having to figure out how to negotiate with this world power that isn't afraid of it, frankly."
As to what that proposal will be — whether it involves the heart-shaped herb growing in the water, a need for vibranium under the water, or anything else, we'll have to wait and see. 
"Black Panther: Wakanda Forever" will hit theaters on November 11, 2022.