How Black Adam's Most Surprising Cameo Came Together [Exclusive]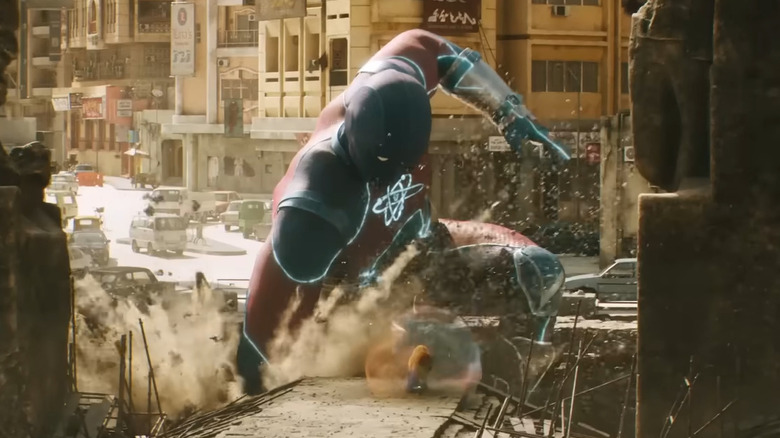 Warner Bros. Pictures
This post contains spoilers for "Black Adam."
"Black Adam" is finally in theaters after a very long wait. Not only are we seeing Dwayne Johnson as the titular anti-hero, 15 years after his role was first announced, but the film features the first live-action big screen appearance of the Justice Society of America. The group going up against Black Adam includes Doctor Fate (Pierce Brosnan), Hawkman (Aldis Hodge), Cyclone (Quintessa Swindell), and Atom Smasher (Noah Centineo). 
Atom Smasher is one of the younger and newer members of the JSA. He even thinks he needs a passport to get on the jet to Kahndaq, the fictional Middle Eastern country where Black Adam is causing chaos. While this may be his first big outing with the group, Atom Smasher, aka Al Rothstein, has a family history in the superhero game, as you can see from the short but wonderful cameo early in the film.
I recently got a chance to speak to "Black Adam" producer Hiram Garcia about the moment and the actor who plays him.
All in the family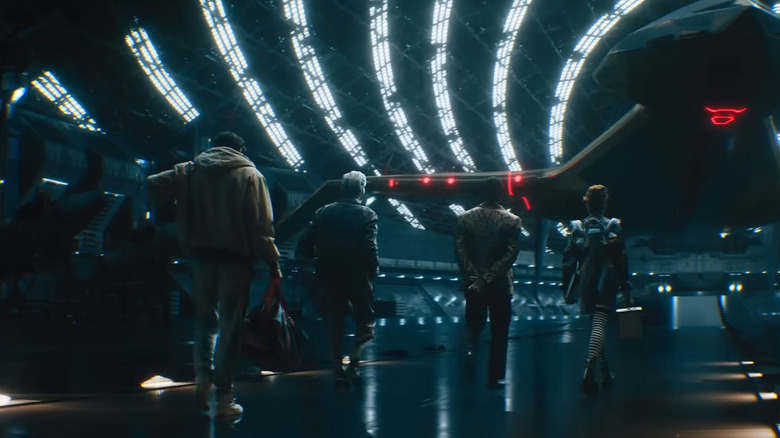 Warner Bros. Pictures
If you've seen the film, you know that Atom Smasher's uncle (godfather in the comics) Al Pratt is played by none other than "Happy Days" and "Barry" actor Henry Winkler. Al Pratt is the superhero Atom, once a regular college student who gained size-changing superpowers. (Rothstein's grandfather is also part of this world as the supervillain Cyclotron.) Atom was a founding member of the JSA in the comics. 
Garcia told /Film that as they went through different iterations of the film over the years, they carefully worked on how much backstory they could give the characters they chose to use. He said: 
" ... we wanted to have a little moment where we acknowledged that relative of Atom Smasher that was an original part of the JSA, and has history with Noah. So we wanted to get someone that would get the fans excited, who was charming and fun, and Henry [Winkler] came in and just crushed it. We only had him for a little bit, but he went, he recorded that stuff, it plays so well with Noah, Noah is so engaging, and you just love watching him on screen. We were so happy with the way that scene turned out, and it was just enough to give a nice bit of history and also add the stakes for Smasher."
It's a touching moment, where you can see how badly Atom Smasher wants to live up to his family history. The good side of it, anyway. 
Making Atom proud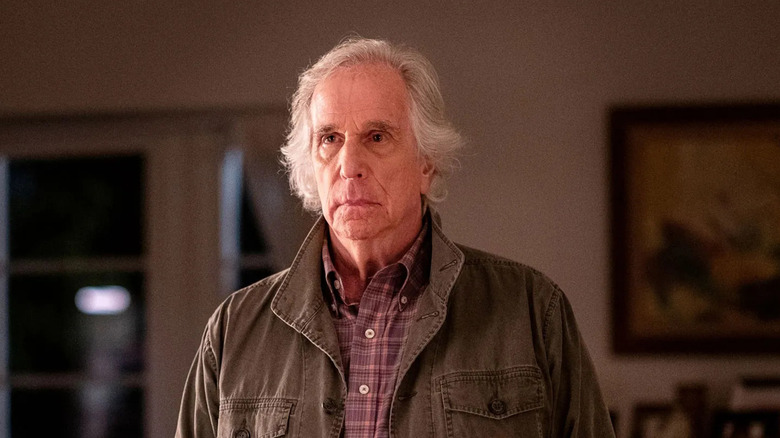 HBO
Here's what Garcia said of Atom Smasher's motivation and what this cameo scene meant for the character:
"[Atom Smasher] really wants to make sure he makes his uncle proud, he makes his family proud, and he is also aware that there's some darkness in his family history — that while his uncle was a hero, there's another relative of the family that was a villain. And we wanted just the slightest elements of that to show in terms of Atom Smasher really wanting to find a path and do what's [right] while also trying to plant seeds at how intrigued he is by Black Adam and how Black Adam functions in that universe."
Garcia also mentions that there are some moments in the comics when Atom Smasher and Black Adam come together "that makes for a very interesting pairing with these two." He said that this plants seeds for the future, if they get to move forward with the group. In the comics, the two have bonded over and dealt with the ramifications of their disagreements with the moral code of the JSA, which certainly offers intriguing possibilities for future installments. 
"Black Adam" is in theaters now.