Steve McQueen's Bullitt Set A New Standard For What Car Chase Scenes Could Be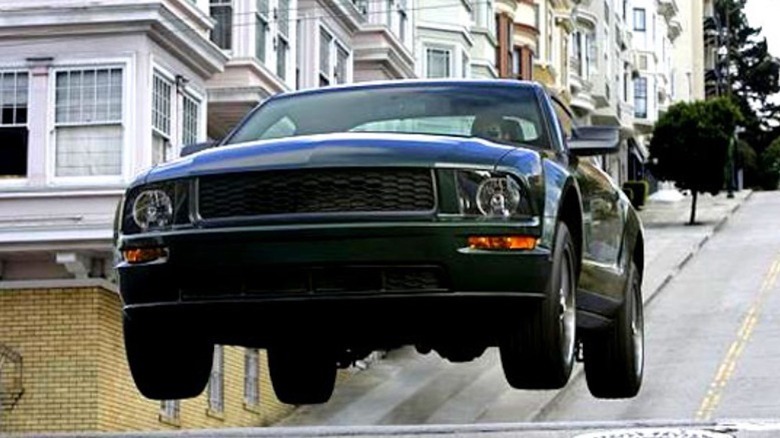 Warner Bros.
The car chase was one of many innovations of the New Hollywood era, where on-location authenticity supplanted studio backlot fakery. Yes, there were car chases in movies before Peter Yates' "Bullitt," but they tended to be laden with process shots featuring actors at the wheel while the image projected behind them veered out of control. Even an A-plus production like Alfred Hitchcock's "North by Northwest" settled for soundstage-bound sequences that manufactured the sensation of high-speed vehicular mayhem.
Perhaps they were thrilling to people at the time because they had nothing quite so thrilling as a comparison. In any event, once Yates unleashed his 11-minute, practically shot pursuit through the perilously hilly streets of San Francisco in 1968's "Bullitt," there was no going back. If you weren't filming real cars barrelling at unsafe speeds through city streets or country roads, you were wasting everyone's time.
And it is only right that a gearhead like Steve McQueen was at the forefront of this pioneering sequence.
The birth of a hard-driving nation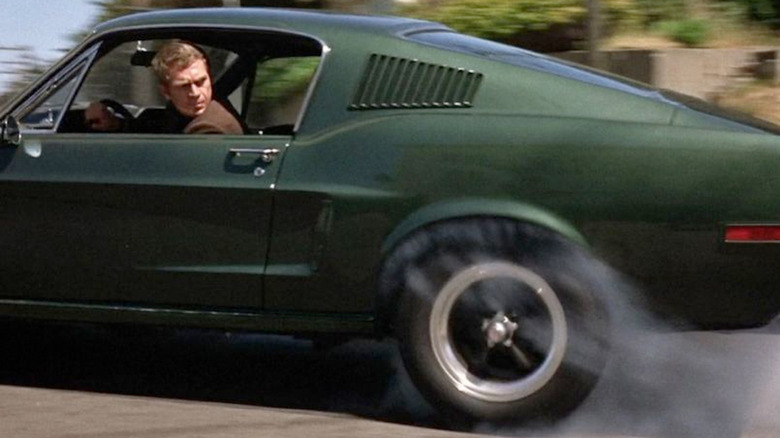 Warner Bros.
McQueen loved driving, in the words of Harvey Keitel's The Wolf, "real f***ing fast." He was a skilled off-road motorcycle racer, and famously showed off his riding expertise in "The Great Escape" (though it was his stunt double Bud Ekins who performed the legendary jump over the barbed-wire barrier). He was equally adept behind the wheel of a car, falling 21.1 seconds short (in a Porsche 908/02) of Mario Andretti (pushing a Ferrari 512S) in the 1970 House of Sebring endurance race.
McQueen fully understood the thrill of piloting a souped-up car around tight corners while navigating steep city streets. If you take an incline at a high rate of speed in a Ford Mustang GT Fastback, you will catch an abundance of air. As the star told Pat Hustis, who built the fleet camera car used in the "Bullitt" chase, ""I want the audience to know what it's like to do this."
As to who initially conceived of the chase, it all depends on who's telling the story. Screenwriter Alan R. Trustman, who'd previously worked with McQueen on "The Thomas Crown Affair," told Motor Trend he was inspired by his own vehicular experimentation.
"'I told them that, if you drive a light car like a Ford Mustang downhill fast it will take off at the intersections and fly through the air.' Trustman says he tried the stunt himself during a 1954 summer break from Harvard law school, launching a new Ford Fairlane off the streets."
An unparalleled success with many fathers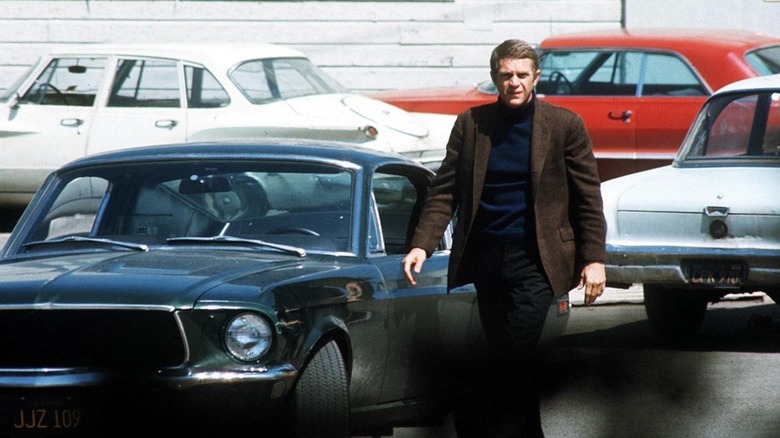 Warner Bros.
Yates claimed the car chase was not in any of Trustman's drafts (the screenwriter was eventually fired and replaced by Harry Kleiner), crediting producer Philip D'Antoni with suggesting that there needed to be a big car chase in the film. McQueen, however, insisted to Motor Trend prior to his death in 1980 that he personally instructed Trustman to put the scene in the movie.
Judging from their oeuvres, all parties seem credible. Yates had made a name for himself as an action director with "Robbery;" D'Antoni's love for elaborate car chases surfaced in subsequent works like "The French Connection" and "The Seven-Ups" (which he directed, and which, for my money, tops "Bullitt" in the chase department); and McQueen was McQueen. All that matters is that these thrill merchants came together to execute an action set piece that left moviegoers humming with excitement. And they did it by seamlessly cutting between McQueen steering that iconic green Mustang and a trio of top-notch stunt drivers (Ekins, Carey Loftin, and Loren James), who handled the truly dangerous feats.
The "Bullitt" sequence has been topped several times over in terms of difficulty and sheer exhilaration, but it still works sensationally well in the context of Yates' film. Frank P. Keller justifiably won the 1968 Oscar for Best Editing by working overtime to keep the geography straight amid the engine-roaring chaos. The film's success spawned a glut of imitators, which turned the car chase into an obligatory, listlessly staged bit of obligatory action business, but this is the inevitable Hollywood response to any kind of pioneering filmmaking. Alas, 50-plus years later, in an age of CG-enhanced daredevilry, it now feels like a lost art.