Getting Harvey Keitel For Reservoir Dogs Wasn't Much Work For Quentin Tarantino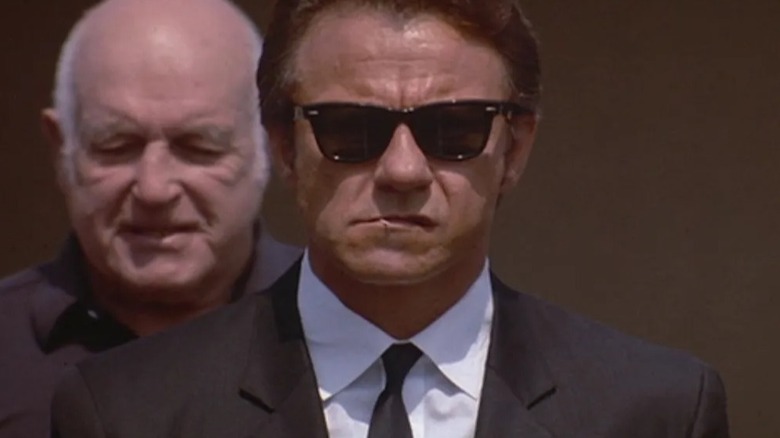 Miramax Films
Looking back from 2022, Quentin Tarantino's "Reservoir Dogs" is a star-studded feature. But when it premiered in 1992, the only big name in the cast was Harvey Keitel. The four main color-coded criminals, Steve Buscemi (Mr. Pink), Tim Roth (Mr. Orange), and Michael Maden (Mr. Blonde), had their fair share of film and television appearances, but were still in the minor leagues. "Reservoir Dogs" is what changed that for them, as Roth acknowledged at the 2017 Tribecca Film Festival.
Keitel, on the other hand, had appeared in Martin Scorsese classics like "Mean Streets" and "Taxi Driver," and just the previous year had played a major character in "Thelma and Louise" (incidentally, a film where Madsen had a supporting part). Keitel plays Mr. White, the most sympathetic of the criminals who forms a fatherly bond with Mr. Orange. Too bad for him that Orange is the rat of the group.
Getting Keitel in the movie was a goal of Tarantino's because (via E Online) "Harvey had been [his] favorite actor since [he] was 16 years old." It turned out that accomplishing his dream was easier than the young director could've expected.
Keitel reads the script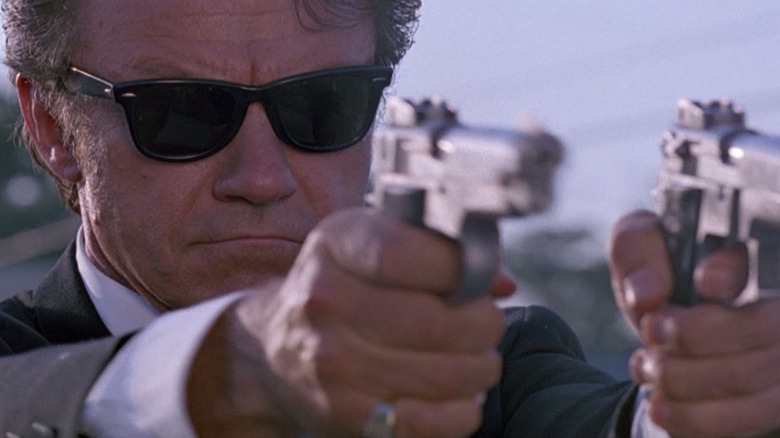 Miramax Films
According to Tarantino, getting the "Reservoir Dogs" script to Harvey Keitel was a classic "I know a guy who knows a guy" situation. The movie's producer, Lawrence Bender, was almost as green as the director, but he had an acting teacher whose wife knew Keitel. He passed the script to the teacher, who passed it to his wife, who finally gave it to Keitel. Impressed by the writing, Keitel agreed to appear in the film.
Tarantino remembers (via The Guardian):
"The next thing we knew, Harvey was leaving a message saying, 'I read the script, I love it, I'd even love to produce it to get it going. Give me a call back.' It was an amazing experience and I think we danced around. That was the beginning of the beginning."
With Keitel's help fundraising, the movie was able to amass a budget of $1.5 million. Keitel also financed a casting session in New York City, where Tarantino recruited Buscemi, Madsen, and Roth. If Keitel had said no, "Reservoir Dogs" wouldn't be close to the picture it ended up being.
Tarantino and Keitel re-team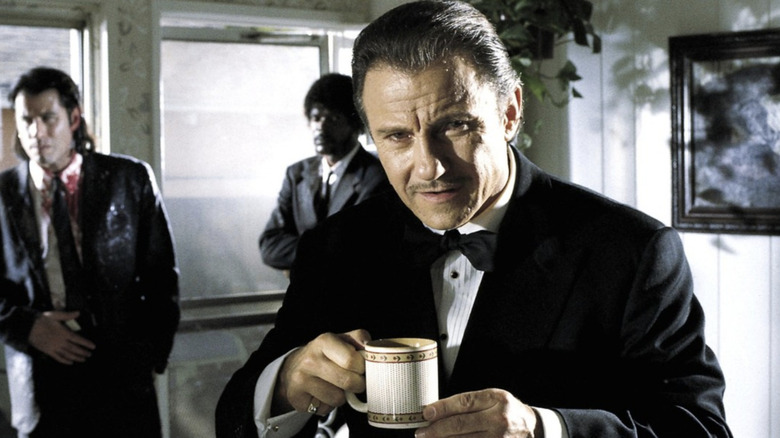 Miramax Films
"Reservoir Dogs" wasn't the last time Keitel worked with Tarantino. For Tarantino's next film, the career-defining "Pulp Fiction," the filmmaker wrote a small but memorable part specifically for Keitel: the dapper cleaner Winston "The Wolf" Wolfe. In "Inglourious Basterds," Keitel makes a voice-only cameo as the titular squad's commanding officer. Keitel was also one of the leads in the vampire flick "From Dusk Till Dawn," which Tarantino wrote and starred in (but Robert Rodriguez directed).
Interviewed by Esquire, it sounds like Keitel would do it all again:
"Quentin came on the scene like a shooting star and he has done so much to inspire young people. I embrace him for that. And so again, yes, and yes, and yes."
While Tarantino's tenth (and supposedly final) film will no longer be a remake of "Reservoir Dogs," it'll still be a real disappointment if he can't find a place for the actor who helped bring his first film to life.