Cobra Kai's Sean Kanan Had A Terrifying Medical Emergency While Filming Karate Kid Part III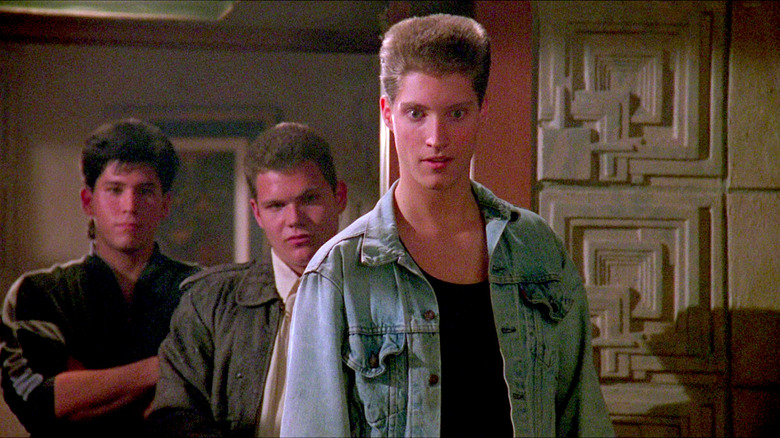 Columbia Pictures
"Cobra Kai" shocked everyone with its unbelievable return to "The Karate Kid" universe. The show, which was created by Josh Heald, Jon Hurwitz, and Hayden Schlossberg, is essentially one giant love letter to the original films. Not only is it smart, original, and funny, but it's also done an incredible job of tying in many of the characters from the first three films. (This particular writer is also desperate to see Hilary Swank reprise her role as Julie Pierce from "The Next Karate Kid.") Season 2 saw the epic and heartfelt return of Johnny Lawrence's (William Zabka) original Cobra Kai pals, Tommy (Rob Garrison), Bobby (Ron Thomas), and Jimmy (Tony O'Dell). Elisabeth Shue reprised her role as Ali Mills, and both Martin Cove and Thomas Ian Griffith have returned to the franchise as the show's formidable villains, John Kreese and Terry Silver, respectively. 
The most recent season of "Cobra Kai" brought back even more of the franchise's characters including Sean Kanan who played bad boy Mike Barnes in "The Karate Kid Part III." While season 5 delivers a much mellower Barnes than the one Kanan plays in the third film, fans of the character should feel lucky that he even appeared in the show at all. As it turns out, Kanan experienced an extremely serious medical emergency during the filming of "Part III" that not only almost jeopardized his role in the film but nearly cost him his life (via The Daily Mail).
No mercy for Mike Barnes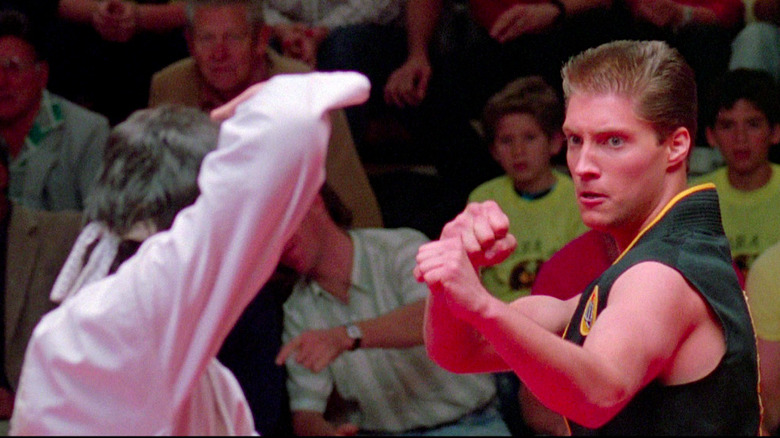 Columbia Pictures
Mike Barnes is introduced in "The Karate Kid Part III" as Daniel LaRusso's main foil. Enlisted by Terry Silver to go up against and defeat Daniel at the upcoming All Valley Tournament, Barnes proves to be no match for Daniel. While Kanan does an excellent job portraying one of Daniel's most challenging foes, his role in "Part III" almost didn't happen.
"I passed out in the Dunes Casino and it turned out that the pain in my leg was internal bleeding and it was the blood dripping down on my femoral artery," he explained. Doctors were uncertain if they would be successful in treating the issue. "It was the scariest thing that's ever happened to me in my life," says Kanan. 
Thankfully, he survived, but Kanan's troubles were far from over. Even though he managed to convince the surgeons to perform surgery without cutting through his abdomen ("I knew if they cut through the abdominal muscles, I'd be out of the film," recalls Kanan), the producers for "Part III" were less than sympathetic to his recent brush with death. "I got a call from the studio — no flowers, no balloons — just you need to be back at work in, I think it was like, 12 days or something or we're going to recast," said Kanan. 
"I had them discharge me against medical advice," explains Kanan who didn't want to lose his role. A risky decision on his part, Kanan's portrayal of Barnes is invaluable to "Part III," and hopefully today, Hollywood might behave a little less like Cobra Kai and show some mercy for the wellbeing of its actors.