E.T.'s Costume Designer Had A Personal Connection To Two Specific Costumes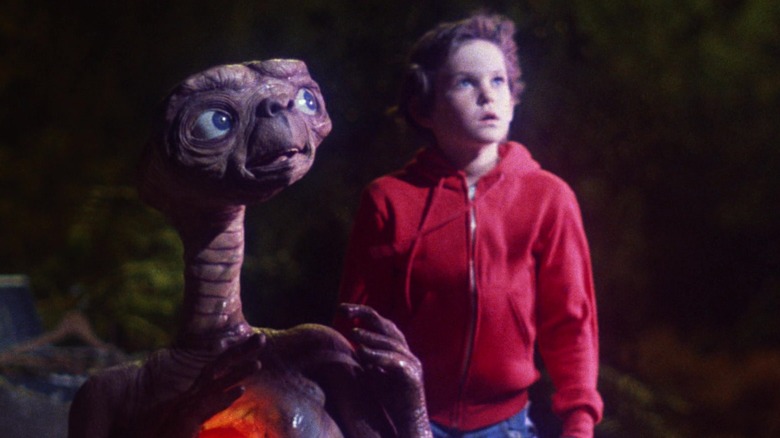 Universal Pictures
Nothing brings you back in time quicker than revisiting a childhood favorite through the context of adult eyes. I got to experience that feeling not too long ago with the IMAX re-release of "E.T. the Extra-Terrestrial" because, as of this year, Steven Spielberg's classic celebrates its 40th anniversary.
When a film is inducted into the canon of great movies, it can sometimes be easy to forget how much they affected you initially. But seeing how Spielberg's soft direction, coupled with John Williams' magnificently emotional score, came together on the biggest screen imaginable brought me back to being eight years old again.
But while Spielberg and Williams are the behind the scenes folks with the most influence over the film's legacy, costume designer Deborah Lynn Scott is just as important. "E.T." is not an extravagantly costumed film, but if you were also terrified of the scientists stumbling into the Taylor house in their otherworldly astronaut suits, you have Scott to thank for that.
Scott is a staple of the industry, having worked on a bunch of your favorite movies, including "Back to the Future," "Minority Report," and "Avatar," and she won an Academy Award for her work on "Titanic."
When it comes to "E.T.," however, there were two specific costumes that had a very personal connection for Scott.
Gertie's Halloween costume was based on something Scott's mother made her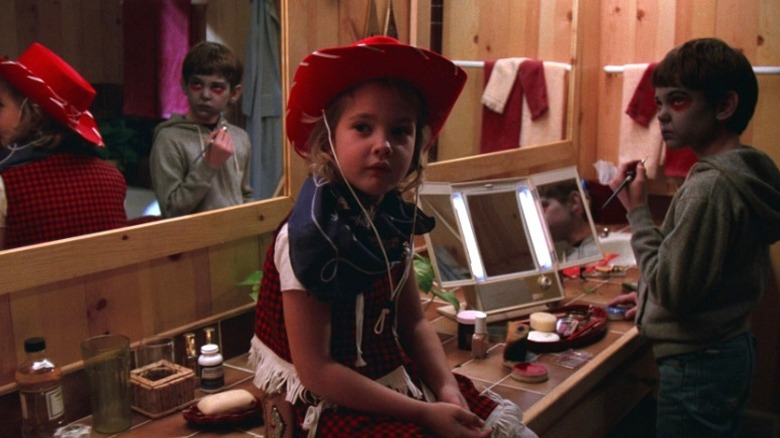 Universal Pictures
You may remember the Halloween portion of "E.T." as the scene where Elliott (Henry Thomas) and his older brother Michael (Robert MacNaughton) sneak their alien friend out of the house in a ghost costume. But prior to their departure, you see their younger sister Gertie (Drew Barrymore) dressed as a cowgirl.
In an interview with /Film's Bill Bria, Scott explained that Gertie's getup was more than just a run-of-the-mill adorable Halloween costume idea:
"I think in the script, too, Gertie says she wants to be a cowgirl. That's what she really wants to be. And that was near and dear to my heart because when I was a child, that was modeled off of a costume that my mother had made for me."
Any parent can buy a costume from the store, but the love that comes with something they made you is one of those childhood memories you'll never forget. 
When it came time to pay tribute to Scott's father, the costume designer took a different route.
E.T.'s bathrobe was a nod to Scott's father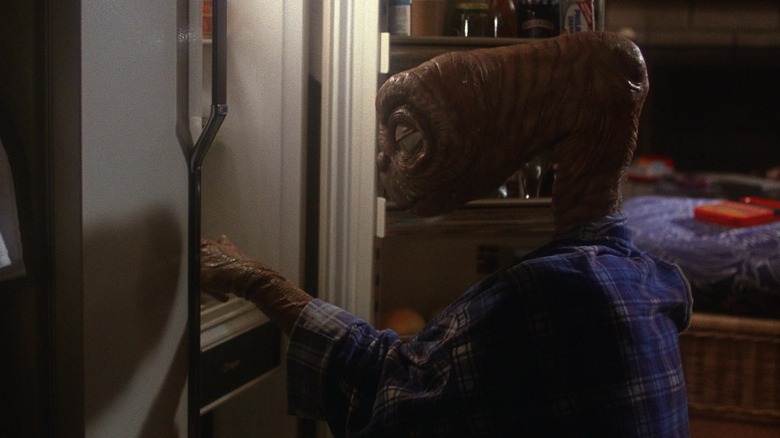 Universal Pictures
It can be really inconvenient to come across the discovery of a lifetime, but still have to go to school the next day. But alas, that's what Elliott must do. Despite the distance, however, E.T. forms a telepathic connection with his new friend, inadvertently getting him intoxicated from miles away due to an afternoon beer drinking session.
Throughout the scene, E.T. is wearing a blue plaid bathrobe, presumably belonging to Elliott's estranged father. According to Scott, the costuming decision was modeled after her own father. Not only was it based on what he would wear, but the actual bathrobe itself evidently belonged to him, too:
"He was just going to be this drunk guy on the couch. And that bathrobe, it actually had belonged to my father. So there are a lot of very sentimental things in that movie for me. And I think because of the heart of it, that's why it sometimes touches others."
It's pretty heartwarming Scott was able to slip these nods into a film that has been canonized as one of the greatest family films ever made.
"E.T. the Extra-Terrestrial" (which came incredibly close to being a horror movie!) has a new 40th anniversary edition which is now available on 4K Ultra HD, Blu-ray, and Digital.