The Inception Of Saw Began With The Design Of Billy The Puppet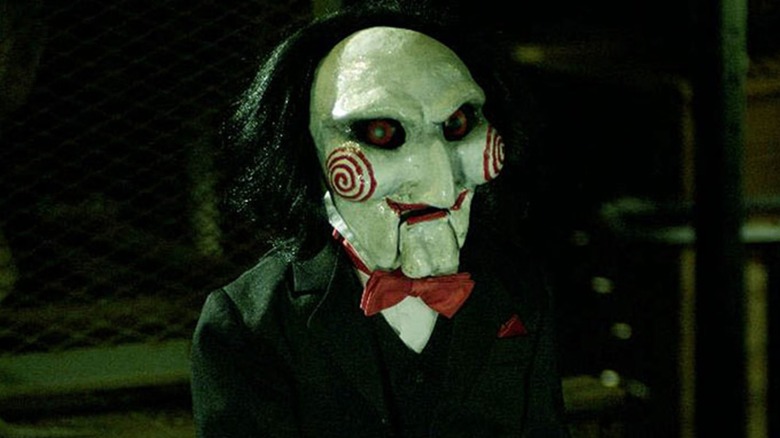 Lionsgate
Way before the brutality of Art the Clown from "Terrifier 2" hit the scene, mainstream horror audiences were stuck with the creepy puppet from "Saw" squeaking along on his cute, tiny tricycle. After eight sequels and a "Spiral," the sick and twisted morality game hosted by the madman mastermind John "Jigsaw" Kramer (the illustrious Tobin Bell) shows no signs of letting up. Since the daringly original first entry hit theaters in 2004, franchise creators James Wan and Leigh Whannell have watched their little indie movie (and little puppet) become the horror genre's version of a long-running soap opera. 
The first film is basically a chamber piece thriller, with only two characters trying to make it out of the game alive. In a 2014 Collider interview celebrating the 10th anniversary of the original, Whannell still didn't understand the association "Saw" has with "torture porn" (aww, remember that term?). "The fact that 'Saw' is called "torture porn" is something... I think the film got that label from the sequels as they got more and more gory," Whannell said. Director James Wan also didn't get it after a re-watch around the time of the anniversary, saying, "It's not gory at all. There are barely any scenes with gore because we couldn't afford it." The budget for "Saw" was just a little over a million dollars and was shot in only 18 days. It was a true labor of love for Wan and Whannell. And it all started with Jigsaw's proxy puppet that Wan affectionately referred to as Billy the Puppet.
James Wan loves puppets and we love him for it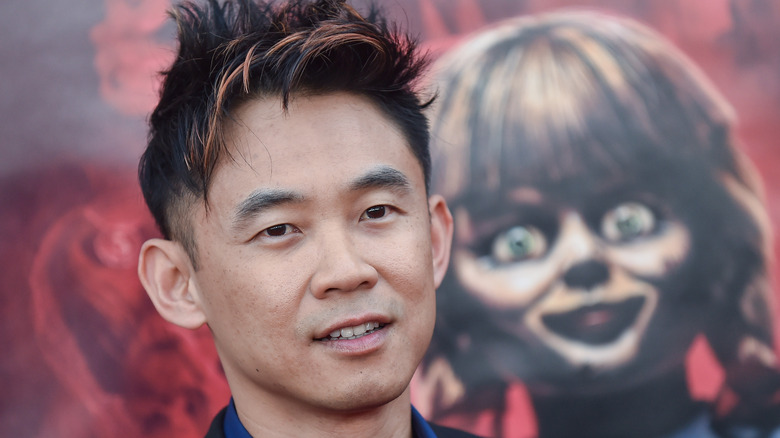 DFree/Shutterstock
Billy the Puppet first popped up in Wan's 2003 short film starring Whannell and has continued to play a fundamental role in the ongoing series. Reflecting on "Saw" a decade after its release, Wan seemed a little nostalgic about the early days:
"The whole thing started in our bedroom, where I designed the doll. And the first film almost feels homemade. Which actually, to dovetail slightly, is what Leigh and I wanted when we went off to make 'Insidious,' that homemade freedom and quality you get with 'Saw'. There's something very cool about that indie spirit that I try to hang on to even now with the bigger films that I'm working on.
It's hard to believe that a blockbuster horror franchise like "Saw" began with Wan's simple but effective DIY clown design that he came up with in his room. The red spiral symbols on Billy the Puppet's cheeks and its nutcracker mouth have become a lasting character in the horror genre. Not only did it serve the purpose of scaring Jigsaw's victims, it became a clever way to deliver exposition and the clown allowed Jigsaw to stay hidden and protected form any attempts to arrest or kill him. In our own way, we've all grown to love the little guy over the years. 
Oh! Don't worry, a tenth "Saw" film is set for next Halloween with director Kevin Greutert ("Saw V," "Saw 3D") returning, so we should get a chance to see Billy at least one more time. Actually, let's not kid ourselves. Billy will probably be starring in a "Saw" spinoff before this franchise finally sets its last trap.