The Muppets Mayhem's Human Stars Describe Their Characters & Surreal Moments On Set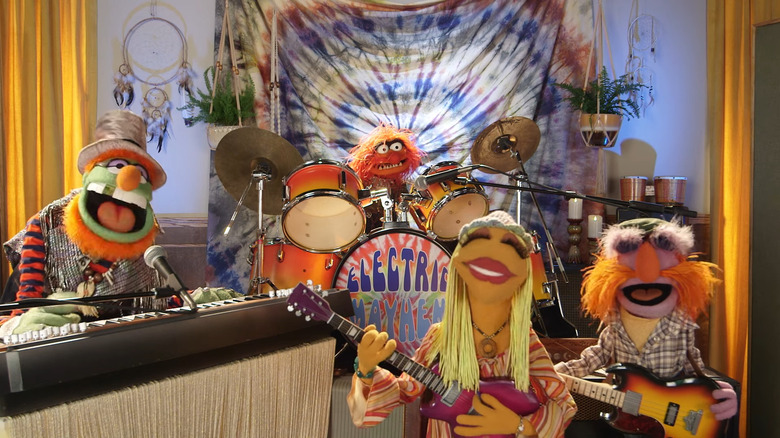 Disney
Since their creation in 1955, the Muppets have been making legions of fans laugh on television and in theaters. Whether through musical performances or sketch comedy, this ensemble created by Jim Henson and brought to life by a collection of insanely talented performers never fails to entertain their audiences. And though Kermit, Piggy, Gonzo, Fozzie, and all their friends can put on a show by themselves, part of the fun of the Muppets is how they interact with the real world and real people. That's why there's always a human element to their productions.
"The Muppet Show" featured special guest stars every week. Big Bird, Elmo, and the Muppets of "Sesame Street" interact with various neighbors around the community. And in "Fraggle Rock," Doc (and later Doctor Doc) listens to Sprocket insist that Fraggles exist. But for the upcoming Disney+ series "The Muppets Mayhem," which follows the Muppets' resident rock stars Dr. Teeth and the Electric Mayhem as they record their first album, the main humans will be played by Lilly Singh, Taj Mowry, Saara Chaudry, and Anders Holm. Following their panel at this year's New York Comic Con, the stars spoke with members of the press to give some insight about their characters and their relationships to the band.
'It's a really emotional type of connection she has with them'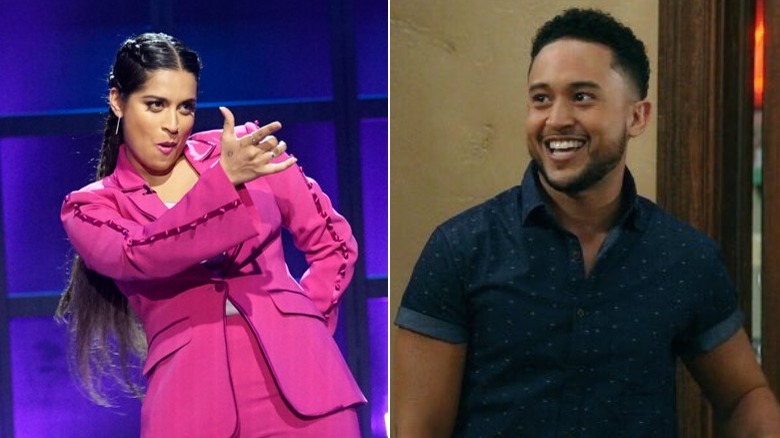 NBC/Freeform
Former late night talk show host and acclaimed YouTube personality Lilly Singh leads the human side of the cast as Nora, a junior A&R executive that has been assigned to manage The Electric Mayhem. Finding herself a little in over her head, she enlists the help of Taj Mowry's Gary "Moog" Moogowski, a Mayhem super fan that follows them from gig to gig who knows everything there is to know about the band. As he helps Nora wrangle and even communicate with Dr. Teeth, Floyd Pepper, Janice, Zoot, Lips, and Animal, Moog hopes to become less of a goofy sidekick and more of a leading man. So when asked what their characters see in the band that compels them to help on their journey to their first album, Singh said it comes down to emotions:
"Nora has a very special connection to music in general. I think it has helped her through a lot of hard times in her life. Especially when her parents weren't around — she was raising her sister, times were really tough. Music helped her push through, and so she not only has such an affinity towards them [for being musicians], but she wants to help them achieve greater heights that more people can have that experience with them. It's a really emotional type of connection she has with them."
Mowry said his character's connection was personal in a different way:
"I think with Moog, it's emotional as well. He loves music. He's an audiophile. He knows his way around a mixing board and all that. But for him, this band is his life. He looks up to their fearlessness [and] the fact that they're so different but they're comfortable with the ways that they are different. And they put that in their music and they put that message out there like, 'Hey, it's okay to be different. Be yourself. It's fine. It's okay to be a little quirky and weird.' That's what he loves about the band so much. So for him, it's not just the music, it's them as people — or Muppets. [laughs] But it's so much deeper and I think that's the beauty of this show: It's got so much heart. It's funny, it's silly at times, but it's also grounded and at its core, it's about love, it's about unity. And the band itself, that's what they represent. They represent love and unity."
'Every moment was so special'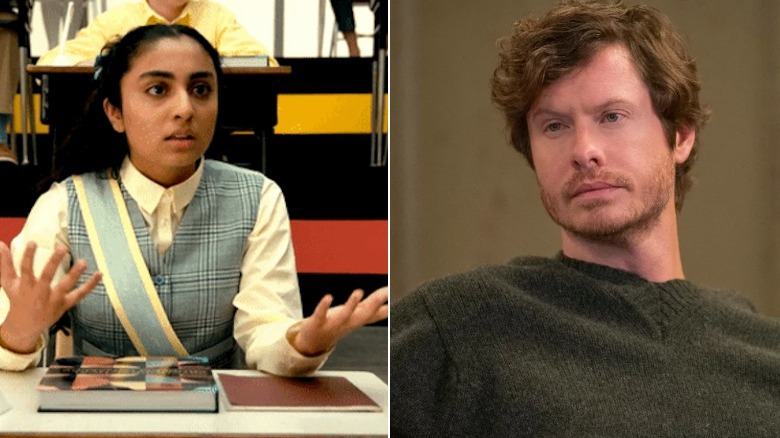 Disney+/Netflix
Joining Singh and Mowry is "The Mysterious Benedict Society" star Saara Chaudry, who plays successful influencer and Nora's sister Hannah. She translates the skills she learned from her rise to internet stardom to help the Electric Mayhem develop their own social media following and get glammed up when they need to. And rounding out the cast is Anders Holm of "Workaholics" fame. His character, JJ, was once a nerdy intern that blossomed into a tech entrepreneur. He also used to date Nora and hopes that he can do what it takes to win her back.
Chaudry revealed one of her most surreal moments on set:
"My first interaction or scene with a Muppet was with Zoot. Because Hannah at one point becomes the band's glam squad [since] she's the social media influencer who started with makeup tutorials online, she's cutting Zoot's hair. It was my first moment on set, [so] I was getting used to the idea that sometimes there would be 'random people' underneath me on little rolly chairs [since the sets are elevated to accommodate the puppeteers].

It was just incredible the way that the Muppet performers improvise. They are so sharp. Their comedy is just top tier. When Dave [Goelz], who plays Zoot, was improvising that day and just going off the cuff, I was just like, 'Oh my gosh, I need to step up my game.' This is an incredible production. What an incredible franchise to be a part of. Every moment was so special."
And while Holm couldn't get into specifics about his most surreal moment, he did offer the best tip he received about how to interact with the Muppet characters during production:
"I can't even talk about mine because it's a spoiler. But I will say that the encouragement from the Muppet performers is to have physical contact with them because that brings them to life. And so to put your hand on Dr. Teeth's shoulders and talk, it's just weird. [But] Animal and I had a tumultuous relationship on set, my character and Animal. So the fact that I was being chased around by Animal, who basically sniffed out that I wasn't a good guy, was such a trip."
Unfortunately, we were only able to get a small taste of what to expect from these character. But that's all the more reason to get excited when "The Muppets Mayhem" debuts sometime in 2023.