Decision To Leave Director Park Chan-Wook Isn't Solely Responsible For His Compelling Female Characters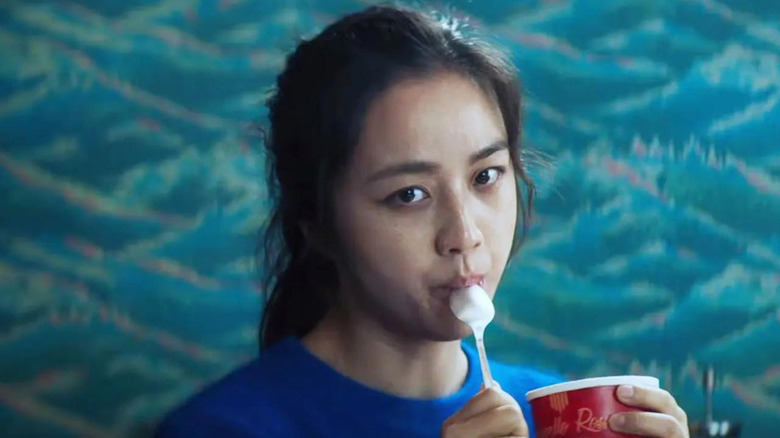 MUBI
Park Chan-wook's movies can largely be seen as character studies. While there certainly are external plot factors driving the story, most of his films are driven by the beliefs and actions of his central protagonists. Well, protagonists in the sense that they are the most essential characters in the story — Park is well-known for populating his movies with morally gray people, oftentimes caught in between the center and the fringes of society.
Few characters represent this conflict more than Seo-rae (Tang Wei), the female lead of Park's latest film, "Decision to Leave." A Chinese immigrant suddenly widowed by the death of her climbing vlogger husband, Seo-rae is a character with many different layers that will likely be unraveled long after you watch the film. Is she a cold-hearted murderer or a woman acting in self-defense? It's hard to say, and that's why she is so fascinating to watch.
The same can be said for many women in Park's films. From Lee Geum-ja in "Lady Vengeance" (Lee Young-ae) to Hideko Izumi in "The Handmaiden" (Kim Min-hee), he seems to have gotten an uncanny handle on how to write complex, challenging women. That didn't come into his filmmaking style out of the blue, and he isn't even responsible for the majority of this development. In fact, these characters likely wouldn't be as impactful as they are without the help of Park's frequent collaborator, screenwriter Jeong Seo-kyeong.
What does a man really want?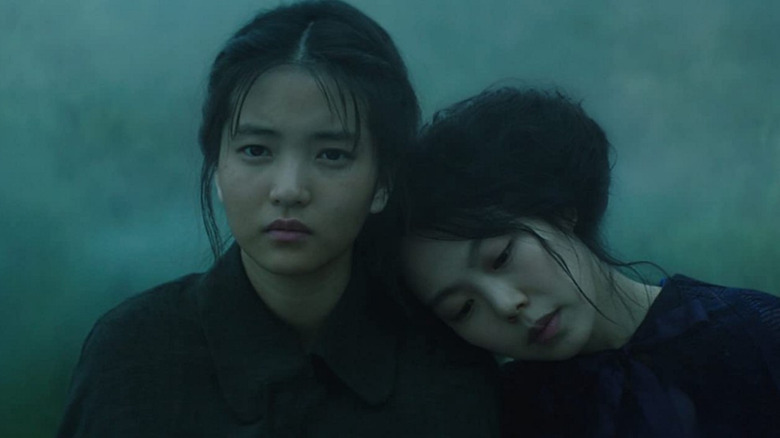 CJ Entertainment
Jeong first broke into the South Korean film industry when she co-wrote the aforementioned "Lady Vengeance," the third entry in the loosely-connected Vengeance Trilogy. While its other two entries, "Sympathy for Mr. Vengeance" and "Oldboy," had compelling female characters, Geum-ja of "Lady Vengeance" was a cut above the rest – while no stranger to misogynistic violence, she was a complicated and vengeful character that became far more than the trauma assigned to her. It's still not agreed upon whether the female gaze is a legitimate film theory in the way that the male gaze is. Still, Jeong's contributions to "Lady Vengeance" are a near-perfect example of its theoretical definition.
After this initially-successful collaboration, Jeong and Park went on to write four more films together. The dark romantic comedy "I'm a Cyborg, But That's Okay" introduced audiences to the troubled yet perpetually optimistic Young-goon (Im Soo-jung), while the sensual vampire horror "Thirst" gave us a femme fatale in the form of Tae-ju (Kim Ok-bin).
However, perhaps her most important contribution to Park's films is "The Handmaiden," the twisty reimagining of Sarah Waters' novel "Fingersmith." While the original novel was feminist in its own right, the individual characters of Hideko and Sook-hee (Kim Tae-ri) felt fully fleshed out in ways that made them compelling to watch, even outside of their extremely intimate scenes. The two were not just lovers in the eyes of Jeong and Park – they were con artists whose desire for each other wove too tightly outside their plans.
The moment your love ends, my love begins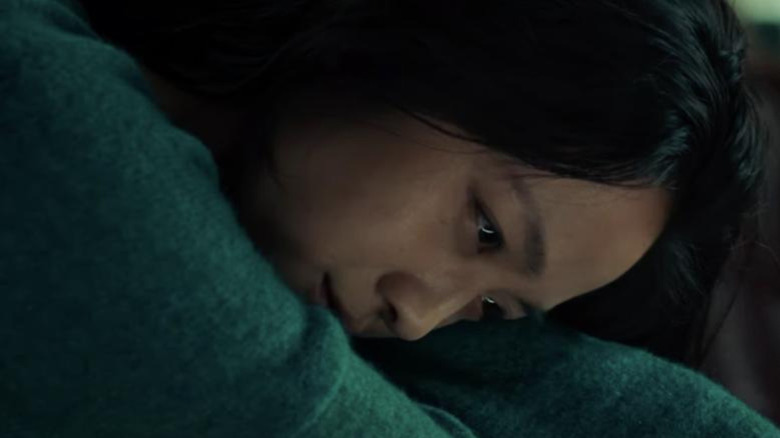 MUBI
Of course, it isn't easy to gauge what parts of a script are written by Park or Jeong. Solely attributing her to the feminism in his films is disingenuous, diminishing the actual narrative impact that her co-writing contributions have. Still, it's equally important to acknowledge how Jeong's perspective is critical in ensuring that none of Park's characters are lacking in compelling traits or narratives.
It's ironic, in a way, that it is him that receives much of the feminist credit his films receive. Sure, he is responsible for the directions these characters take and how they are portrayed on screen. However, Jeong should be held in equal regard on this front, especially with a script as twisty and cohesive as "Decision to Leave." It is possible that without her guidance and contributions, Seo-rae would not be as multi-dimensional of a character as she is. One could even go as far as to say that the entire movie would be different if she were not as developed as she is. Thanks to Jeong Seo-kyeong and her work with Park Chan-wook, that version of "Decision to Leave" is only theoretical.