The Crown Knows It Has To 'Earn' Its More Risqué Moments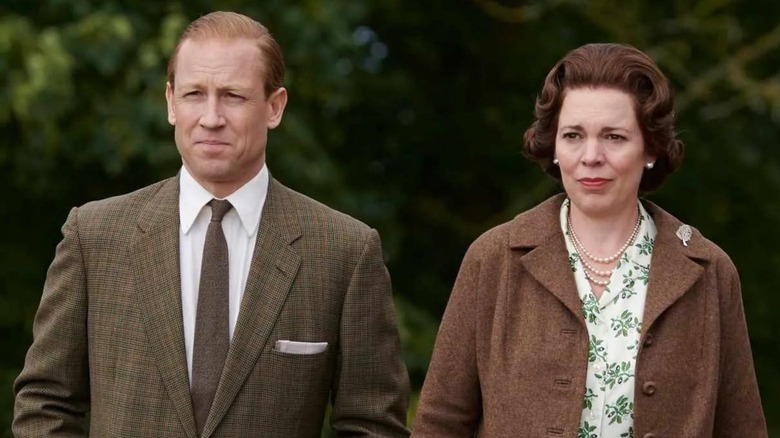 Netflix
"The Crown" unravels decades of British history throughout its ten-episodic season. Showrunner Peter Morgan's stellar attention to detail guarantees that the most historic, noteworthy events experienced by the British monarchy make the cut — but sometimes, he wants a scene to illustrate the commitment and love shared between Queen Elizabeth and Prince Philip.
With episodes entirely focusing on constitutional meetings, the queen's relationship with her family and her prime ministers, the somewhat-controversial experiences of the royal family, and other things, the show has little room for any potentially suggestive moments. So during the show's third season, when Peter Morgan wanted to construct a playful scene between the reigning monarch and her royal consort, the showrunner knew he had earned it.
The Crown is rarely racy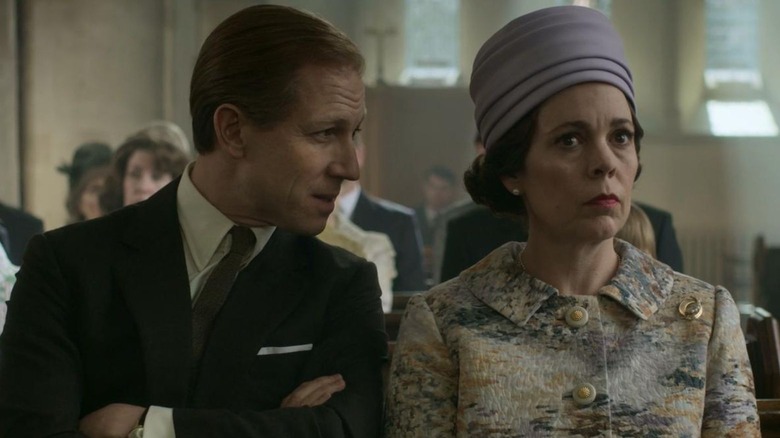 Netflix
In an interview with The New York Times, Peter Morgan detailed his work on "The Crown," the ambitious television undertaking that tells the story of Elizabeth II's reign. The screenwriter shared how the team had earned the sweet moment between Philip and Elizabeth, portrayed by Tobias Menzies and Olivia Colman in the third and fourth seasons. The entire episode featured constitutional debate — a kiss wasn't too much to ask for. When Morgan shared the idea with producer ​​Oona O'Beirn, she agreed it was fitting — but not too much.
During the fifth episode, things between the royal couple appear tense. Philip stands before his wife, asking her questions about her month-long trip to France and the United States. Just when he is about to storm out of the room, and you assume their marital hostility is set to continue, he returns, planting a passionate kiss on Elizabeth's mouth. 
Morgan believes they earned it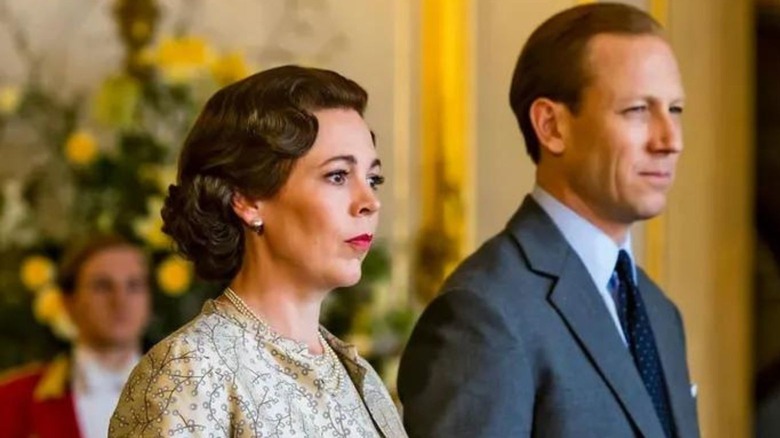 Netflix
Colman and Menzies are actors portraying a real-life couple — fiction based on reality is still very much fiction — but for a British audience, it is indeed quite something to watch a scene in question, the interview suggests. Morgan seems to have understood that. 
Here's the full conversation between Morgan and O'Beirn:
"We want a scene with her and Philip after she's returned home," shared Morgan. "A bit of sex, a bit of playfulness."

"O.K.," said producer Oona O'Beirn, looking faintly concerned. "Not too much, though."

"No," said Morgan, "but we've earned it because the whole episode has been about constitutional debate."
"The Crown" has successfully aired four seasons so far — every two years, the cast changes to reflect the senior royals in different phases of their lives. With the anticipated fifth season set to premiere in November 2020, Imelda Staunton takes the lead and the story into the early 20th Century. Princess Diana and Prince Charle's marital turmoil, their lives following their separation, and the Princess of Wales' tragic passing are expected to be the focus this season.