Doug Jones Was Ready To Be Done With Prosthetics Until He Was Offered Star Trek: Discovery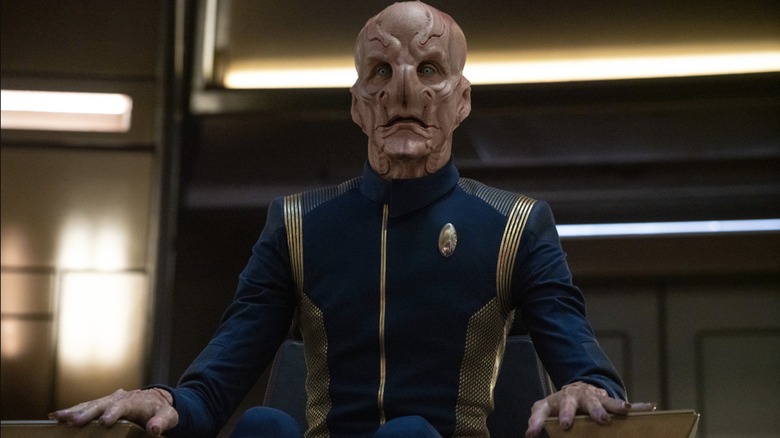 Paramount+
It's hard to imagine anyone else on the planet with more memorable performances as prosthetic-laden characters as the incomparable Doug Jones. If his name or (human) face doesn't ring a bell, it's likely because you've been enjoying his character work for decades, and have yet to realize that they've all been played by the same person. A prolific actor, contortionist, and mime artist, Doug Jones is Billy Butcherson in "Hocus Pocus," Pencilhead in "Mystery Men," Abe Sapien in "Hellboy," the Lead Gentleman in "Buffy the Vampire Slayer," the Ice Cream Man in "Legion," The Faun and The Plame Man in "Pan's Labyrinth," the ghosts of Edith's Mother & Lady Beatrice Sharpe in "Crimson Peak," the Amphibian Man in "The Shape of Water," and this is just the tip of the iceberg.
For over three decades, Doug Jones has been the undisputed king of creature acting, but as any actor who has donned extensive prosthetics can attest, it's pretty physically exhausting to consistently perform underneath layers of makeup, latex, and silicone. In a recent interview with Collider, Jones was asked whether or not it gets old to be constantly playing non-human characters, and the decorated performer had a moving response. "When you're wearing rubber and glue, that part gets old, and the older I get, the older it gets," he said. "I thought that maybe my time in rubber and glue would end." Jones wanted to wind down the frequency of his appearances in prosthetic-heavy performances as he got older, but when he was 56 years old, he was offered the role of the Kelpien alien Captain Saru in "Stark Trek: Discovery." This casting was, according to Jones, the moment when "the game [was] back on."
You don't pass up Star Trek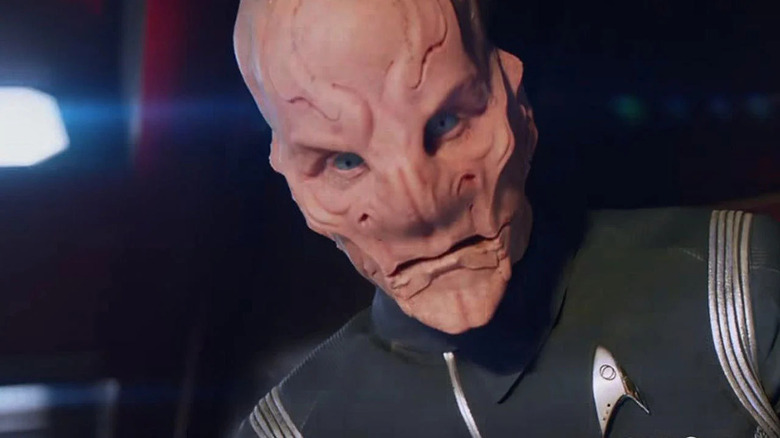 Paramount+
Jones has played plenty of aliens, creatures, monsters, and everything in between, but had somehow missed out on "Star Trek" until very recently. "It was like, 'Oh, I'm getting a call, and no audition is required?'" he said. The showrunner at the time was Bryan Fuller, who reportedly offered the role to Jones and said that he was the one the show needed. "It was just an offer," Jones said. "I have waited, all my life, for the moment to happen, where a big role in a big series was just being offered to me, based on reputation alone, and it was humbling." This was a great opportunity to get Jones back in a major prosthetic character performance, and he is, as was expected, the perfect decision.
"The gravity of that was not lost on me, so I wanted to make sure that I met the challenge," he said. "I was like, 'Okay, rubber and glue is gonna continue on Dougie for a while,' and what comes with that is a legacy with a fandom that is rabid for 'Star Trek.'" Jones' turn on "Star Trek: Discovery" has been hailed by many, so as much as the rubber and glue probably weigh on him every time he sits in the makeup chair, the "Star Trek" universe is better for his presence.