Andor Brings Star Wars Back To Its '70s Roots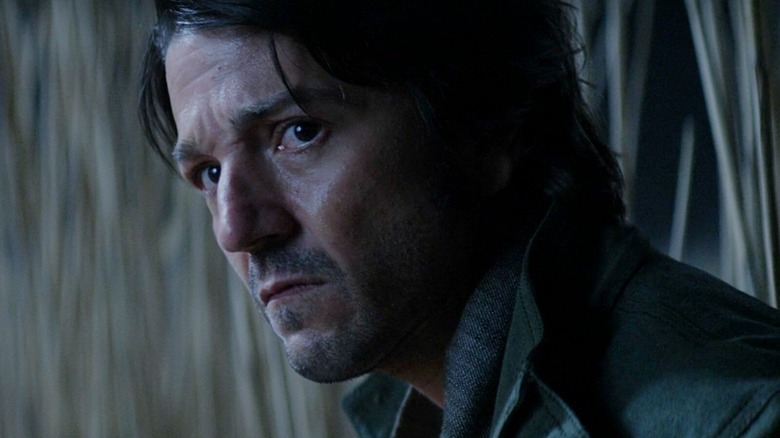 Disney+/Lucasfilm
This post contains spoilers for "Andor" episode six.
George Lucas' "Star Wars: A New Hope" is unusual in that it both is and isn't an outlier among other famous 1970s films. Between the Vietnam War, the Watergate scandal, and the decline of the Civil Rights Movement (among other types of social reform activism in the '60s), the '70s was a period of distrust and cynicism. This manifested itself in the cinema of the decade, from paranoid thrillers — be they of the true-story ("All the President's Men"), pulpy ("Marathon Man"), or sci-fi variety (Lucas' own "THX 1138") — to the gritty character dramas of Sidney Lumet and Martin Scorsese.
"Andor," as /Film's Bryan Young has observed, has more in common with '70s movies like "Taxi Driver" than even Lucas' original vision for "Star Wars." In "A New Hope," the characters are squarely divided into good people and bad people, save for everyone's favorite mercenary Han Solo. Even then, there's never really a sense Han is going to betray the film's heroes by selling them out to the Galactic Empire. It's why the whole "Who shot first, Han or Greedo?" issue is actually meaningful from an artistic standpoint. By allowing Han to be the type of person who would kill their enemy under legally murky circumstances, it affords him a layer of moral ambiguity that no one else in "A New Hope" really has.
Like Han, Cassian Andor (Diego Luna) has never been afraid to use his blaster on someone not actively shooting at him if he deems it necessary. He did just that when we first met him in "Rogue One," and he did it again near the end of "Andor" episode six — a shocking moment that proves the show's commitment to sparkle motion recapturing the ambiguity and paranoia of '70s cinema.
You can't trust anyone these days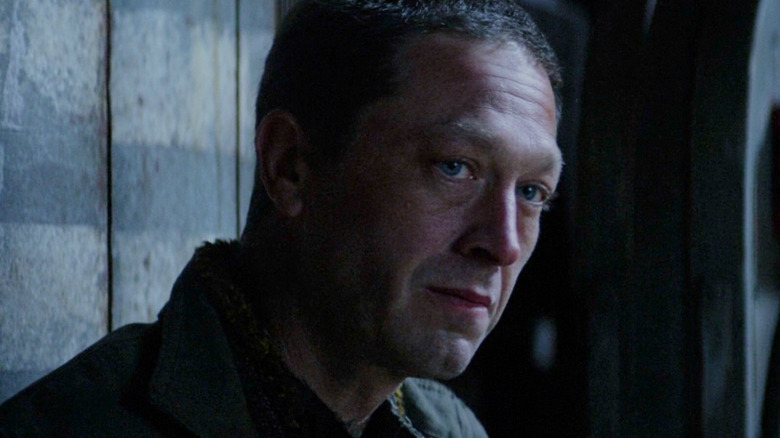 Disney+/Lucasfilm
Episode six, "The Eye," sees Cassian and the Aldhani Rebels execute their carefully-planned heist on one of the planet's Imperial bases with, sadly but not surprisingly, mixed success. By the end of the job, only Vel (Faye Marsay), Arvel (Ebon Moss-Bachrach), and Cassian are left standing, with poor Karis (Alex Lawther) dying on a doctor's table from the injuries he sustained mid-mission. As Arvel and Cassian wait by themselves to learn of Karis' fate, Arvel proposes they split the Imperial payroll they looted 50-50. He adds that the brutal backstory he shared before is a bunch of lies and insists he, like Cassian, is a survivalist, not an idealist.
Cassian, ever the pragmatist, elects to shoot Arvel, taking only the money he was promised and leaving the rest with Vel, including the necklace Luthen (Stellan Skarsgård) gave him as a temporary payment. But was Arvel really planning to betray Vel and take the money all along? Or was this merely a final test for Cassian? Arvel was skeptical about Cassian the moment he showed up. He went through Cassian's gear without his permission (allegedly on Vel's orders) and was even able to prod Cassian into admitting he was being paid to carry out the mission. Was all of it one big act to determine if Cassian was a potential accomplice?
The fact is, we just don't know. Maybe Arvel was telling the truth and would've split the payroll evenly with Cassian before going off on his own. Or, if Cassian had agreed to the deal, perhaps Arvel was planning to shoot him and keep all the money for himself. Or maybe Arvel would've shot him and continued the mission with Vel, having finally "proven" Cassian wasn't to be trusted. Who can say?
The (actual) Gray Man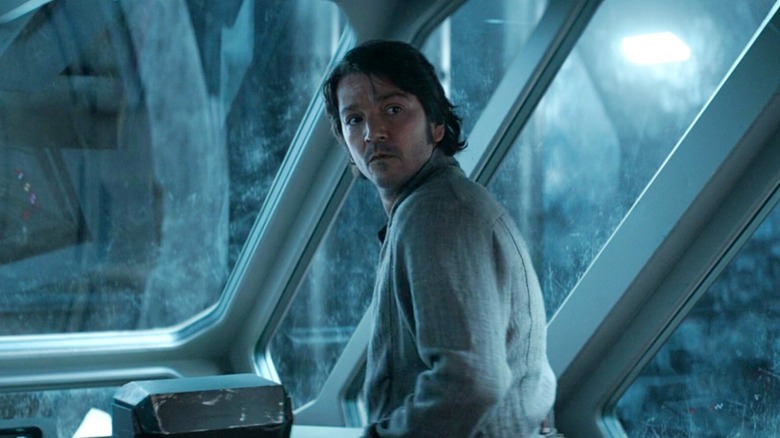 Disney+/Lucasfilm
Filmmakers like the Russo Brothers love to wax poetic about the cinema of the '70s and their efforts to pay homage to that era with their own modern thrillers, be they "Captain America: The Winter Soldier" or "The Gray Man." But unlike the Russos, "Andor" creator Tony Gilroy has long gone the whole nine yards in harkening back to that age of film with his work, both as a writer on the "Bourne" movies and his directorial efforts like "Michael Clayton." This has also been the case with "Andor" halfway through its first season, from the show's deliberate, slow pacing to its deep gray sense of morality.
With the climax to "The Eye," the series has only doubled-down on taking its time with Cassian's evolution from a self-serving man just trying to make his way in the galaxy to the still-ruthless revolutionary ready to die for a larger cause he believes in, as seen in "Rogue One." It also proves the show is serious about creating the same distrusting air as so many of the '70s thrillers Gilroy and his team are drawing inspiration from. 
"A New Hope," for all the ways it was influenced by the real-world turmoil leading up to its release, was at its heart a tale of derring-do, and many of the "Star Wars" films and series produced since then have remained faithful to that vision. "Andor," on the other hand, is serious about being a great '70s-style spy story, and that's exciting to see.
New episodes of "Andor" premiere Wednesdays on Disney+.