Pierce Brosnan Is Pretty Sure Mamma Mia 3 Is Happening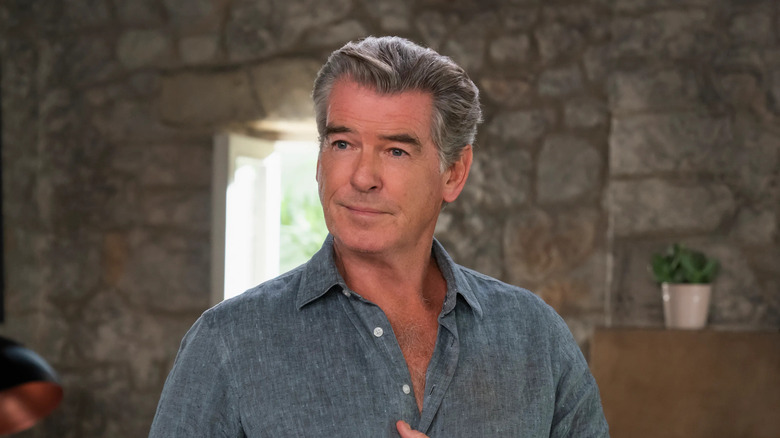 Universal Pictures
Here we go again ... again. If you love ABBA and the mixture of terrible and professional singers, this news is going to make you happy. Pierce Brosnan is jumping on the "Mamma Mia!" trilogy train. While doing a press tour to promote his upcoming turn as Doctor Fate in the Warner Bros. film "Black Adam," Brosnan told "Good Morning America" (via EW) that he is on board to participate in a third "Mamma Mia!" film. 
The first entry, which premiered in 2008 starred Christine Baranski, Meryl Streep, Brosnan, Dominic Cooper, Colin Firth, Amanda Seyfried, Stellan Skarsgård, and Julie Walters. The second film, 2018's "Mamma Mia! Here We Go Again" added Jeremy Irvine, Lily James, Andy García, and Cher. It's technically both a prequel and a sequel, set years after the events of the first film with flashbacks giving us a look at the past.  
"GMA" host Lara Spencer told Brosnan that Firth said he wanted to do another film featuring the songs of ABBA. Brosnan was on board as well, saying, "I'm in, too. Sure." He added:
"It's criminal how much fun you have on that movie. I think everybody would be in."
Whatever you thought of the films, it would be very hard to argue that everyone in them wasn't having a great time. It sort of felt like the audience was watching a very musical theater get-together with some famous people. (Yes, I said musical theater. ABBA member and songwriter Björn Ulvaeus is very much known for his musicals like "Chess," and Baranski is a Broadway star in her own right.)
Gimmie! Gimmie! Gimmie! (Another ABBA Film)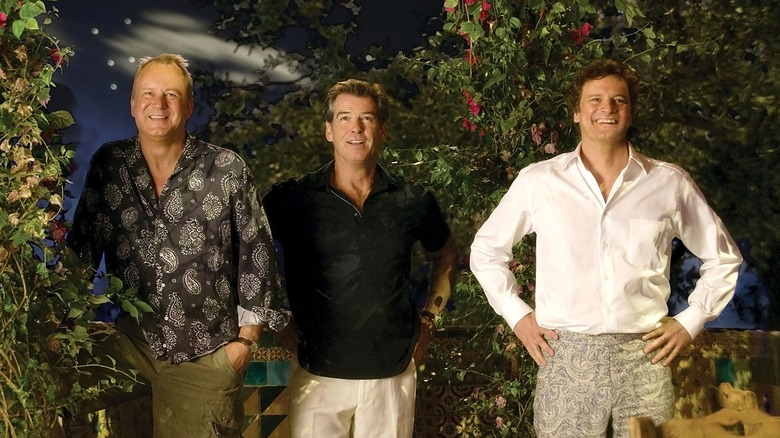 Universal Pictures
If you have somehow managed to avoid these films, they're about a young woman named Sophie (Seyfried) who is about to get married on a fictional Greek island. She invites three men (Brosnan, Skarsgård, and Firth) who could be her father, without her mother (Streep) knowing. They all sing ABBA songs throughout, with the story weaving around the selections. It's weird, it's fun, and oof, a lot of the cast cannot sing. The second film showed Sophie's mother and friends in the past and how the three men became part of her life. In the present, it showed how her recent death affected the group.
As far as the third film actually happening — Brosnan didn't confirm completely, but he did tell Spencer, "Yes, of course, I'm sure there's some plans." 
EW points out that Baranski said she'd be willing to reprise the role of Tanya in a new film, mentioning how much fun it was to shoot them. She did say that it would be difficult to get the whole cast back to Greece. In addition, producer Judy Craymer who created the musical that inspired the films said back in 2020 that she was working on a new entry, though she'd been delayed by Covid fog, according to the Daily Mail.
She said, "I think one day there will be another film, because there's meant to be a trilogy, you see. I know Universal would like me to do it."
"Black Adam" hits theaters on October 21, 2022. 
I apologize for putting ABBA songs in your head for the rest of the day ... or, you're welcome.