'Mamma Mia! Here We Go Again' Trailer: Where's Meryl?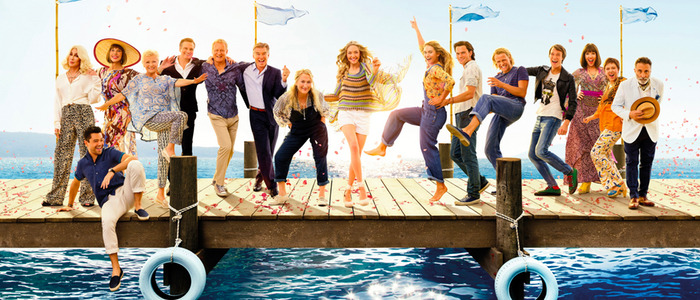 Somehow, Meryl Streep has become the Hawkeye of Mamma Mia! Here We Go Again. The final trailer for the ABBA-infused musical has arrived, and the whole gang is here...except Meryl Streep, who only makes a super-quick appearance before transforming into Lily James. Watch the Mamma Mia! Here We Go Again trailer.
I never thought that the marketing campaign for Mamma Mia! Here We Go Again would revolve around hiding Meryl Streep, but here we are! The final trailer for the film just dropped, and there's approximately .03 seconds of Ms. Streep, while the rest of the original cast (and some new faces) dance their asses off. Check it out.
Mamma Mia! Here We Go Again Trailer
Based on this trailer, I'm assuming Meryl Streep's character is dead, or possibly in the witness protection program. Perhaps the actress was too busy to film a full part. Either way, if you have Meryl Streep in your movie, I feel like you shouldn't hide her. But what do I know.
In Mamma Mia! Here We Go Again, Amanda Seyfried's character discovers she's pregnant, which inspires a bunch of people to return to the island of Kalokairi and belt out some ABBA hits. As this story is unfolding, we also jump back in time to see how Meryl Streep's character (played by Lily James) ended up on the island to begin with. It's sort of like The Godfather Part II, but with more singing and less murder. At some point, Cher shows up, playing Meryl Streep's mother and Amanda Seyfried's grandmother. Movies are wild.
Also included in the cast: Christine Baranski, Pierce Brosnan, Dominic Cooper, Colin Firth, Andy García, Stellan Skarsgård and Julie Walters. Ol Parker, writer of The Best Exotic Marigold Hotel, writes and directs the film, from a story by Catherine Johnson, Richard Curtis and Ol Parker. There are at least 10 confirmed ABBA songs appearing on the soundtrack, with the possibility of 12 more. That's 22 possible ABBA songs up in this movie, folks. Mamma Mia! Here We Go Again is going to be lit.
Mamma Mia! Here We Go Again opens July 20, 2018.
Ten years later, in the greek island of Kalokairi, Sophie is pregnant with Sky and runs her mother's villa. Self-conflicted because she can't do it by herself, with Tanya and Rosie's guidance, Sophie will find out more of Donna's past and how she owned the hotel, met each one of Sophie's dads and raised a baby, all on her own – with an unexpected visit of someone she had never met before: her grandmother.