Having To Sing For Mamma Mia! 'Terrified' Pierce Brosnan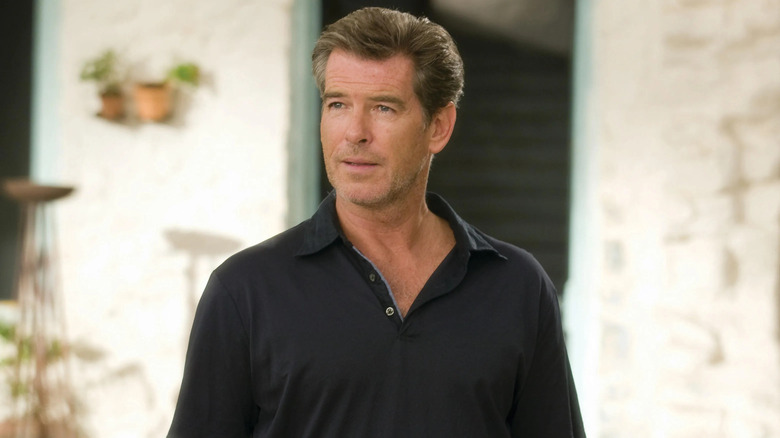 Universal Pictures
The cast of the film adaptation of "Mamma Mia!" has a few pretty impressive pieces in it. There's the obvious presence of Meryl Streep, one of the greatest actresses of our time, who stepped out of her comfort zone to do a musical and had so much fun doing so that she hurt herself. Then there were Stellan Skarsgård, Colin Firth and Pierce Brosnan, all acclaimed actors in their own rights, but not exactly known for their singing prowess. All three of them were terrified of belting out the movie's tunes.
Pierce Brosnan is best known for his time in the "James Bond" series of films. And though he's known for his action hero status, he still had some key experience with comedy, having gone toe-to-toe with Robin Williams in "Mrs. Doubtfire" in 1993, as the handsome new boyfriend of the comedian's ex-wife, played by Sally Field. To appear in a movie as blatantly goofy as one where Williams pretends to be a British nanny to get closer to his kids, you've got to assume Brosnan is an open-minded and not too self-serious guy.
The main issue for Brosnan, in terms of "Mamma Mia!" itself, was actually just the musical element. According to an interview with GQ, Brosnan was a bit scared to sing on screen. "It was terrifying having to do these songs," said the Irish actor. "And you know, 'SOS' is such a warhorse of a song."
Stage fright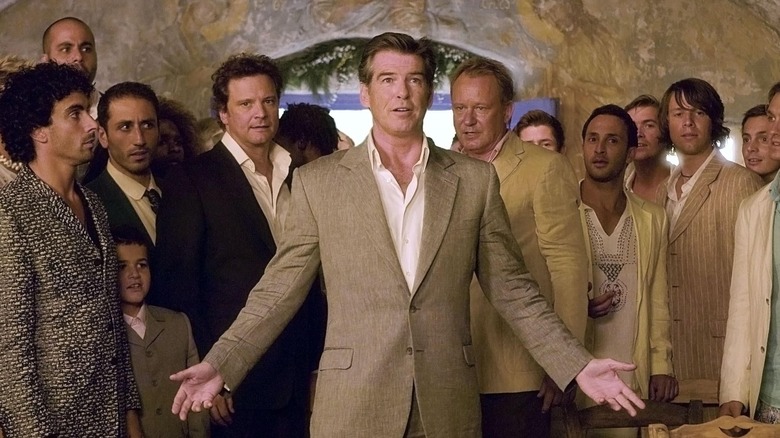 Universal Pictures
"Mamma Mia!" is based on a Broadway musical of the same name, which itself is based off of hit songs from the Swedish pop group ABBA. All of ABBA's songs are catchy and fun, making them one of the few groups who can properly pull off the jukebox musical. However, many of them are musically challening, which can surely make singing daunting for a performer like Pierce Brosnan. Luckily for the 007 star, he wasn't the only one scared on set, according to the GQ interview. Brosnan recalled:
"I think what gave me the greatest comfort on the day of recording the songs up at Air Studios was to see Stellan [Skarsgård] and Colin [Firth] looking like rabbits caught in the headlights. They were terrified."
Knowing he was not alone in his terror, Brosnan was able to loosen up and have much more fun during his time working on the film, as he mentioned in an interview with Good Housekeeping.
"You know, I actually think I should have done it sooner — maybe I could go back and redo some of my movies and put music in them. Imagine: a singing Bond! That would have been something. But with 'Mamma Mia!' I've gotten lucky, because I'm not just singing — I'm singing Abba, and people can't help but get up and boogie when they hear these songs."
"Mamma Mia!" went on to great success, spawning a sequel, "Mamma Mia! Here We Go Again" in 2018, with talks of a third film floating around at times. For a man who's worked as a secret agent saving the entire world, it's surprising that doing a musical was Brosnan's scariest task as an actor. But once you start to feel the music of ABBA, nothing's scary anymore.