Meryl Streep Had To Push Through The Pain For Mamma Mia's Musical Numbers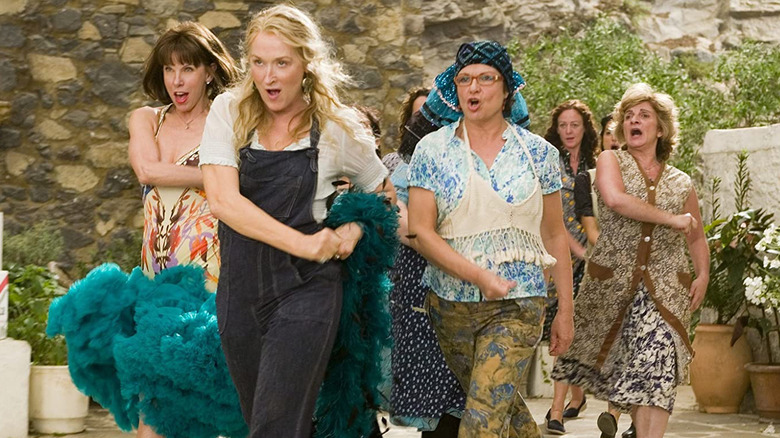 Universal Pictures
Actors claiming they had a ball during production on a movie is a common refrain on the publicity circuit. That chipper tone is so prevalent that it's hard not to be cynical when you hear stories about cast members becoming close friends or bonding like families on set (less so when the bonding occurs via mutual suffering perhaps). However, in the case of "Mamma Mia!," it's easy to buy that its stars had a grand ol' time during filming.
In fact, if the final product is any indication, they probably enjoyed themselves a little too much.
"Mamma Mia!" adapts Catherine Johnson's smash-hit 1999 Broadway stage show of the same name — a jukebox musical powered by the songs of Swedish pop music sensation ABBA. Directed by Phyllida Lloyd, the 2008 film stars Amanda Seyfried as Sophie, a 20-year-old about to be married on the scenic Greek island where her mother Donna (Meryl Streep) runs a hotel. Upon learning there are three men who could potentially be her biological father, Sophie invites the trio of gents to her wedding, hoping to discover the truth. Much musical merriment and alcohol-fueled shenanigans ensue.
In motion, "Mamma Mia!" typically looks and feels like the $52 million equivalent of a home movie made about someone's lavish wedding festivities, where everyone is clearly tipsy most of the time and the camera operator is constantly scrambling to capture the action. Of course, the slapdash nature of the film is also part of its charm, as is the wobbly singing by some of the cast. (Pierce Brosnan, who plays one of Sophie's possible dads, cannot carry a tune to save his life, but bless him if he doesn't try to.)
Getting to watch Streep happily making a clown of herself is also a hoot... even if the Oscar-winner was left reeling from all that musical cavorting.
It's not easy being the Dancing Queen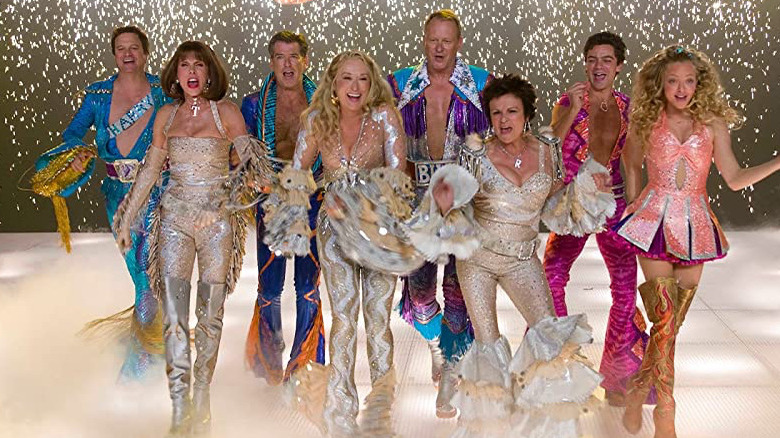 Universal Pictures
Most people probably wouldn't rank Meryl Streep's turn in "Mamma Mia!" as her best work, but it's undeniably one of her, well, most performances. When she isn't singing and dancing her heart out (and sometimes when she is!), she spends the film jumping on beds, doing pratfalls off roofs, hopping into oceans, and running about like she's being chased by Wile E. Coyote. It's no wonder her kids were wary of her making the film, as Streep recalled to Good Housekeeping in 2008:
"The girls were saying, 'Mom, please tell us you're not going to wear spandex' and 'I'm going to have to move to Alaska when this comes out.' [Laughs] I'd practice singing in my closet. I'm not kidding. If it penetrated the walls I'd hear, 'Mom. Mom. Mom!'"
Her children's nightmares came true when, sure enough, Streep donned a disco-era getup — complete with a blue jumpsuit — for the film's "Super Trouper" musical number. She would wear a similarly '70s-tastic costume for the movie's credits sequence, in which she (along with Christine Baranski and Julie Walters as Donna's old band-mates) don silver spandex and platform boots to perform the songs "Dancing Queen" and "Waterloo."
"It was terrifying!" Streep giggled. "I thought, 'Yes, this is what my daughters feared more than anything else!'" She would end up amassing terrible blisters on her feet after shooting this scene, but was more than happy to pay the price:
"I couldn't walk because I'd been dancing in those boots all day. But I wouldn't have missed it. It was just so much fun. And that's got to be a good thing, don't you think?"
Getting paid to have a party and embarrass your children at the same time? Truly, Meryl Streep was living the dream.