Pierce Brosnan Was Channeling Two Previous Bonds For His GoldenEye Performance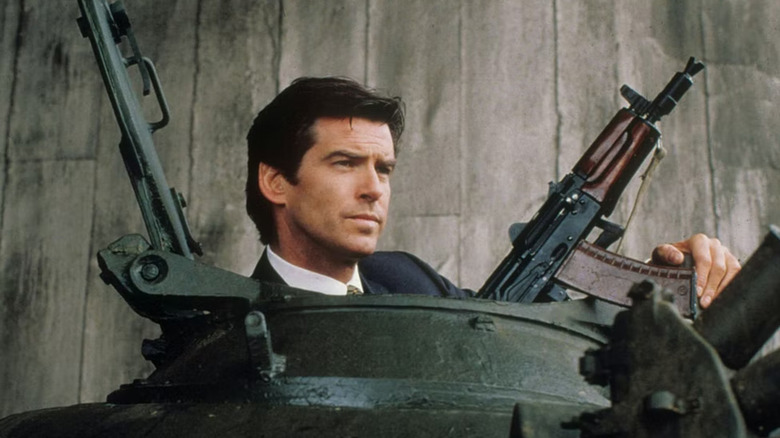 MGM/UA Distribution Co.
The name's Bond. James Bond. And for those who grew up in the '90s, Pierce Brosnan is the James Bond of our generation.
"GoldenEye" saw Pierce Brosnan step into the role, which proved a far cry from Timothy Dalton's quintessentially '80s secret agent. The quiff, the '80s soundtrack, and the Aston Martin V8 Vantage Volante were a thing of the past. It had been six whole years since "License to Kill" — the longest wait between Bond films since 007 made his big-screen debut in 1962. After a short, two-film run, Timothy Dalton was bowing out. It was time for a new 007, and Brosnan delivered. This was a new Bond for a new era.
But that doesn't mean Brosnan wasn't inspired by some of the greats.
Sure, his thoroughly modern 007 drove a BMW instead of an Aston Martin, and he found himself tricked out with all the latest modern gadgets thanks to a suitably high-tech Q branch. But Brosnan's James Bond drew on two of the best Bonds of all time: Sean Connery and Roger Moore. Brosnan revealed during a "GoldenEye" watchalong:
"I was very influenced by the work of Roger Moore and Sean Connery, and I allowed that influence to come into the work, I didn't censor it. I had the greatest respect for both actors and their portrayal as Bond, and especially – and it was written in such a way that you could feel the ghosts of both characters, both men, both actors very much so, and I made peace with that very early on in the filming."
So, how did Brosnan channel these two iconic performances in "Goldeneye?"
Sean Connery: The name's Bond. James Bond.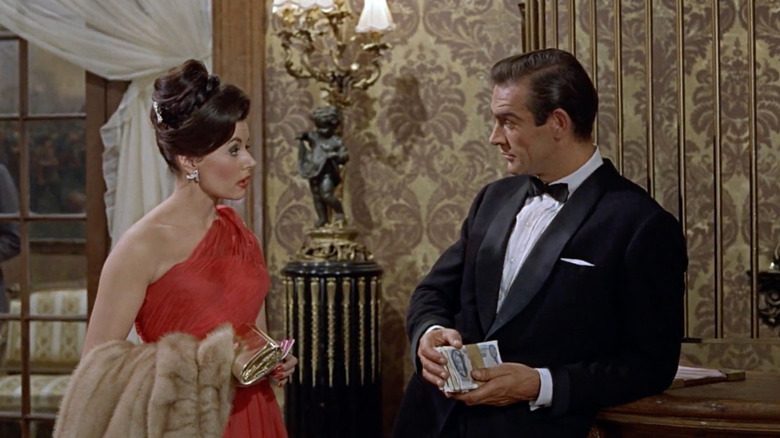 United Artists
It's no secret that Sean Connery left a huge impression on Brosnan. He's often applauded the original 007 for inspiring him, once saying that Connery was "just so powerful, so commanding of the role."
And it turns out that Brosnan had been inspired by the original Bond for some time. "I was eleven years old in 1964, just off the plane from Ireland when I saw Goldfinger at the ABC Cinema on Putney High Street," he said via Instagram on Connery's 90th birthday. "You were my Bond of inspiration."
For many fans, Connery is the original and best, providing many of the classic lines and suave, globe-trotting wit that made Bond a household name. You can see the influence throughout "GoldenEye," with director Martin Campbell channeling Connery's early Bond films. Remember when Bond meets Xenia Onatopp (Famke Janssen) at the Monte Carlo casino? That's clearly inspired by Connery's 007, and his brush with Sylvia Trench (Eunice Gayson) in "Dr. No."
One of the most obvious connections between Brosnan and Connery is the iconic Aston Martin DB5. Although Brosnan drives it for only a short spell through the mountain roads of the South of France, the whole scene where he encounters Onatopp in her Ferrari F355 GTS is reminiscent of Connery's most iconic Bond film – "Goldfinger." Here, Connery's Bond is in hot pursuit of Auric Goldfinger's (Gert Fröbe) Rolls Royce Phantom, all the while being pursued himself by Tilly Masterson (Tania Mallet). It's rather telling that the smooth, and altogether sophisticated, moments of "GoldenEye" are inspired by Connery's Bond.
But there's more than a touch of Roger Moore in there, too...
Roger Moore: Nobody does it better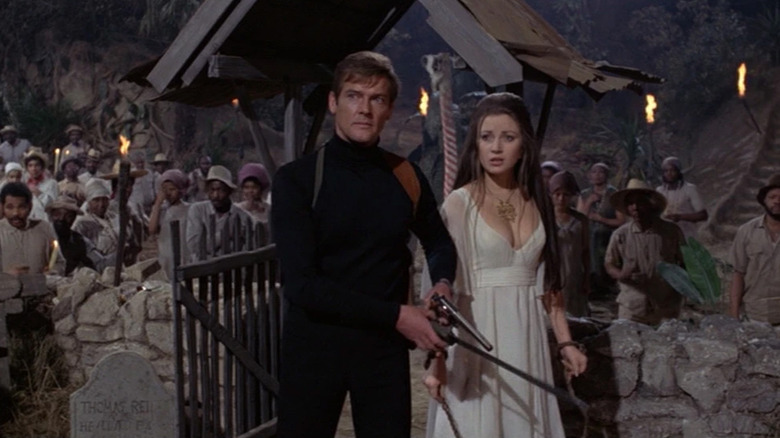 United Artists
"Live and Let Die" debuted Roger Moore's 007 in 1973 and introduced the world to an altogether cheesier Bond. Sure, he was charming and debonair ... but Moore's signature witty one-liners haven't exactly aged well.
"He always did have an inflated opinion of himself," quipped Bond after killing bad guy Dr. Kananga (Yaphet Kotto) with a compressed gas cylinder which causes him to inflate and explode.
And the one-liners only get worse in subsequent films. Still, it's this affinity for quips and one-liners that seemingly appealed to Brosnan:
"He had such a light touch, he just really didn't take it too seriously, and yet he was wise enough to know that it was a dangerous game not to take it absolutely 100 percent seriously. But he had a light touch Roger, and it was so outrageous some of the things he got up to."
It certainly was outrageous, ranging from a brush with voodoo to taking down space lasers. Most importantly though, Brosnan really brings the epic one-liners. "The writing's on the wall," he quips as Q shows off an exploding pen. "One rises to meet a challenge," he tells Onatopp as he brags about his er ... "passions". But it's not only Bond who gets to revel in the cheesy one-liners. "I trust you'll stay ... Onatopp of things," quips Moneypenny as she delivers 007 a field report on the villains.
As you can see, the spirit of Roger Moore's Bond lives on in "GoldenEye." Along with Connery's charm and Brosnan's own penchant for action scenes, the 007 we see in "GoldenEye" redefined the iconic secret agent for a generation. And it took a new twist on some classic performances to get there.