What Drove Edward Norton To Step Into The Directors Chair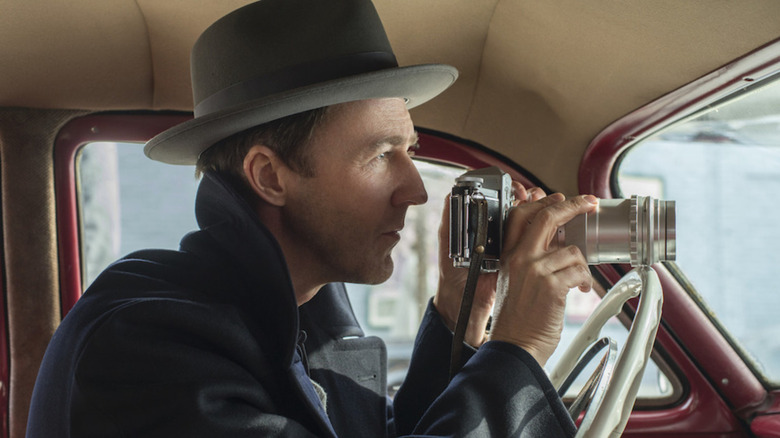 Warner Bros.
Edward Norton is one of our generation's greatest actors. He has collaborated with a slew of renowned directors. Often, (and sometimes to the detriment of his reputation), he works behind the scenes of the films he stars in. He took over the editing room while director Tony Kaye fought with the studio over "American History X"; he argued over the "Red Dragon" script with director Brett Ratner, who told the Los Angeles Times, "He likes to challenge the director. It's all about intellectual debate ... Edward's instinct is going to be, 'I have to take over this film.' He's going to try to rescue the film"; he wrote parts of "The Incredible Hulk" script to improve his character arc (via Entertainment Weekly).
To this date, he has only made two films in the span of nearly twenty years: "Keeping the Faith" in 2000 and "Motherless Brooklyn" in 2019. Norton tells Interview magazine that his directorial vision is inspired by the "looseness and organic, explanatory style" of Milos Forman and the micromanagement and confidence of David Fincher.
Since Norton loves to explore what makes his characters tick and how to visually express that, it made sense that he would eventually step into the director's chair. By starring in both the films he directs, he is able to control his performance and how the narrative around him unfolds. His main motivation for working on "Keeping the Faith" and "Motherless Brooklyn" was to tell the stories he was passionate about in specific ways instead of relying on the demands of another director. 
Keeping the Faith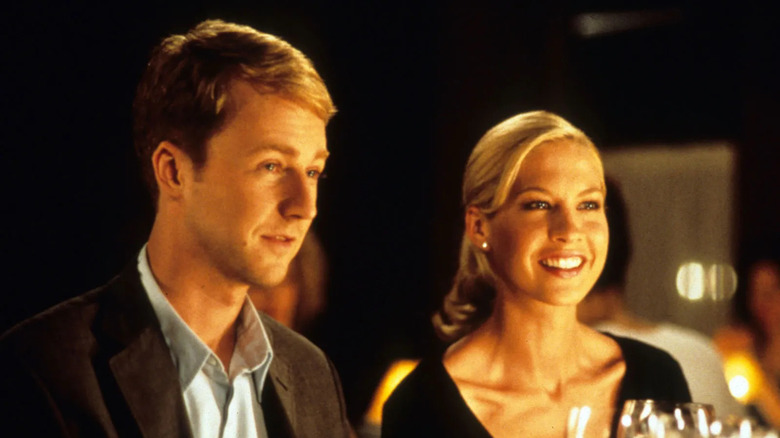 Buena Vista Pictures
Norton's sunny directorial debut "Keeping the Faith" in 2000 could not be more different than his cerebral, brooding roles on screen. He explains in an illuminating interview with Nora Ephron that he wanted to work on something with a more positive tone than the dark "American History X" and "Fight Club." It may be surprising that he took on such a lighthearted project, but he wanted to work with his longtime friend and screenwriter Stuart Blumberg.
Norton also stars in "Keeping the Faith" as Brian, a priest whose best friend is a rabbi played by Ben Stiller. Their close friendship is put to the test when their childhood friend, (a charismatic Jenna Elfman) returns and they both fall for her despite their religious vocations. As Norton said:
"It's such a particular idea and a particular vision. And at a certain point, it's better to ante up and try to realize the vision that you've had in your head. And I think it's fun to take something from soup to nuts. As you know."
It's a very pleasant film with lots of humorous moments and makes great use of New York City locations, but its main drawback is that it tries to be everything at once: a romantic comedy, a buddy film, a heartfelt drama, a slapstick comedy. "Keeping the Faith" also wants to deeply explore the meaning of faith and the conflict between divine and human desires, but it never digs deep enough and is overshadowed by wacky humor. 
What Norton does best is allow his actors' performances to shine by spending lots of time on the dynamic of the three friends and their religious communities. This makes them fully fleshed and interesting characters instead of the stereotypical ones that are typically seen in romantic comedies. 
Motherless Brooklyn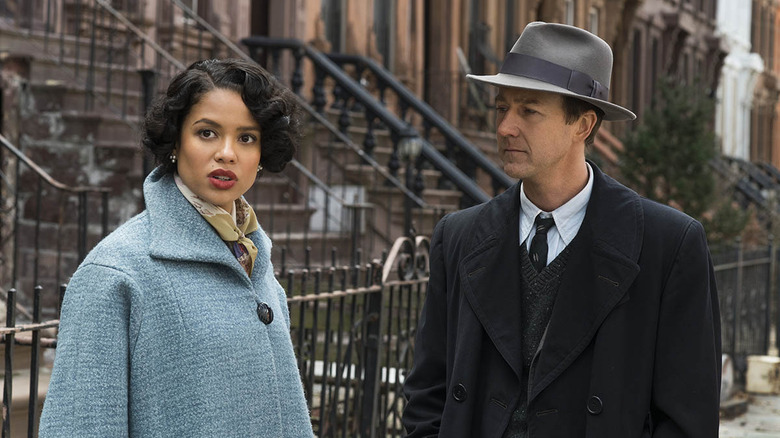 Warner Bros.
Norton makes a stronger visual impact in "Motherless Brooklyn" an adaptation of Jonathan Lethem's novel he had been trying to make for over 20 years. Norton tells NPR that he had "such a particular idea and a particular vision" that he was the only one who could direct this film. Part of that vision was to transfer the novel's 1990s setting to the 1950s for a more sprawling exploration of New York City's structural planning during an integral time period. 
Much like "Keeping the Faith," "Motherless Brooklyn" mixes genres: an introspective character study, an old-fashioned gumshoe thriller, and an understated romance supported by a mystery that thoughtfully contemplates systemic racism and urban gentrification. Despite being able-bodied, Norton portrays Lionel Essrog, a lonesome private investigator with Tourette's, but he handles the role with sensitivity. Lionel searches for the murderer of his mentor. Through his empathetic performance and subjective sequences, Norton makes Lionel a fascinating hero to root for.
He presents New York as majestic and powerful, from its overwhelming industry to the individual diversity that makes it such an amazing place. The cityscapes are sleek with vivid colors. "Motherless Brooklyn" does have the dark, gloomy colors of a typical film noir, but rather a warm palette that brings out the intricate beauty of the Harlem and Brooklyn brownstones.
Despite its lengthy runtime and slow pacing, Norton ties it all together in a compelling noir that, although complex, intrigues the viewer. Since Norton is an actor, he gets so involved in developing character and their world that he doesn't make the narrative concise. Nevertheless, both "Keeping the Faith" and "Motherless Brooklyn" certainly shows promise and hopefully, he will work on other films in the future.