Playing A Teenage Mutant Ninja Turtle Took Some Intense Preparation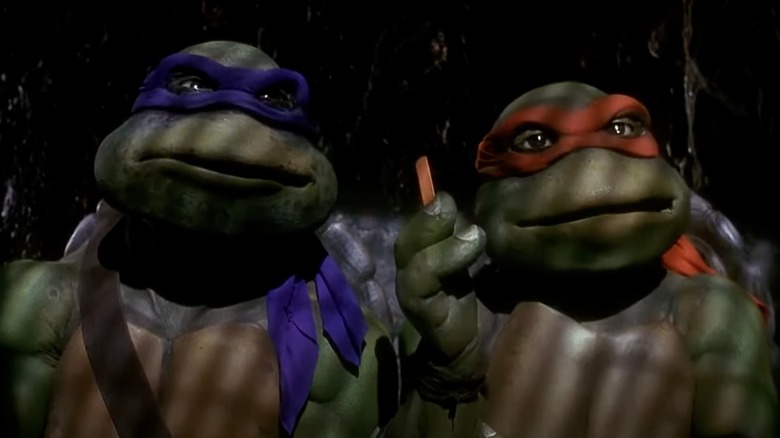 New Line Cinema
The Teenage Mutant Ninja Turtles may have been nicknamed "Heroes in a Half Shell," but the actors who played them in their first live-action movie in 1990 certainly weren't half-committed. Each Turtle, based on the sewer-dwelling comic book characters by Kevin Eastman and Peter Laird, was brought to life via puppetry and costumes from Jim Henson's Creature Shop. Making them come to life for a generation of kids weaned on their animated series and Playmates toys required the combined efforts of in-suit performers, facial assistants, voice actors, stunt doubles, and even a skateboarding double for Donatello, voiced by Corey Feldman.
In a 25th-anniversary retrospective via The Hollywood Reporter in 2015, the in-suit performers — who spent the most time embodying each character — looked back on the demanding experience they faced while becoming Ninja Turtles. Michelan Sisti, the actor who played Michelangelo and cameoed as his human pizza delivery driver, recalled going in for an audition where he improvised some of his own amateur ninja moves, to potentially disastrous effect. As he told THR:
"For the audition, I came up with my full-tilt bozo version of martial arts, because I had no idea what martial arts was. [Director] Steve Barron was in a tiny office, and the audition ended when I gave my then-version of a roundhouse kick. I put my foot through the wall. So there I was with my foot stuck in the wall, and Steve laughed, which is the best thing that could have happened. He said, 'Anyone who would put that much energy and go to that extreme for an audition deserves to be one of my Turtles.'"
Josh Pais is the one in-suit performer who also did the voice work for his character, Raphael, and he furthermore recalled the rigorous process of donning a Ninja Turtle costume.
'It was like NASA of the puppeteering world'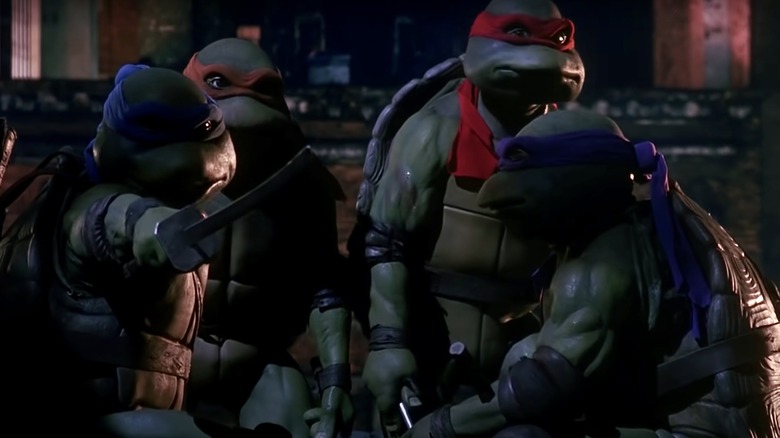 New Line Cinema
"They flew me to London to Jim Henson's Creature Shop," Pais said, "and I was body casted from head to toe, every inch of me except for two straws in my nose. It was super intense. They told us afterward that they kept us in that plaster longer than they needed to, just to see if we would freak out."
Jim Henson, of course, created the Muppets, and with his Creature Shop, he had already carved out an impressive legacy in Hollywood before "Teenage Mutant Ninja Turtles." This is something that the in-suit performers were keenly aware of at the Creature Shop in London. Leif Tilden, the man behind Donatello, said:
"I go in and Falcor's head from 'NeverEnding Story' is right there. I'm like 'Oh my God!' There's Yoda in the corner. I'm just geeking out. These guys were craftsmen. It was like NASA of the puppeteering world."
Sisti also recalled doing "several months of intense training in New York with a sensei" to prepare for the martial arts and weapons work onscreen. "Then we went to North Carolina," Pais added, "and then we rehearsed the movie almost like a play. Each of us had somebody that was going to operate our face. It was a very close relationship, because he was basically watching what I would do in these rehearsals, and then seeing how we could make something similar animatronically with this turtle head."
In the 2020s, it would be all too easy to reboot the Ninja Turtles as CG characters in live-action, but through hard work and movie magic, "Teenage Mutant Ninja Turtles" was able to give each character weight and a tactile quality that made them seem realer than they ever had been or would be again onscreen.