Jamie Lee Curtis Has Already Pitched A Freaky Friday Sequel To Disney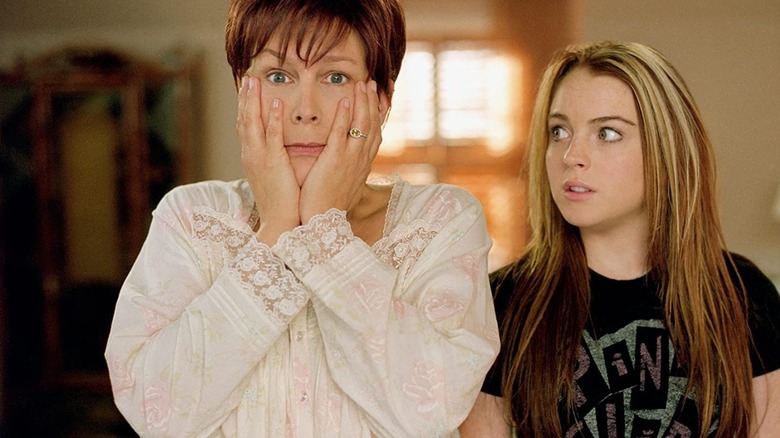 Buena Vista Pictures
There are more versions of "Freaky Friday" than the casual reader may realize. The original 1972 novel by Mary Rodgers ("Once Upon a Mattress") is about a 13-year-old girl named Annabel and her put-upon mother as they are currently living through a period of antagonism. In what might be considered a grand cosmic joke, Annabel and her mother magically swap bodies for a day — a freaky Friday — forcing them to live one another's lives and see how difficult the other has it. They eventually swap back having learned important lessons. The book borrows its premise from an 1882 fantasy novel by F. Anstey called "Vice Versa, or a Lesson to Fathers." Rodgers wrote two sequels, "A Billion for Boris" in 1974 and "Summer Switch" in 1982.
"Freaky Friday" was first adapted to film in 1976 by director Gary Nelson in a celebrated version starring Jodie Foster and Barbara Harris. Thanks to heavy rotation on TV, "Freaky Friday" became something of a Gen-X staple. In 1984, there was a TV movie adaptation of "Summer Switch." In 1995, Melanie Mayron ("The Babysitter's Club," "Mean Girls 2") directed a TV movie adaptation of "Freaky Friday" starring Gaby Hoffman and Shelley Long. In 2003, Mark Waters directed a successful and high-profile version with Lindsay Lohan and Jamie Lee Curtis. In 2016, a "Freaky Friday" musical debuted on Broadway with Emma Hunton and Heidi Blickenstaff in the central roles, and that musical was adapted into another TV movie in 2018 with Cozi Zyehlsdorff replacing Blickenstaff. 
The most recent film iteration of Rodgers' novel was Christopher Landon's "Freaky," a twist on the formula that saw a teenage girl magically swapping bodies with a sociopathic serial killer. Shenanigans, as they say, ensue. 
Lindsay can be the hot gramma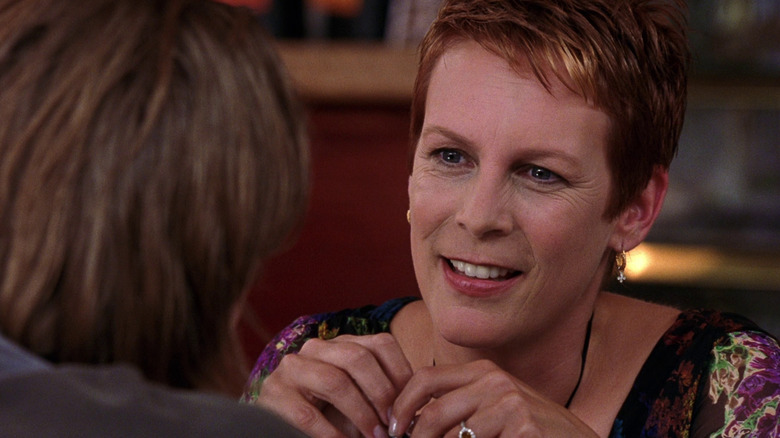 Buena Vista Pictures
Curtis, star of the 2003 version, recalls her film with fondness. It has impacted Millennials with perhaps the same power that the 1976 version marked Gen-Xers, and it's no wonder why, as Waters' version is bubbly, clever, and even a mite subversive. A highlight is when Curtis, occupied by her teenage daughter, sits to have a conversation with her daughter's crush. They bond over their mutual hidden affection for Britney Spears' "Baby One More Time." The film climaxes with Curtis taking up a guitar — a talent of her daughter's — and jamming backstage while Lohan, occupied by her mother, awkwardly mimes guitar movements on stage. Both actresses are delightful in the film. 
Curtis, in speaking on "The View" on October 10, 2022, announced that not only would she return for a sequel to "Freaky Friday" some 20 years later, but she already had a pitch in mind ... which she already mailed to Disney. Her idea? Curtis, 63, swaps bodies with her 36-year-old daughter. She said: 
"I have already written to Disney ... I'm 64 years old in a month, soon. My point is, creatively, I'm wide open. So Lindsay Lohan and me back in 'Freaky Friday?' She was just in a Christmas movie, she got married. It's all good. Bring it! Let me be the gramma! Let me be the old gramma who switches places. Then Lindsay can be the hot gramma who's still happy with Mark Harmon in all the ways you would be happy with Mark Harmon."
Harmon played Curtis' fiancé in the 2003 film and Lohan was not pleased with her incoming stepfather. In Curtis' version, their marriage is going well, and her adult daughter would have to face that.
Lindsay's back as well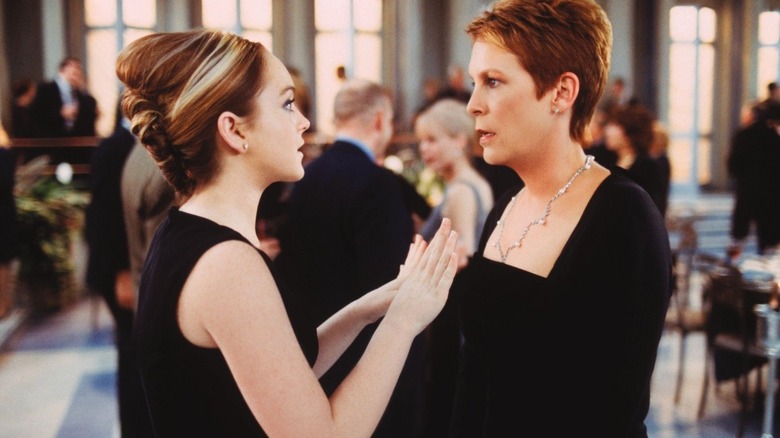 Buena Vista Pictures
Curtis immediately apologized to Pam Dawber, Harmon's wife, for her slightly lascivious crack.
A story of a 36-year-old living life as a 64-year-old is, of course, a much different story than a teenager and a fortysomething swapping bodies. A mom would have to face the parental shift of being the grandmother to her own toddlers, while a gramma would have to once again be a mom. By Curtis' pitch, it seems that "Freaky Friday 2" would be about parenthood and the way different generations of parents are equipped with different skills, resources, and vocabulary when it comes to child-rearing. Recall that "parent" didn't become a popularly used verb until maybe the 1960s. Curtis said: 
"And simply, I would like to see Lindsay be the hot gramma, and I would like to see me try to deal with toddlers today. I wanna be a helicopter parent in today's world, as an old lady."
Lohan's Christmas movie that Curtis mentioned is the upcoming "Falling for Christmas," due on Netflix on November 10, 2022. She will also appear in "Irish Wish," a romantic comedy due in 2023. Lohan was only 16 when she made "Freaky Friday," and immediately had a high-profile career with notable films and pop records. Her success was accompanied off-screen by a turbulent separation from her parents, which has been well documented. Lohan has also wrestled with addiction and rehab, leading to ups and downs in her career. 
These days, Lohan has become a hotel entrepreneur, opening her own nightclub in Athens and two beach resorts in Mykonos and Rhodes. Lohan is now back to acting, recorded a new single, and is engaged to be married. Curtis may have timed a "Freaky Friday" revival perfectly for the both of them.