Enola Holmes 2's Mystery Plot Is Based On A Real-Life Workers' Strike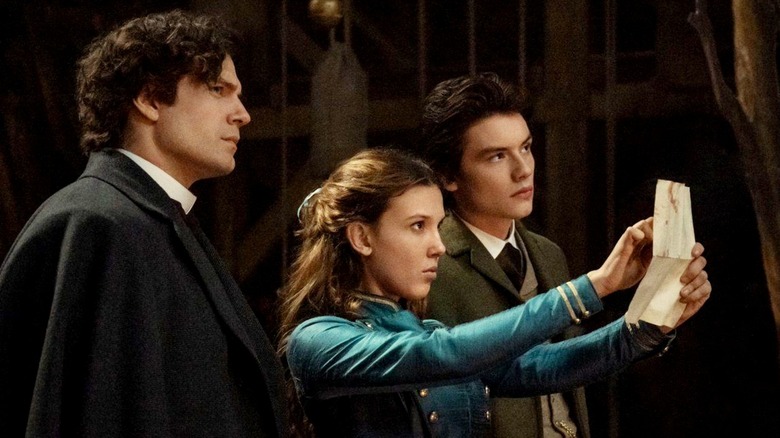 Netflix
The release of "Enola Holmes" back in 2020 proved to be a big success for Netflix, so it's no surprise that a sequel is the way soon. Bringing back Millie Bobby Brown as the titular kid detective, "Enola Holmes 2" follows her on a quest to find another missing person. This time, instead of her mother Eudoria (Helena Bonham Carter) or the young Lord Tewkesbury (Louis Partridge, who also returns for the sequel), the missing person is a young woman named Sarah Chapman, who works at the Bryant & May match factory.
If you are familiar with the history of labor strikes in the United Kingdom, then the names of Chapman and the factory might be familiar. That's because "Enola Holmes 2" is based around the Matchgirls' Strike of 1888, according to a new feature in Total Film. Over a thousand women and girls that worked at the east London factory went on strike to protest abhorrent working conditions, which included 14-hour work days and extremely low pay. The strike went on for several weeks until Bryant & May officials caved in to public pressure.
As for Chapman, The Matchgirls Memorial says the real-life version of this character was just 19 years old when she was working at the factory alongside her mother and sister. Although she received manageable wages, she joined the strike committee in order to reduce inequality among her coworkers. In Enola's version of events, she will end up missing, forcing Enola to team up with her brother Sherlock (Henry Cavill) to find answers.
A timely premise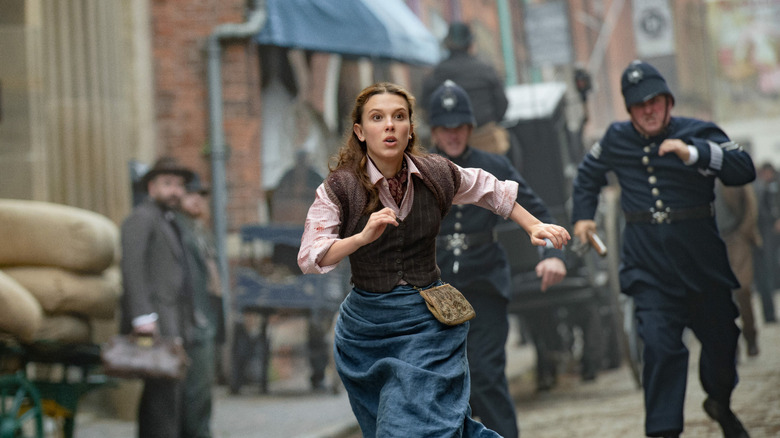 Netflix
Strikes are far from a thing of the past, as the film industry was reminded when members of the International Alliance of Theatrical Stage Employees (IATSE) threatened to strike last year over industry-wide allegations of mistreatment. Of course, the filmmaking is not the only industry to be at the center of potential or ongoing strikes. Here in the United States, workers have been at a crossroads with railroad companies for several weeks regarding low pay and long hours, with one union recently rejecting a strike-averting deal (via The Associated Press).
The United Kingdom, in particular, has been gripped by industrial action in the wake of the ongoing cost of living crisis. Railway workers are currently striking across the country, with BBC News reporting that over 40,000 workers have been striking for twelve days. Workers of the Royal Mail are also preparing to strike on the 13th, 20th, and 25th of October. Perhaps the most important, however, is a potential strike budding among National Health Service nurses, who argue that they are still not being paid enough despite the essential work they carried out during the COVID-19 pandemic (via Reuters). From these and several more instances, it seems like workers' rights will be at the forefront of public conversation for some time.
Will the on-screen representation of these issues in "Enola Holmes 2" matter? It is hard to say, as Netflix has its own murky history with handling pro-worker actions. However, it will at least shed a light on these necessary conversations.
What we know about Enola Holmes 2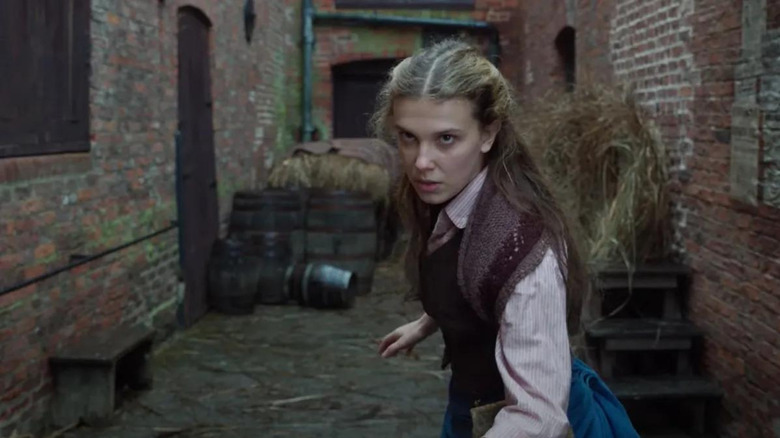 Netflix
The first trailer for "Enola Holmes 2" recently dropped during Netflix's TUDUM fan event, giving viewers a preview of some of the mischief and mayhem our titular heroine will encounter. Cast members returning alongside Brown, Cavill, and Carter are Susie Wokoma, Adeel Akhtar, and Louis Partridge. New cast members include David Thewlis, Sharon Duncan-Brewster, Hannah Dodd, Gabriel Tierney, and Serranna Su-Ling Bliss.
The latest issue of Total Film, which dives deeper into the film's intriguing plot, goes on sale on October 13. "Enola Holmes 2" arrives on Netflix on November 4. Check out the film's official synopsis below:
Fresh off the triumph of solving her first case, Enola Holmes follows in the footsteps of her famous brother, Sherlock, and opens her own agency — only to find that life as a female detective-for-hire isn't as easy as it seems. Resigned to accepting the cold realities of adulthood, she is about to close shop when a penniless matchstick girl offers Enola her first official job: to find her missing sister. But this case proves to be far more puzzling than expected, as Enola is thrown into a dangerous new world — from London's sinister factories and colorful music halls, to the highest echelons of society and 221B Baker Street itself. As the sparks of a deadly conspiracy ignite, Enola must call upon the help of friends — and Sherlock himself — to unravel her mystery. The game, it seems, has found its feet again!