A Now-Classic Seinfeld Episode Nearly Sunk The Show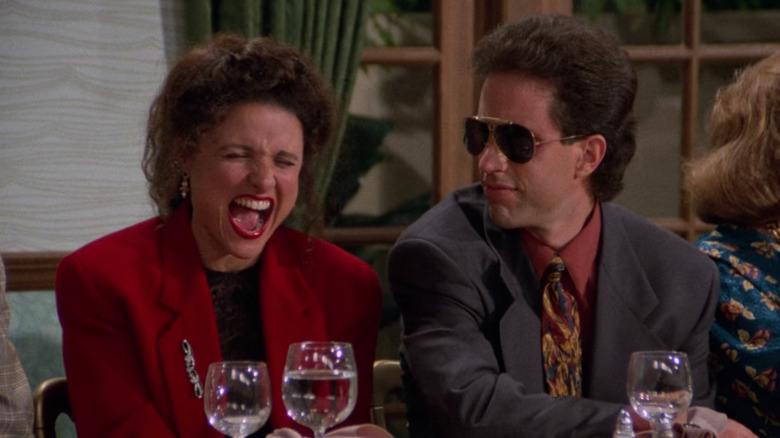 NBC
The first two seasons of "Seinfeld" have a bit of a rocky start. There are some undeniably brilliant episodes in those early days, such as "The Chinese Restaurant," "The Phone Message," and "The Deal," but it was not until season 3 that basically every single episode was an absolute banger. It is not uncommon for shows to take a bit of time to find their footing. How many times have you heard, "Once it gets to this episode, the show gets really great," in your life? Too many to count, I'm assuming. "Seinfeld" is no exception there.
Season 3 makes it seem like it was very far into the run of "Seinfeld" that it got good, but the first and second seasons only had 17 episodes combined. This was their first full order, 23-episode season. The cast and the writers were still massaging who these characters were and their relationships with one another, and occasionally, that meant trying some things. Case in point, the third episode of Season 3 entitled "The Pen." This episode saw Jerry Seinfeld and Julia Louis-Dreyfus' Elaine Benes on a trip down to Florida to stay with Jerry's parents (Barney Martin and Liz Sheridan). It's one of my favorite episodes of the series, due in no small part to the introduction of Jack Klompus (Sandy Baron).
However, this episode was the source of much ire from a very important member of the company: Jason Alexander. "The Pen" notably does not include the characters of George Costanza and Kramer, who make up the other half of the central quartet. Alexander was not too happy about being cut out of the show and was perfectly content to walk if they did it again, which would have resulted in a rather extreme shift for "Seinfeld."
Trying to serve four characters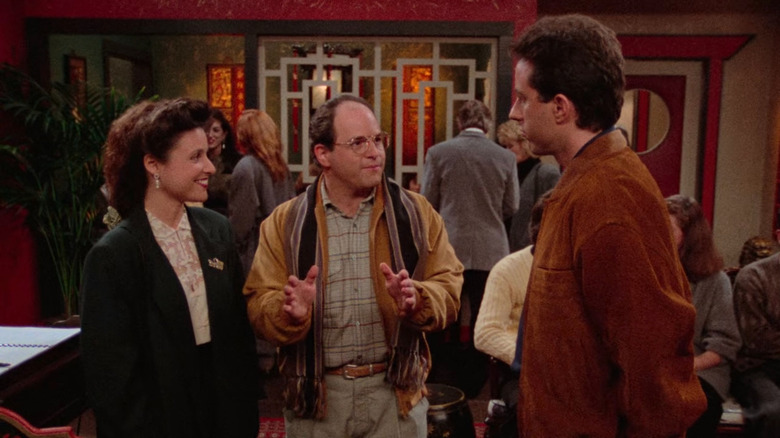 NBC
Building an ensemble can be incredibly tricky, especially for comedy. Every character not only needs to be a clearly defined individual with interesting storylines, but they also need to have room to shine comedically. We know the characters of Jerry, George, Elaine, and Kramer so well now, but it took a lot of work to get them to those points. What is evident in those early episodes was that this was a show built around Jerry and George, as they were the stand-ins for Jerry Seinfeld himself and co-creator Larry David. Their meaningless jibber-jabber was to be the focus of the show. Elaine was not even in the pilot of "Seinfeld." After Julia Louis-Dreyfus entered the show, it took a while for her to get fully integrated into the show's firmament. Generally, her storyline would be with Jerry and rather separate from the other two characters. To put it bluntly, she was the girl, and they weren't exactly sure how she fit.
When figuring out what works, you need to experiment. "The Chinese Restaurant" is a great example of this, setting the entire episode in one location where they just wait for a table for 22 minutes. This was also a departure because Kramer did not appear in it. It gave room to try out some new comedic games, particularly for Elaine, and it worked wondrously. "The Pen" was set up in a similar way and really let Julia Louis-Dreyfus go for some big laughs, doing crazy things like taking too many muscle relaxers and screaming "Stella!" at old folks, à la Marlon Brando in "A Streetcar Named Desire." However, this was done at the expense of George and Kramer, which doesn't bode well for building a proper ensemble.
'If you do it again, do it permanently'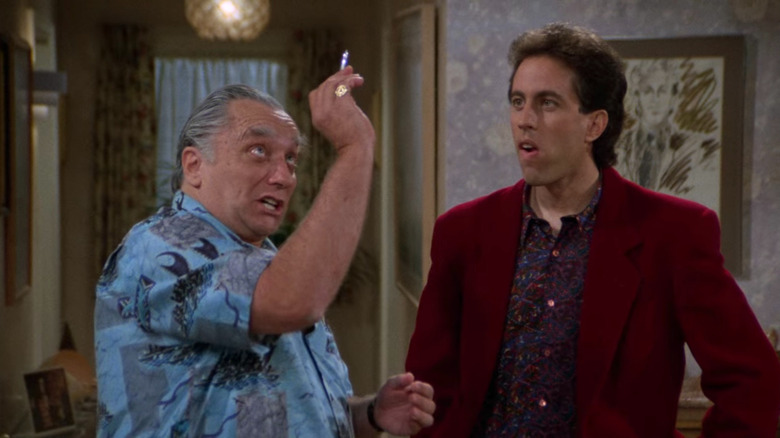 NBC
Jason Alexander comes from the theatre. In the "Inside Look" DVD featurette for this episode, he said, "I grew up in bathroom accepting the Tony, not the Emmy of the Oscar," and a few years prior to "Seinfeld," he did win that Tony for his performance in "Jerome Robbins's Broadway." He was enjoying the theatrical career he'd envisioned for himself.
In theatre, the ensemble is everything. You show up with the same group of people every day, and you create something magical together. Every person there needs to be there. So, George getting written out of "The Pen" goes against his entire mentality of performing, and he fully admits that his ego "reared its little head" about it. Alexander recalled:
"I went to Larry [David] when we came back to do the following episode, and I said, 'I gotta talk to you about what happened last week. You wrote me out of the show. I only want to be here if I'm indispensable ... If you do it again, do it permanently. If you don't need me to be here for every damn episode of "Seinfeld" you write, then I don't need to be here.' And he went, 'Oh, come on,' and I went, 'Larry, I know it doesn't make sense ... But I've got to feel that you can't do this without my character and my work being apart of it. Because if I do, then I just don't want to be apart of it.'"
This may seem like an extreme reaction to some, but I understand it. Jason Alexander isn't there to be on standby. His name is in the opening credits. George is integral to "Seinfeld." Well, he was never written out of an episode again. Neither was Kramer.
Always the four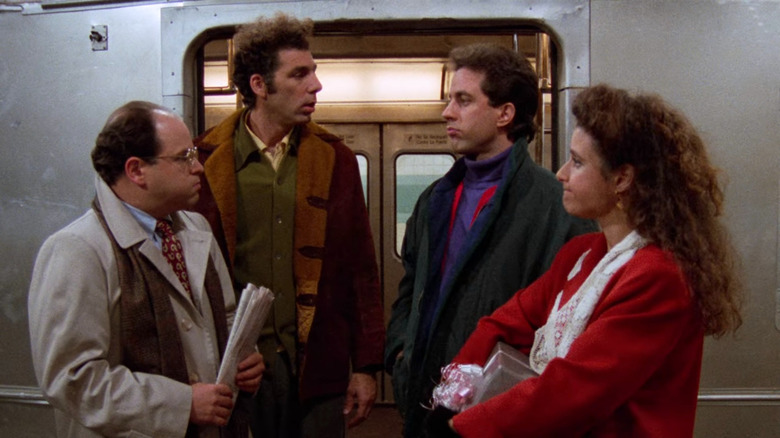 NBC
After "The Pen," the only time one of the main four characters of "Seinfeld" was not in an episode was the season 4 two-part premiere "The Trip." Julia Louis-Dreyfus was still on maternity leave when that episode was shot, and therefore, she was occupied with more pressing matters. That is it. Every episode needed to have Jerry, George, Elaine, and Kramer because they were the show. It may be Seinfeld's name, but the show was about the four of them. Whether they worked as a collective or each had their own singular story, such as the Season 3 episode "The Subway," none of those four actors were going to feel slighted by the material given to them each week.
My favorite episode of "Seinfeld" is called "The Dinner Party" from Season 5. Similar to "The Pen," it separates Jerry and Elaine from George and Kramer. However, instead of eliminating the other two from the story, it bifurcates it, where we spend equal time with each pair getting up to their own hijinks as they each procure some refreshments for a dinner party they will be attending. They found ways to mix and match characters without sacrificing material for anyone. Once they realized the importance of all of their comedic energies coexisting with one another, it's no surprise why it then became such a phenomenon.