Smile Beats Lyle, Lyle, Crocodile While Amsterdam Faces Trials At The Weekend Box Office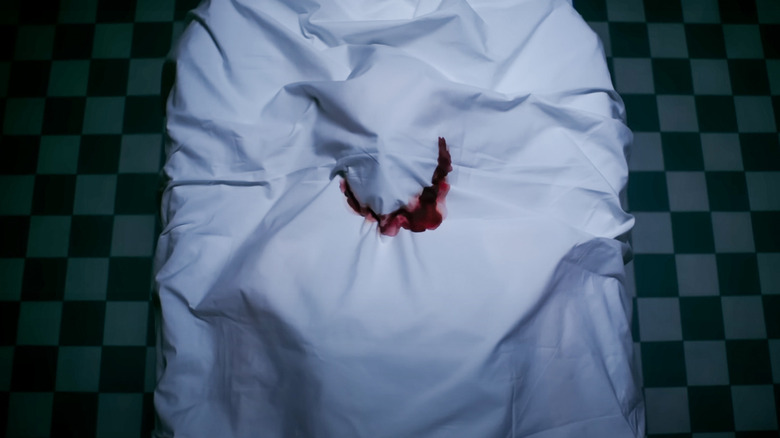 Paramount Pictures
Another weekend brings another serious dilemma for moviegoers: should Friday night be spent singing along with a talking crocodile or solving a mystery with three Hollywood superstars? Based on the box office numbers, the answer is ... neither! Why solve a crime or sing along when you can scream in terror thanks to Paramount's latest horror flick, "Smile."
In its second weekend at the box office, "Smile" is still going very strong. It's hard to believe that Parker Finn's directorial debut was once set to arrive exclusively to Paramount+, and execs have plenty to smile about after making the wise choice to premiere it in theaters instead. Per Variety, the film is now expected to beat out two other wide releases after earning $5.4 million on Friday from 3,659 theaters. This puts it ahead of both "Lyle, Lyle, Crocodile" and "Amsterdam," which earned $3.5 million and $2.6 million, respectively.
Based on the numbers, there's a good chance you've already encountered the smiling demon, but in case you've missed out on the hype, "Smile" is the perfect movie to kick off spooky season, The film stars Sosie Bacon as a therapist who witnesses a traumatic incident and ends up haunted by strange visions and creepy, smiling figures that only she can see. Another big win for the world of original horror, "Smile" is performing well beyond expectations, much like "Barbarian" and "The Black Phone" before it. Was it the terrifying marketing campaign or the killer premise? Or maybe it's because word-of-mouth has spread like wildfire when it comes to the film's nightmarish monster. Whatever the explanation, the results really speak for themselves.
Lyle, Lyle, you've got nothing on Smile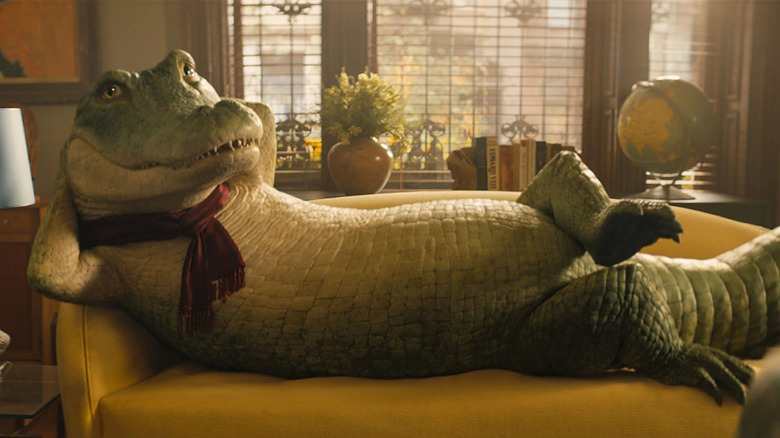 Sony Pictures
So who bottomed out below "Smile"? That would be the weekend's biggest new releases, "Lyle, Lyle, Crocodile" and "Amsterdam." But for the singing croc, this is hardly the end of the world. While Sony's family-friendly reptile only grossed $3.47 million on its opening day, it has plenty of potential to grow as the weekend continues — especially since Monday marks Indigenous Peoples' Day, which will keep some kids home from school and prompt families to head to theaters.
"Lyle, Lyle, Crocodile" follows the musical misadventures of a singing croc who befriends a young kid and slowly wins his family over with his musical hijinks. It's the king of Paddington-esque plot that's perfect for families and most importantly, it boasts Grammy-nominated artist Shawn Mendes as the titular croc. It also has a touch of brand recognition for anyone who grew up reading Bernard Waber's "Lyle, Lyle, Crocodile" and needs to see him rendered onscreen in all his scaly glory.
According to Variety, Sony is projecting a weekend gross between $12 million and $13.5 million. To compare this to another family-targeted movie about an animal that has no business terrorizing a city, Paramount's "Clifford the Big Red Dog" premiered to $16.6 million last November, despite its simultaneous release on Paramount+. That being said, "Lyle" has a sizable runway to grow in the coming weeks since it has no real competition when it comes to family-friendly movies in theaters, unless you count the seismic power shift coming to the DCEU with The Rock as "Black Adam." But even though it's rated PG-13, I'm guessing that all the chat about an anti-hero who's cool with murder won't have parents rushing their littlest kiddies into theaters.
Amsterdam is this weekend's bomb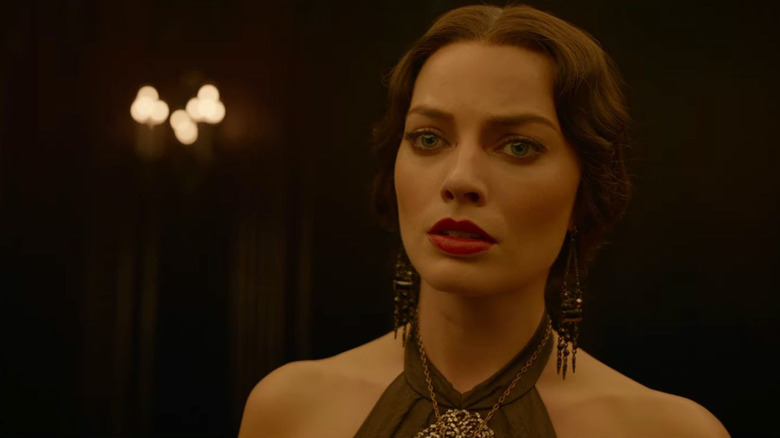 20th Century Studios
The other new wide release of the weekend is David O. Russell's "Amsterdam," which has been panned by critics and, evidently, ignored by audiences. You might expect more from a film so packed with notable names — Christian Bale, Margot Robbie, John David Washington, Zoe Saldana, Anya Taylor-Joy, and Taylor Swift — but even their combined star power couldn't save "Amsterdam" from bombing. After it grossed $2.6 million on Friday, the film is looking at a debut weekend of $7 million or less. Considering its $80 million budget ... yikes.
Elsewhere, Sony's "The Woman King" has been chugging along at a steady rate and expects to gross $5.24 million in its fourth weekend, while Warner Bros.' "Don't Worry Darling" has had significantly less staying power. Olivia Wilde's second feature is looking at $3.4 million in its third weekend.