Here's How Guillermo Del Toro's Pinocchio Is Different From Other Adaptations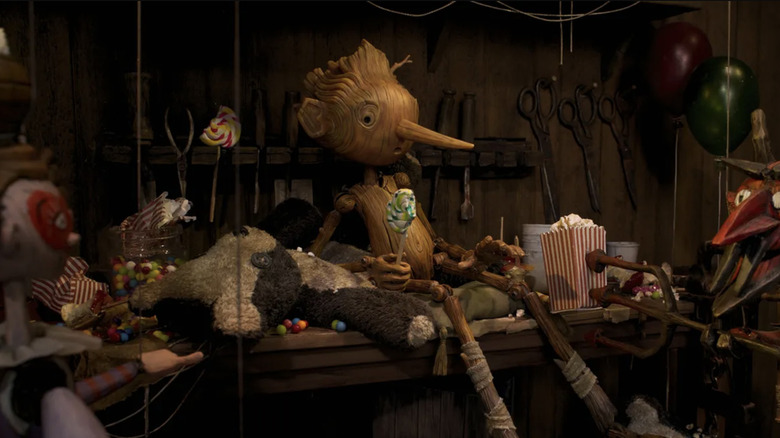 Netflix
Guillermo del Toro's reimagining of "Pinocchio" looks to be a departure from other iterations of the classic story. The stop-motion animated film seems to be everything you would expect from a del Toro film, with trailers and promotional material teasing the movie as a fairy tale with darker inclinations. The film has been in development for a long time, becoming a passion project for the director. With such a creative endeavor, it's clear that this reimagining seeks to be unique in how it approaches this well-known story and maybe even subverts expectations, just like other Del Toro projects.
So the question, in this instance, is: what makes Guillermo del Toro's "Pinocchio" adaptation stand out from the others? In a year that features another remake of the story that's received less than stellar reviews, how will Netflix's upcoming reimagining save itself from the same fate? Well, besides being made with the love and care del Toro puts into most of his projects, it would be the underlying message about humanity and explicitly understanding your identity through means of disobedience.
A story about disobedience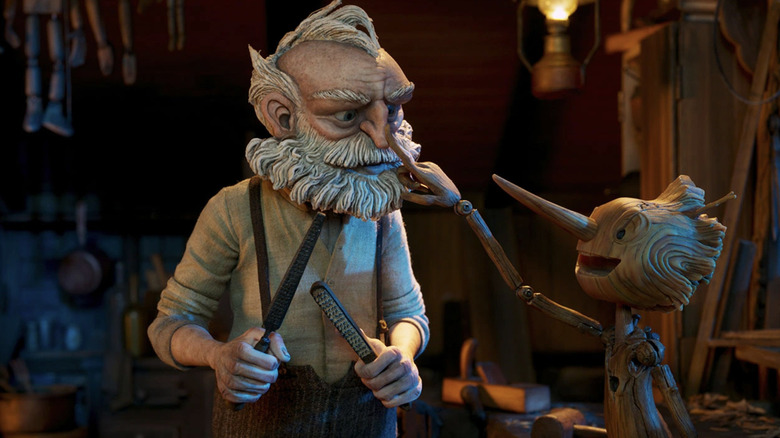 Netflix
In a press junket attended by /Film's Jeremy Mathai, Guillermo del Toro gave a detailed answer regarding what makes his adaptation of "Pinocchio" different from others:
"Well, first of all, I would say almost every other 'Pinocchio' story is about obedience. Ours is about disobedience. Disobedience is a primary factor in becoming human, and how becoming human doesn't mean changing yourself or others. But understanding, and I think the main first step towards conscience and the soul for me, is disobedience."
Del Toro's wish to examine humanity's tendency for disobedience aligns with the themes of the iconic original story. "Pinocchio" was initially meant to be a story that warned children not to disobey their elders. The tragedies that befell the wooden boy in the original story were supposedly a result of the puppet's disobedience, after all. Only Guillermo del Toro could stay loyal to the classic source material while also finding his spin on it that looks to be a more empathetic take on human flaws such as disobedience.  
Del Toro was also sure to emphasize that the disobedience he speaks of isn't crass or without reason. Instead, it's disobedience stemming from creating your ideology and beliefs:
"It's the difference between ideas and ideology. An idea is an idea that you construct from experience and compassion, and understanding, and an ideology is something that is given to you, and you're told to obey it blindly. And those are things that help us craft the tale."
Poignant historical backdrops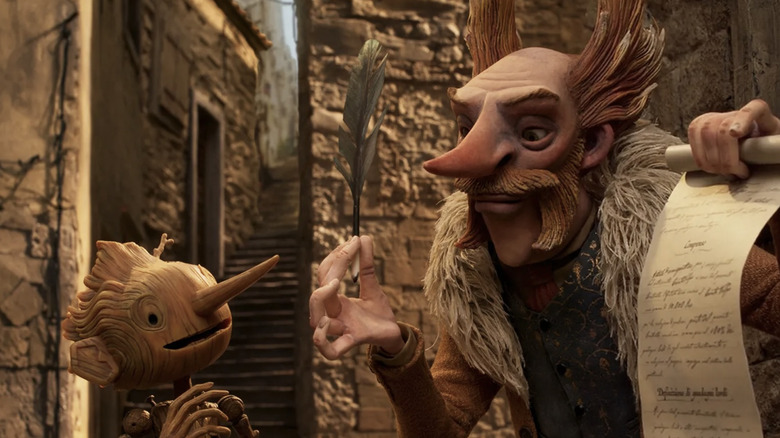 Netflix
Another aspect of del Toro's adaptation of "Pinocchio" that helps it stand out from others is the backdrop the director chose for the film, a historical setting that he believes tells its own story:
"And it's different also in the fact that it's against a very different backdrop that illuminates a different type of paternal structure during the time of war, during the rise of Mussolini, and is a different very lethal form of controlling paternity and so forth, then, I think that [the backdrop] has a depth and a resonance and will be very much its own poignancy."
Guillermo del Toro is a talented director that's made riveting and poignant stories precisely because of his attention to detail. From the 1940's World War II backdrop of "Nightmare Alley" to the cold war paranoia backdrop of "The Shape of Water," the director complements his complex characters with equally enriched settings that elevate their stories while also telling some of their own. From Guillermo's words, it's evident that "Pinocchio" will differentiate itself enough from other adaptations with thought-provoking themes on the human condition and an unconventional but thematically rich backdrop for the stop motion animated film.