Guillermo Del Toro's Long-Awaited 'Pinocchio' Will Finally Become A Real Stop-Motion Movie At Netflix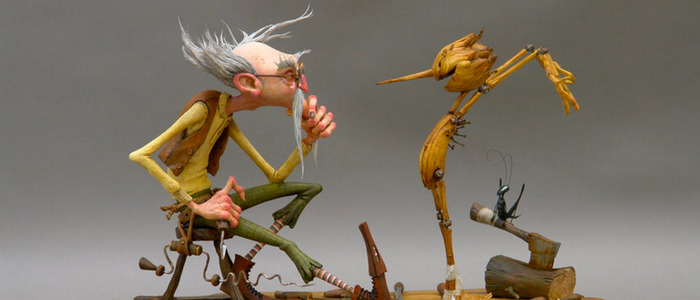 After years of false starts and cancellations, Guillermo del Toro's dark animated take on Pinocchio is finally become a real boy. Netflix has picked up the long-gestating stop-motion animated movie in a deal that will place the Oscar winner as co-director on his first feature film since last year's Best Picture-winning The Shape of Water.
It's been eight years since del Toro first announced his plans to develop the beloved Italian fairy tale Pinocchio into an anti-fascist stop-motion animated movie, but maybe wishes really do come true. The Oscar-winning director's passion project seemed fated to development hell like many of del Toro's failed film announcements, but the wave of goodwill following the critical and commercial success of The Shape of Water has proven to be the fairy godmother that Pinocchio needed. And Netflix has once again saved a project that would've been made nowhere else.
Del Toro has made a deal with Netflix to co-direct the stop-motion animated feature Pinocchio alongside Fantastic Mr. Fox animation director Mark Gustafson. The pair will direct a script from Over The Garden Wall and Adventure Time scribe Patrick McHale, whose dark and absurdist takes on whimsical premises makes this the perfect team to make the long-awaited Pinocchio.
The story of Pinocchio, created by Italian writer Carlo Collodi, was a formative influence on del Toro, who said in a statement to Deadline that "No art form has influenced my life and my work more than animation and no single character in history has had as deep of a personal connection to me as Pinocchio." He added:
"In our story, Pinocchio is an innocent soul with an uncaring father who gets lost in a world he cannot comprehend. He embarks on an extraordinary journey that leaves him with a deep understanding of his father and the real world. I've wanted to make this movie for as long as I can remember. After the incredible experience we have had on Trollhunters, I am grateful that the talented team at Netflix is giving me the opportunity of a lifetime to introduce audiences everywhere to my version of this strange puppet-turned-real-boy."
I've been eagerly awaited del Toro's twisted take on Pinocchio since he first announced the project, and was crushed when last year it was unceremoniously killed. Del Toro has been working on the project since at least 2008, and had teamed up with the Jim Henson Company to create what would be a stop-motion adaptation of the art of Gris Grimly. But perhaps it's fate that Pinocchio only makes it to our screens now — Gustafson, McHale and del Toro are an absolute dream team, and I couldn't think of a screenwriter better suited to del Toro's particular brand of magical macabre.
Pinocchio will also be del Toro's first stint as a director of an animated film. He's produced films like The Book of Life and Kung Fu Panda 3 and worked with Netflix on the series Trollhunters, but there's nothing more exciting than seeing del Toro try his hand at animation — which feels like a wildly imaginative medium he's always been perfectly suited for.
Production for Pinocchio, which is described as a "musical set in Italy during the turbulent 1930s," will begin this fall.