Why Guillermo Del Toro Scrapped His First Pinocchio Script And Changed Its Villain Mid-Production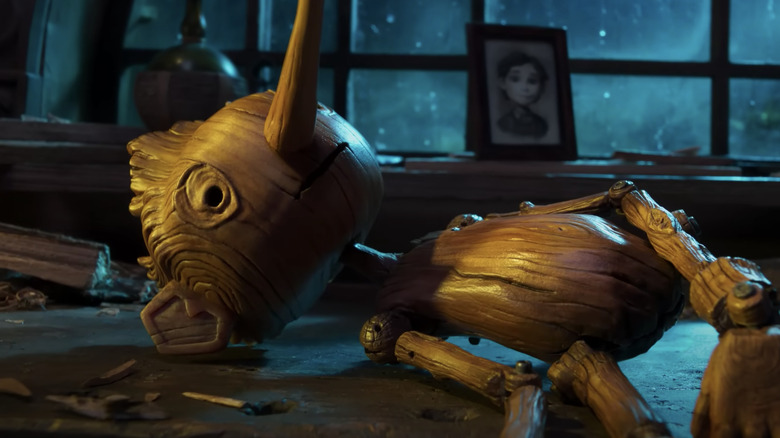 Netflix
Guillermo del Toro has more than one project in his cabinet of Netflix curiosities. The Oscar-winning filmmaker's "Cabinet of Curiosities" anthology, which features eight episodes by different directors, hits the streamer just in time for Halloween later this month, and del Toro won't waste anytime following it up, as his stop-motion "Pinocchio" adaptation is on deck for a limited theatrical release in November, followed by its Netflix release in December.
That's the plan, at least, but with "Guillermo del Toro's Pinocchio," del Toro and his collaborators, including co-director Mark Gustafson and co-writer Patrick McHale, were not afraid to deviate from the original plan they had in mind for the movie's villain — even if it meant scrapping more than a decade's worth of work. /Film's Jeremy Mathai recently attended a press junket for del Toro's longtime passion project which the director had been developing since 2008. 
"There is a moment in which the story changes very deeply. For me, around 2009 I had to restart from zero the screenplay with Patrick McHale," del Toro said. Later his personal life would take a turn that would deeply affect the script. "And about five years ago I lost my father, and that informed a lot of the depth of emotion of this movie for me and the thematic importance of how brief life is and how important it is, and how we have each other or so precious a moment," del Toro described. But this wouldn't be the last time the film would change.
Tricky like a fox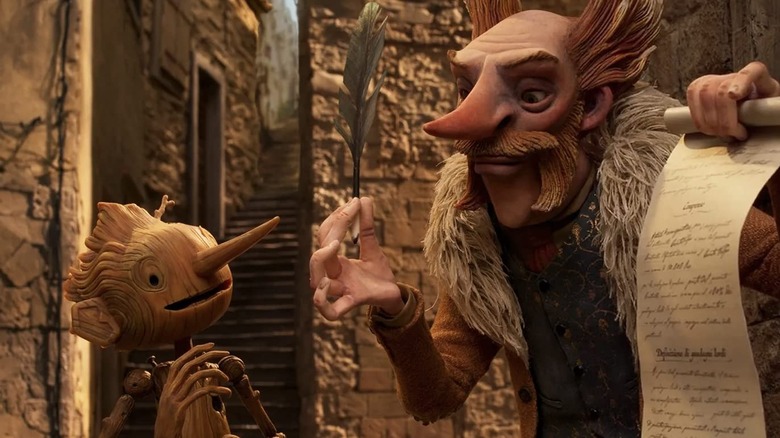 Netflix
Midway through production, del Toro would be struck by an idea: they should change the villain of the film. In Carlo Collodi's 1883 Italian children's book, "The Adventures of Pinocchio," Mangiafuoco and the Fox and the Cat were the primary villains — renamed as Stromboli, "Honest" John Worthington Foulfellow, and Gideon the Cat in the Disney version — whereas Del Toro and Gustafson's film fuses these three characters into the figure of Count Volpe.
"Originally, Fox Volpe was a minor character and they were sort of helping lure Pinocchio into the carnival," co-production designer Curt Enderle said. "And at a certain point, we realized that this character was sort of more interesting and actually Guillermo came into the end of a meeting, and was like, I've been thinking, 'I think we need to make him the head of the carnival as opposed to Mangiafuoco.'"
Del Toro was grateful to the team for their flexibility and ease of collaboration, saying:
"The collaboration was incredibly beautiful with everyone. Everyone was minding things. I could agree or disagree. But the feedback was beautiful and it changed everything. I'll give you an example. A week or two too late to do it, we changed villains. The original villain was Mangiafuoco, which is a different character that is big and burly. We were watching [Count] Volpe, and I said to Mark, 'Mark, isn't Volpe a much better villain and a better design?' And originally, Ron Perlman was gonna play Mangiafuoco. And they said, 'Imagine Christoph Waltz playing this character.'"
'It's a huge change, but creatively, it made sense'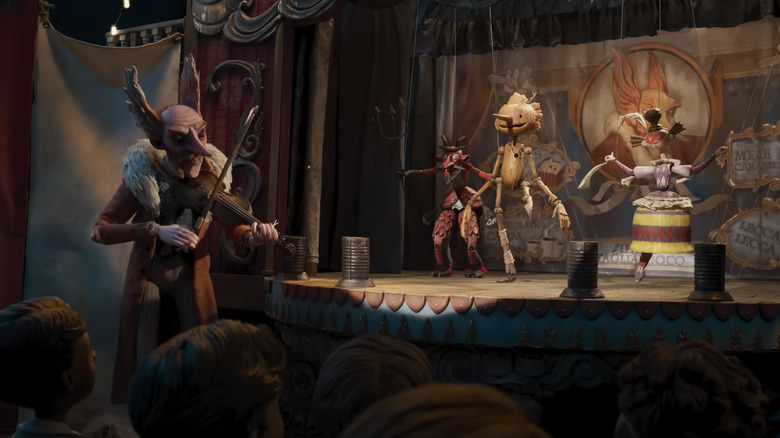 Netflix
Changing villains mid-stream for a stop-motion movie like "Guillermo del Toro's Pinocchio" required a serious bit of recalibration, del Toro explained:
"We rewrote the screen[play] but Mark and I went through Alex [Bulkley], our producer, and we said, 'We're gonna switch.' Now this switch, just so you understand, means that a puppet that was made for a few scenes, now we're going to have to create 30 puppets for many scenes. So it's a huge change, but creatively, it made sense. Why we celebrated in this is we could let the material shape the story as we went along."
Pinocchio was just recently the subject of a live-action Disney remake starring Tom Hanks, but Vanessa Armstrong's /Film review of that version encouraged readers and potential viewers to "re-watch the original instead of this wooden remake." Another option would be to watch "Guillermo del Toro's Pinocchio." 
"Guillermo del Toro's Pinocchio" is in select theaters in November and streaming on Netflix in December.