Velma Trailer: Mindy Kaling Voices The Scooby-Doo Character In A New HBO Max Adult Animated Series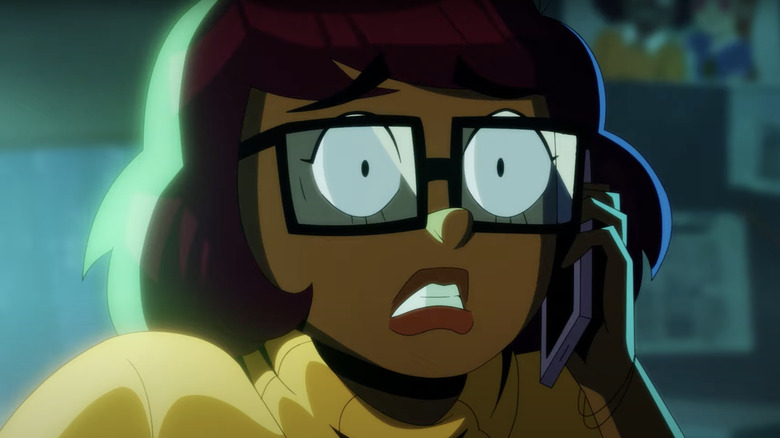 HBO Max
If this Mystery Machine's rocking, don't come a-knocking, especially not if you'd object to a cartoon character being retconned as non-white or queer. In recent days, the "Scooby-Doo" character Velma has made headlines for the creative decision to treat the new VOD film "Trick or Treat Scooby-Doo" as her coming-out party, giving her a gay crush and ending decades of speculation on the part of fans over the character's sexuality. Personally, I don't have a dog in this fight, Doo or otherwise — and neither does the new HBO Max adult animated series, "Velma," which presents a different version of the character, voiced by Mindy Kaling.
This is not that Velma that you've heard about from "Trick or Treat Scooby-Doo," but rather a Velma who is ready to engage with a Ghostface-like serial killer over the phone, not to mention online complaints about long-running franchises having the temerity to change things. Scooby-Doo himself does not feature in "Velma," but you will hear Sam Richardson as Shaggy, Constance Wu as Daphne, and Glenn Howerton as Fred, according to Variety.
If that sounds kosher, hop in the Mystery Machine, you meddling brats, and let's solve the mystery ahead of the trailer for HBO Max's "Velma."
Watch the Velma trailer
The trailer begins with Velma typing on her phone (and I quote from her screen): "Dear HBO Max, I just learned that you intend to make a genre-bending comedic origin story of Judy Jetson. When I heard this new version of Judy Jetson wouldn't be 'boy crazy', the only word I had to describe my disgust is Jinkies! If there's one thing the internet agrees on, it's that you should never change anything ever."
Then, we get the reveal of the new Velma, who happens to be a cartoon character of color. "Well, at least Judy's still white," she un-self-consciously quips. "Velma" is clearly prepared to spar with trolls who would object to changing anything "when the classics all still work."
The last time I watched anything "Scooby-Doo"-related was earlier this year after we covered "Scooby-Doo and the Legend of the Vampire" in our Year of the Vampire series. Before that, it had been years since I did the Doo, but between "Velma" and "Trick or Treat Scooby-Doo," pop culture seems quite ready to do the Doo all over you.
Here's the official synopsis for "Velma" via HBO Max:
"Velma" is an adult animated comedy series telling the origin story of Velma Dinkley, the unsung and under appreciated brains of the Scooby-Doo Mystery Inc. gang. This original and humorous spin unmasks the complex and colorful past of one of America's most beloved mystery solvers.
"Velma" will stream on HBO Max in 2023.