New Scooby-Doo Movie Finally Gives Velma The Gay Crush She Deserves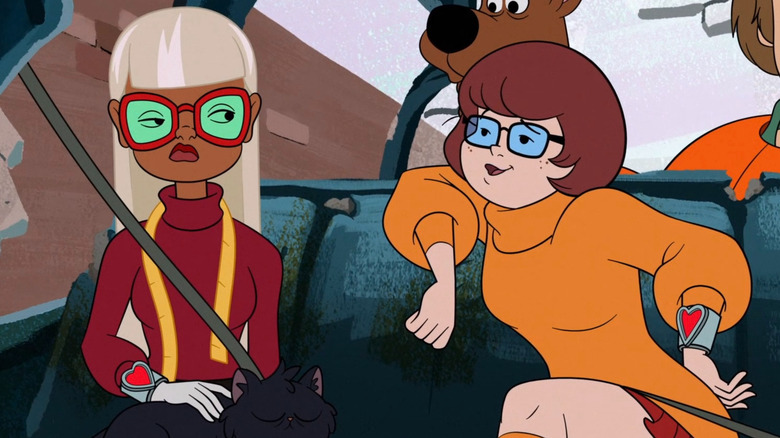 Warner Bros. Animation
"Scooby-Doo, Where Are You!" first aired on CBS back in 1969, and for much of the franchise's existence, there has been rampant speculation amongst the fans regarding the sexuality of one of the principal characters, Velma Dinkley. After countless shows and movies, both animated and live-action, over the last 53 years, there has been a desire for Velma to be canonically queer. There's been insinuation, suggestion, and whole host of fan fiction, but they had yet to outright depict her having an attraction to women. Well, now they have.
Velma, as voiced by Kate Micucci, finally gets to go gaga for a lady in the latest movie about Scooby and the gang, "Trick or Treat Scooby-Doo!," which recently hit VOD. Upon first setting eyes on monster costume designer Coco Diablo (Myrna Velasco), Velma instantly falls head over heels for her, thanks to her intelligence and wardrobe choices (Velma loves a turtleneck). And this is full-on, cartoon smitten, complete with bright red cheeks and glasses that fog over. They even do a parody of Tchaikovsky's iconic music from his "Romeo and Juliet" that has appeared in so many movies and television shows as shorthand for instantly falling in love. And if that wasn't explicit enough for you, Velma literally screams, "I'm crushing big time!"
The movie doesn't specify whether Velma is a lesbian, bisexual, pansexual, or fall somewhere else on the queer spectrum, but it does firmly establish her within that community. It may have taken a long time, but it finally happened.
The long speculation of Velma's queerness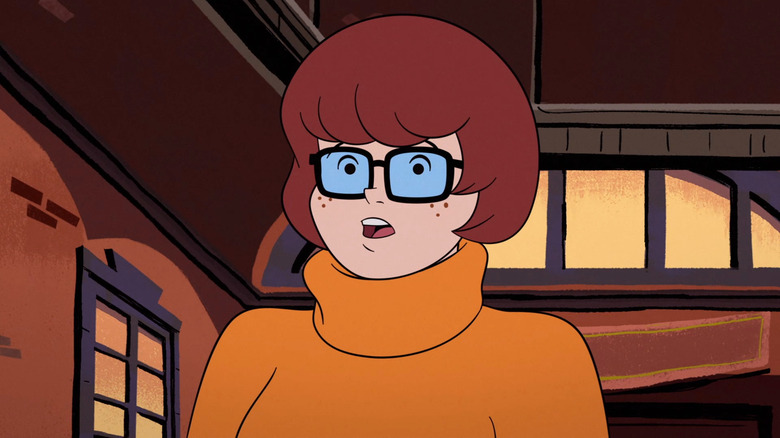 Warner Bros. Animation
Considering Velma never was consistently partnered up with another character on the show, as Fred and Daphne were, and never overtly expressed much romantic interest in anyone, she was the perfect candidate for people to apply a queer reading to. Various creators over the years have tried to inject the character with a more overt queerness. James Gunn, who wrote the two live-action "Scooby-Doo" films in the early 2000s, said in a since-deleted tweet he had intended to portray Velma as a lesbian, but the studio put the kibosh on that. The film transformed from an R-rated deconstruction of the show to just a straightforward live-action version for families, and as Hollywood likes to do, they scrubbed out that element of Velma's character.
The hope to make it explicit once again showed up in the 2010 animated series "Scooby-Doo! Mystery Incorporated," where the hope was to make Velma bisexual. Tony Cervone, who developed the show with his frequent partner Spike Brandt, confirmed this on his Instagram with a celebratory Pride post featuring Velma and an original character named Marcie Fleach (voiced by Linda Cardellini, who played Velma in the live-action films). They, too, were met with a lot of pushback and had to rely on coding and insinuation to make that apparent to the audience.
"Trick or Treat Scooby-Doo!" makes it official, and we shall see if the future works coming from Warner Bros. Animation will continue to flesh out Velma' sexuality. The character will also be the center of another series created by Mindy Kaling. Considering that show will be more aimed at adults and Velma will even be South Asian, I don't see why they wouldn't make her queer as well. If the kids can handle it, so can everyone else.