Scooby-Doo Fans Can Now Stay In The Mystery Machine, Courtesy Of Matthew Lillard's AirBnb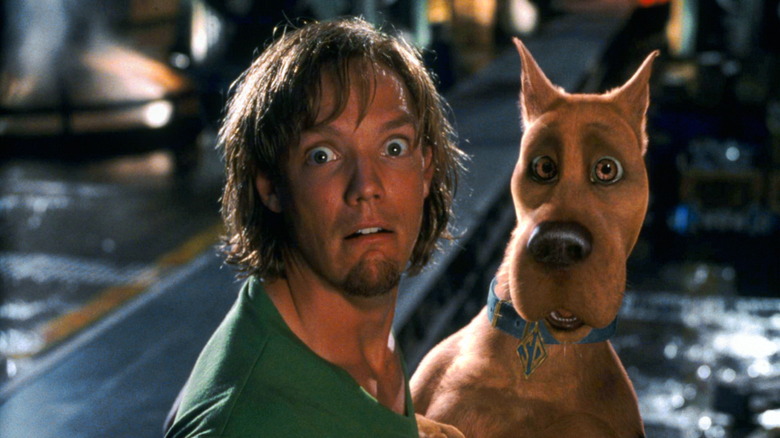 Warner Bros. Pictures
If you're a millennial, you probably have a soft spot for the live-action "Scooby-Doo" movie in your cold, dead heart. For all the fans out there, this little piece of pop culture news will probably tickle you pink: Shaggy himself, Matthew Lillard, revealed that he is hosting an AirBnb in a souped out Mystery Machine.
Lillard, also known for playing Stu Macher in "Scream" and Stevo in "SLC Punk," took to Instagram to share a video of himself with the Mystery Machine parked on a dark beach. He also shared videos to his Instagram stories, in which he did a tour of the living space, a simple, small pitch in the back of the van. It's decked out in a period accurate vibe, and it even includes a clothing rack full of costumes from the gang.
In a later Instagram story, Lillard even fielded some shock from fans over the opportunity and assured them, "Yes, it's real." The groovy van can be rented out by any average joe interested in reliving their childhood for a bit.
AirBnb promoted the exciting opportunity via Twitter as well. "Zoinks! Can you believe it's been 20 years since we've been blessed with the legendary live action Scooby-Doo film?" they wrote. "To celebrate this historic occasion, @matthewlillard is hosting the Mystery Machine on Airbnb." According to the company, bookings will start on June 16 at 1:00 PM ET.
One last mystery?
If you'll allow me, I just want to stand on a little soapbox for a moment and ask the crowd a question: Do this resurgence of Lillard with the Mystery Machine not fill you with a deep desire to see a new live-action Scooby-Doo film in which the gang gets back together in their older age? Maybe for one last mystery?
Perhaps I'm just in that place in life where I'm feeling a bit out of control of my future and not far enough away from my past. I'm 30 and feel like I turned 13 yesterday. It's incredible how fast time goes; It's been 20 whole years since the "Scooby-Doo" movie graced theaters. I'm not ashamed to say it: it feels good to see characters I grew up with grow up with me. It makes me feel less alone to know they're aging too, that even fictional characters experience the seasons of life.
In that vain, it would be nice to see something like that happen one day with these characters. Maybe one last adventure in honor of Scoob, because reality still reigns. By this point, that dog would be long gone. But it would be a great reason to get the gang back together and fill a new story with a tight emotional hook, one that could cinch new and old fans alike. Studio gods, the ball is in your court.