Dangerous Liaisons TV Series: Release Date, Cast & More For The Starz Take On The Classic Story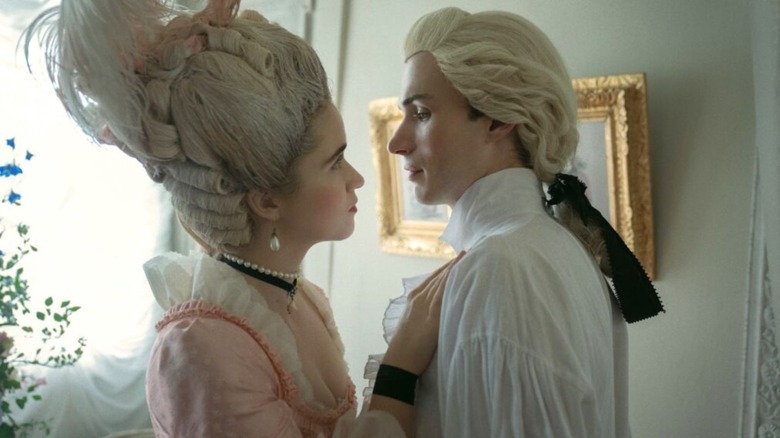 Starz
"Dangerous Liaisons" is getting a television adaptation on Starz, the network behind "Outlander" and "American Gods." The 1782 French epistolary novel from Pierre Choderlos de Laclos is becoming an eight-episode series, which will debut on November 6, 2022. The book has seen multiple adaptations over the years, including the three-time Academy Award-winning 1989 film starring John Malkovich and Glenn Close. Then there's "Cruel Intentions," the 1999 modern adaptation which reimagines the classic story against the backdrop of wealthy high school teenagers in New York City.
The critically-acclaimed story will now head to television and the focus will be on the origin story of the novel's characters. The Starz series will illustrate how Marquise de Merteuil (Alice Englert) and the Vicomte de Valmont (Nicholas Denton) met as passionate young lovers in Paris and will represent the extravagance of the French aristocracy ahead of the French revolution. The couple is known for their expertise in the arena of seduction and manipulation of everyone (including each other) around them, and their complicated on-again-off-again love story is at the heart of the series. Here's everything we know about it so far.
What is the plot of Dangerous Liaisons?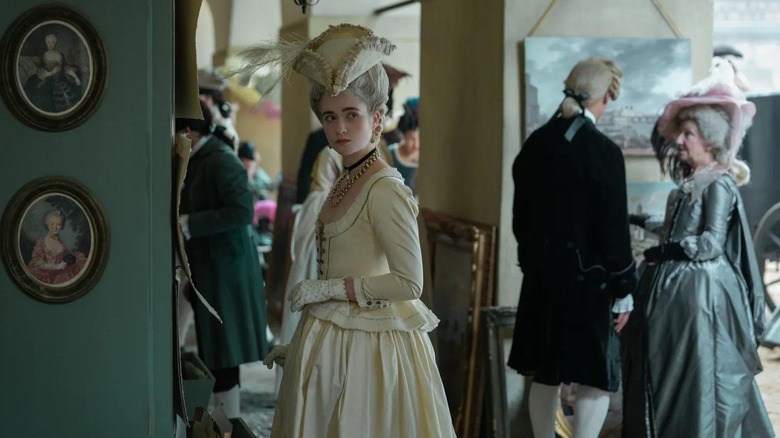 Starz
Described as a "prelude" to the novel, "Dangerous Liaisons" follows the story of a scheming young couple who reach the heights of French aristocracy by seducing, manipulating, and betraying everyone they know, from each other to the highest members of French nobility. At its heart, it's also a love story about a couple who find it easier to wreck the lives of others than to admit they love each other. There's romance and tension between these two characters who consistently challenge each other to do things even they didn't know they were capable of doing.
Englert's Camille is an intelligent, beautiful young woman who aims to exact her revenge on the wealthy society that led her to ruin, and Denton's Valmont is a man who amuses himself by corrupting innocents. Everything is a game to this odd couple who cannot communicate how they truly — and the trailer for the series sees them in action at the onset of their story, and explores how they meet for the first time.
The cast of Dangerous Liaisons
Starz
"Dangerous Liaisons" has a fantastic cast. Alice Englert plays Camille, Nicholas Denton plays Pascal Valmont, and Lesley Manville is set to play Geneviève de Merteuil. "Game of Thrones" star Carice van Houten has been cast as Jacqueline de Montrachet, Paloma Faith is Florence de Régnier, and Michael McElhatton will be seen as Jean de Merteuil. Others in the sprawling cast include Kosar Ali, Nathanael Saleh, Hakeem Kae-Kazim, Hilton Pelser, and Clare Higgins.
Harriet Warner ("Tell Me Your Secrets") serves as showrunner and executive producer on "Dangerous Liaisons." In addition, Colin Callender, Tony Krantz, Scott Huff, Bethan Jones, and Christopher Hampton also serve as executive producers. The crew also includes Barney Reisz, who will serve as producer.
Dangerous Liaisons trailer and release date
"Dangerous Liaisons" is set to launch on Starz on November 6, 2022. The network has released a trailer for the show, which gives a glimpse at "the story of a young woman who negotiates love, sex, class, and power to navigate an oppressive, unjust establishment on the brink of collapse." If, like me, you've been living with an "Outlander"-sized hole in your heart for some time, "Dangerous Liaisons" is sure to keep you busy!