Shows Like Outlander You Definitely Need To See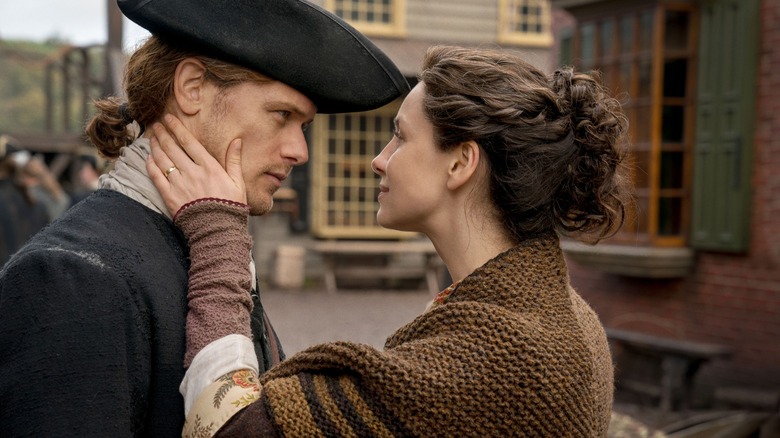 Starz
Often when we think of time travel stories, they feel like a fun little jaunt, a brief adventure from which one can easily return. What would it really be like to make a life for yourself in a time that is not your own? "Outlander," based on a series of novels by Diana Gabaldon, explores such a prospect. In it, Claire (Caitriona Balfe) is sent back in time while exploring an ancient stone circle on her honeymoon, traveling from the 1940s to the mid-18th century in an instant. 
She exchanges her relatively independent life as a nurse in post-war Britain for the wild landscape of the Scottish Highlands, where she is in near-constant danger. It's there that she meets Jamie Fraser (Sam Heughan), a man with whom she has a fiery connection almost immediately (For most fans, the relationship between the two is one of the main reasons for watching the show).
But "Outlander" is far from the only television show on the air to explore time travel and historical settings. And if you're a fan of that series, it might just be worth checking out some of the other offerings below.
Jamestown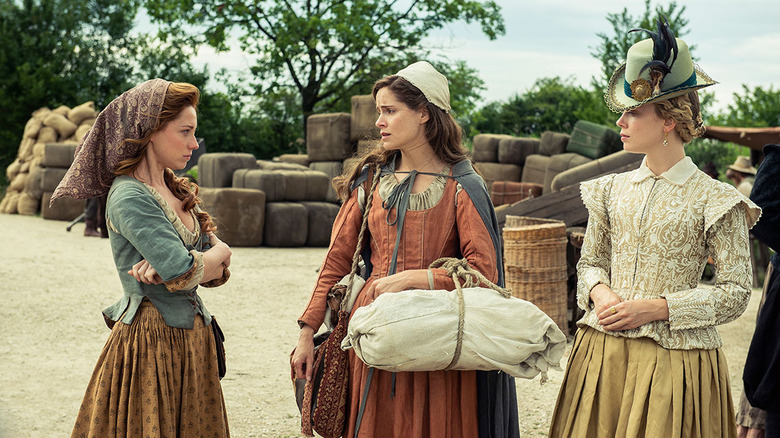 NBC Universal
Although "Outlander" begins its long journey in Scotland, the characters we know and love eventually travel across the seas in search of a fresh start in the New World. In its depiction of colonial America, we can see a lot of similarities with another historical drama, "Jamestown." Initially airing on Sky One in the UK (and later on PBS in the United States), "Jamestown" takes place a handful of years after the initial founding of the American colony in the early 1600s. It follows the lives of a group of women who have made the long and hazardous journey across the Atlantic to meet an uncertain fate: They have agreed to marry the men in Jamestown who have paid for their passage. 
Made by the same production company that brought us "Downton Abbey," it's unsurprising that "Jamestown" has a tendency towards soap opera qualities, and probably skips on historical accuracy more often than not. But it's a fun watch, with plenty of characters that make audiences emotionally attached far more quickly than you might expect.
Lost in Austen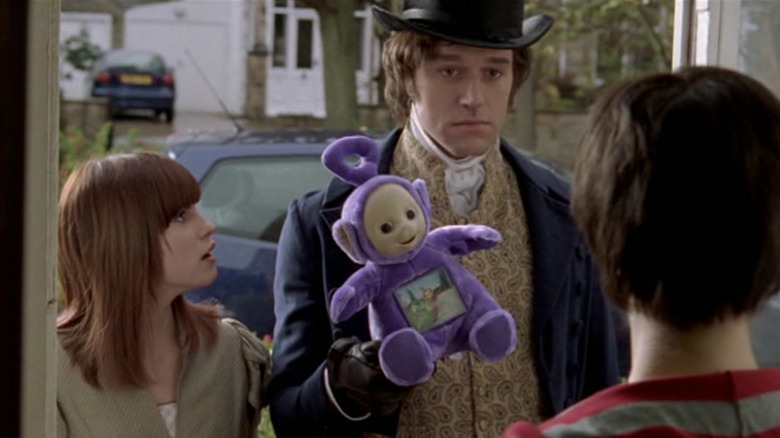 ITV
"Outlander" may have a post-modern approach to the historical romance, what with the early introduction of time travel and such, but it never verges on meta territory quite like "Lost in Austen." Jemima Rooper plays Amanda, a modern Londoner who is obsessed with the works of Jane Austen, especially "Pride and Prejudice." So it's rather providential that one day, she discovers a portal into the attic of the fictional Bennet family hidden in her flat's bathroom. When she steps through it, she doesn't venture into the 18th century as Claire from "Outlander" does: She enters into a fictional version of the Georgian era, as gently satirized by Austen centuries ago.
Needless to say, she doesn't quite fit in. Despite every effort to follow the plotline of "Pride and Prejudice," her presence can't help but upend matters for all the characters involved — especially Mr. Fitzwilliam Darcy (Elliot Cowan) and Charles Bingley (Tom Mison), both of whom find themselves smitten with her unconventional manners. A thorough reevaluation of "Pride and Prejudice," "Lost in Austen" is a silly ode to the generations of Austen fans who have long fantasized about interacting with her now iconic characters.
Sleepy Hollow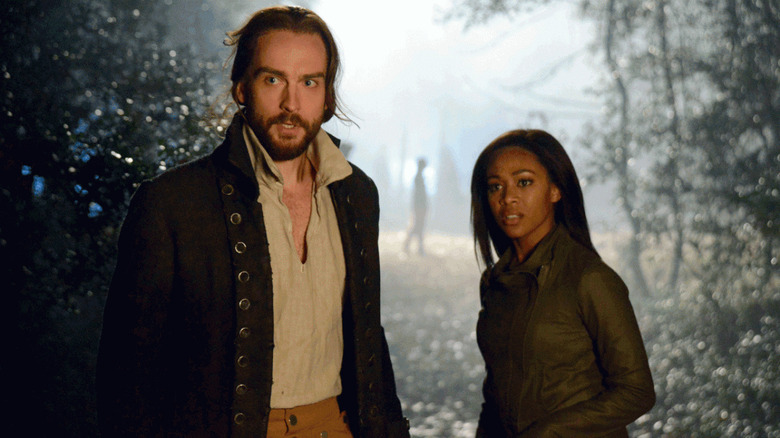 Fox
Traveling back in time to the 18th century is disorienting enough: But how would a colonial-era man grapple with the concept of the modern world? Fox's fanciful reimagining of Washington Irving's classic novella "Sleepy Hollow" addresses just such a hypothetical. In it, Ichabod Crane (Tom Mison) is not murdered by the Headless Horseman, but sent forward in time to 21st-century Sleepy Hollow. There, he teams up with a Sleepy Hollow police officer, Abbie Mills (Nicole Beharie), who are powerfully bonded to one another. In addition to learning the ins and outs of modern society (his reaction to both donuts and sales tax is delightful), he and Abbie will serve a deeper purpose — fighting to thwart the Headless Horseman and avert a biblical End of Days.
"Sleepy Hollow" ran for four seasons on Fox, although, to be honest, it loses its way fairly early into the series' run, faltering completely when the creators make the inexplicable decision to break up the dream team and write Nicole Beharie off the show. But for the first season or two, "Sleepy Hollow" is a delightfully frothy supernatural show that combines demon-fighting with the endlessly endearing "fish out of water" trope as Crane acclimates himself to the modern world.
Find Me In Paris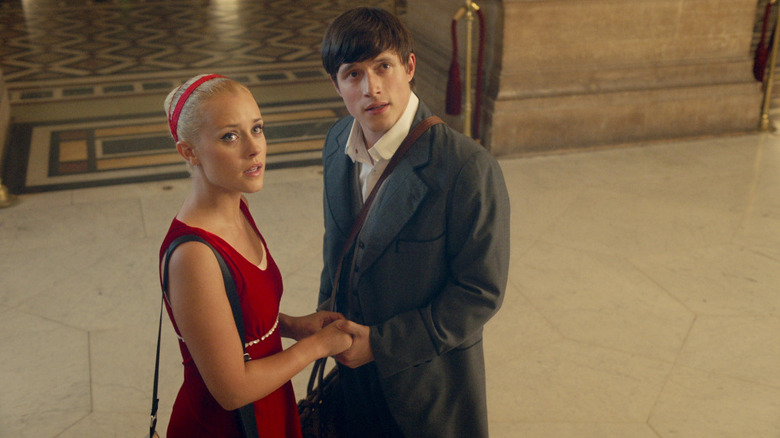 Hulu
If you want viewers to develop an all-consuming love for the time travel fantasy, you've got to hook them while they're young. "Find Me in Paris" is a teen dramedy that stars Jessica Lord as a Russian ballerina who is training at the Opéra de Paris in 1905, before being unceremoniously transported to modern day Paris. Although she is initially eager to return home to her native time, she quickly becomes attached to her new surroundings (and, predictably, her handsome new dance partner Max, played by Rory J. Saper.) 
What begins as a fairly straightforward fantasy story eventually takes on more traditional science fiction elements, as the narrative expands to include a more complex web of time travelers. "Find Me In Paris" is perhaps not what you might call historically accurate, and its low production values make the show look a little silly at times. But it was evidently popular enough to have been renewed for three seasons, wrapping up its series run in 2020.
Dark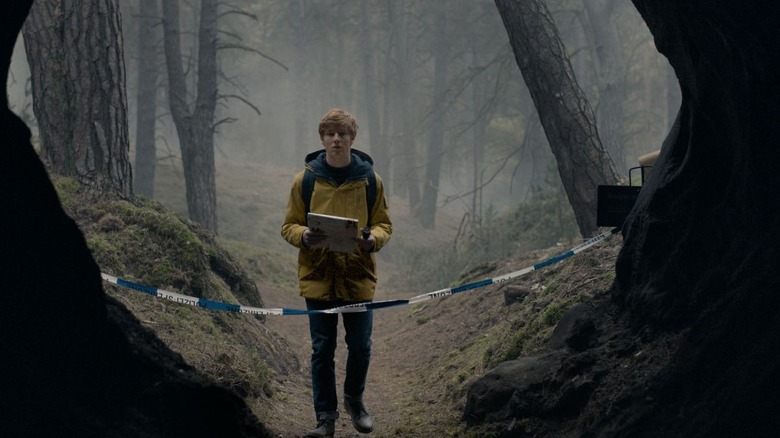 Netflix
When you start hopping from decade to decade all willy-nilly, the natural timeline begins to resemble a corkscrew more than anything else. "Dark" plays with the ceaseless interconnections of characters who have traveled from one generation to another, weaving a complicated but endlessly fascinating web of intrigue. It all begins with the mysterious disappearance of a young boy named Mikkel in a small German town, where the frantic efforts to find him only reveal more secrets. 
The town, it seems, features a peculiar little wormhole that has been transporting its citizens backwards and forwards through time for generations. The great success of "Dark" is that it somehow manages to stop just short of total incomprehensibility. It keeps you engaged throughout all the twists and turns, and its mysteries reward attentive viewers for their patience. "Dark" ran for three seasons on Netflix, the show's first German-language television show, before coming to a conclusion in 2020.
The Paradise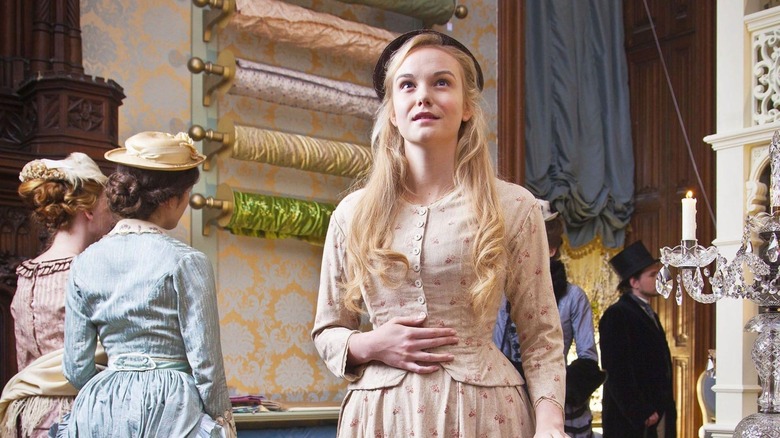 BBC
When Claire arrives in 18th century Scotland on "Outlander," she's out of sync with the people around her, very much a woman out of time. Denise Lovett (Joanna Vanderham), on "The Paradise," is not so much out of her time as she is ahead of it. A country girl who moves to the big city in 1875 to find a better life for herself, Lovett is full of ingenuity and promise. She gets a job working as a salesgirl at The Paradise, a glittering example of England's early department store. 
There, she proves herself to be quick on her feet and inventive, attracting the attention of the owner of The Paradise, lonely widower John Moray (Emun Elliott.) He is drawn to her promise and natural talents more than anything else, and the most compelling part of the show is watching the two of them reconcile their roles as lovers and business partners: He imagines her gifts put to use in support of his business endeavors, and she can't imagine anything less fulfilling than constantly standing in the shadow of his genius.
Poldark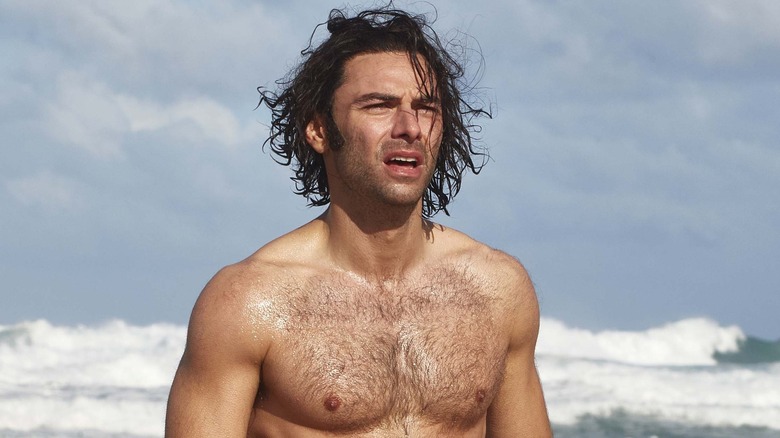 BBC
If you, like many others, are interested in "Outlander" for its male heroes brooding against the wild backdrops of remote historical Great Britain, "Poldark" may just be right up your street. It stars Aidan Turner as Ross Poldark, who returns to his native Cornwall in the aftermath of the American Revolution only to find his father's mining business in dire straits and his girlfriend engaged to another man. Not exactly the homecoming that every man dreams of.
And even though he quickly finds love with the fiery Demelza (Eleanor Tomlinson), storm clouds seem to follow Poldark around, as he perpetually bounces from one grave misfortune to the next. So there's always cause for some pensive brooding atop the rugged cliffsides of Cornwall. "Poldark" ran on BBC One for five seasons, before bringing its troubled narrative to a close in 2019. It was almost universally well-received, with sumptuous visuals and a stirring romance that would prove an unbeatable combination.
11.22.63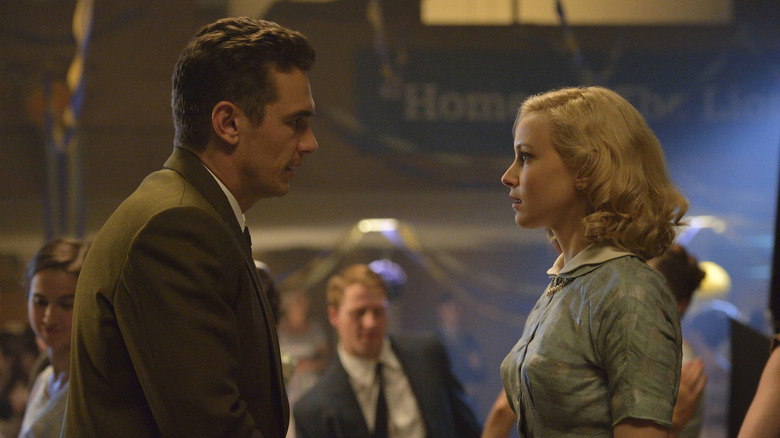 Hulu
Ending up in a different time is serious business: You are a thing out of place, and every action could have dire consequences that threaten the integrity of time itself. "Outlander" touches on this — Claire knows implicitly, for example, that there are certain events she can't risk interfering with, even if she would want to. But "11.22.63" makes this inherent conflict its bread and butter.
James Franco plays a washed up English teacher who is sent back in time on a mission: To prevent the assassination of John F. Kennedy. He arrives in 1960, presumably enough time to establish himself and orchestrate a workable plan as the clock ticks down to November 1963, but also enough time for his mere presence to cause an endless series of unintended consequences. This creates an unbearable dramatic tension, watching him tread gently, ever-mindful of stepping on butterflies. "11.22.63" is one of the more successful Stephen King television adaptations, with its eight-episode run giving it enough breathing room to weave an appropriately complex yarn.
Dickinson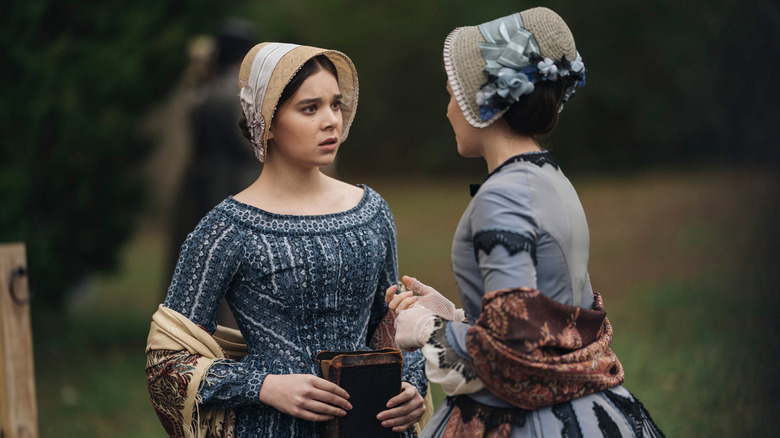 Apple TV+
Whereas the sense of modernity that "Outlander" has comes largely from Claire's forward-thinking presence, "Dickinson" is a historical comedy that almost seems to be post-modern in its approach. Hailee Steinfeld stars as Emily Dickinson, the famously reclusive poet of 19th century New England. But this isn't the Emily Dickinson that you see in literary textbooks, glum and morose. Here, she's vibrant, imaginative, and desperately out of place amongst her family and society at large. Not to mention the fact that she's secretly in love with her best friend Sue Gilbert (Ella Hunt), who inconveniently happens to be romantically involved with Emily's brother, Austin (Adrian Blake Enscoe). 
"Dickinson" is a historical coming-of-age story, taking the black and white imagery of a long-dead writer and making her daily tribulations feel surprisingly contemporary. Featuring a bold cast of surprising guest stars that include John Mulaney, Jason Mantzoukas, Billy Eichner, Nick Kroll, Chloe Fineman, and even Wiz Khalifa as Death, "Dickinson" is unlike any other historical television show on the air.
Timeless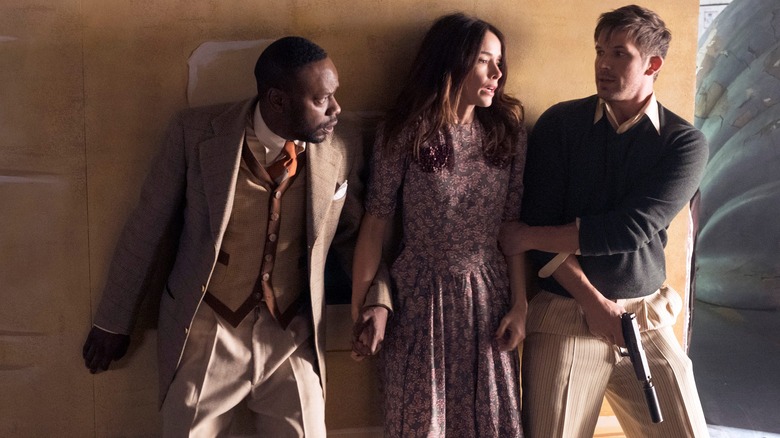 NBC
Claire's time-traveling journey in "Outlander" isn't just a one-and-done thing; both she and several other key characters possess the ability to travel through time under certain circumstances, and do so on a not irregular basis. But they're not flitting through time anywhere near as often as the characters on "Timeless," whose attempts to stop a malevolent force from altering history see them visit Nazi Germany, the Salem Witch Trials, and nearly everywhere in between.
"Timeless" stars Abigail Spencer as Lucy Preston, a historian who serves as an integral part of this time-traveling team. She is flanked by U.S. Army Delta Force operative Wyatt Logan (Matt Lanter) and programmer Rufus Carlin (Malcolm Barrett) — and if you're noticing a pattern with their names, yes, the "Bill and Ted" homage is entirely intentional. Although "Timeless" was canceled after its first season, fan support was such that the network eventually reversed their decision, giving the show a second season and an extended two-part finale to wrap things up.
Miss Scarlet and The Duke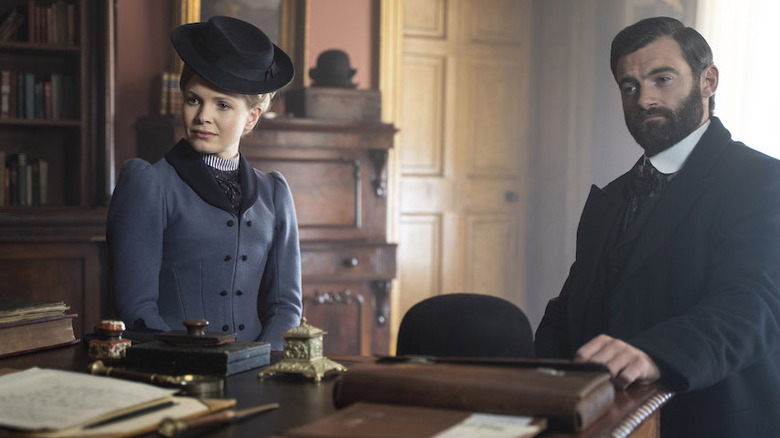 PBS
One of the key struggles that Claire faces in "Outlander" is adjusting to attitudes towards women in the 18th century, and the restrictions placed on them. Although "Miss Scarlet and The Duke" takes place nearly two centuries later, the characters still grapple with many of the same issues. Eliza Scarlet (Kate Phillips) is a young woman raised by her father to have powers of observation and detective skills that would almost rival Sherlock Holmes. When he dies, she is determined to keep his detective agency afloat. 
But there's just one problem: It's Victorian England, and no one believes that a woman has any business working as a private investigator. It's only through her grit and a very convenient friendship with a Detective Inspector of Scotland Yard, William Wellington (Stuart Martin), that she has any hope of succeeding. "Miss Scarlet and The Duke" falls very much in line with the typical period fare we see produced by the BBC and exported to PBS in America, but Eliza's pluck and the chemistry between the two lead characters make it a charming, if conventional, affair.
The White Queen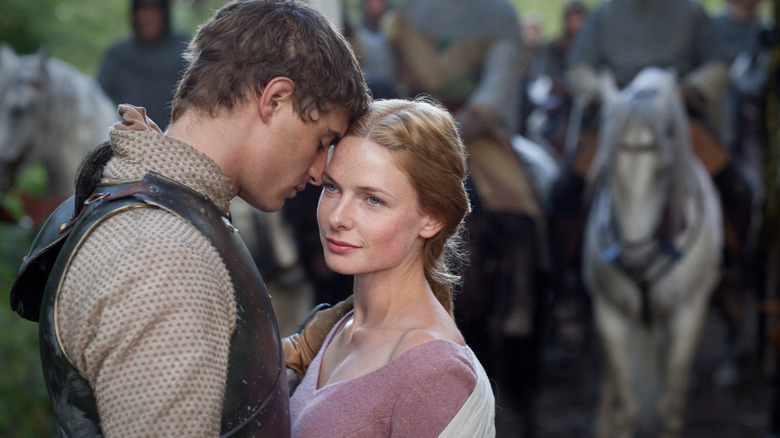 BBC
Starz has developed quite the roster of royal historical dramas, and "The White Queen" was the very first in their lineup. Based on a novel by Philippa Gregory, it follows Elizabeth Woodville (Rebecca Ferguson) and her ascendency to the throne of England through her passionate romance and resulting marriage to King Edward IV (Max Irons, the son of Jeremy Irons in one of his first starring roles). Woodville comes from no high rank, and her relationship with Edward causes hostilities to break out with members of his family. His cousin the Earl of Warwick, also known as the Kingmaker (James Frain), is most aggrieved, furious that such an important decision could be made without consulting him. The conflict here would define English politics for generations.
"The White Queen" surely takes its liberties with historical fact, but that's never an issue. We are too drawn to the electric chemistry between Ferguson and Irons, as well as the powerful performances from a strong supporting cast, to care.
Pillars of the Earth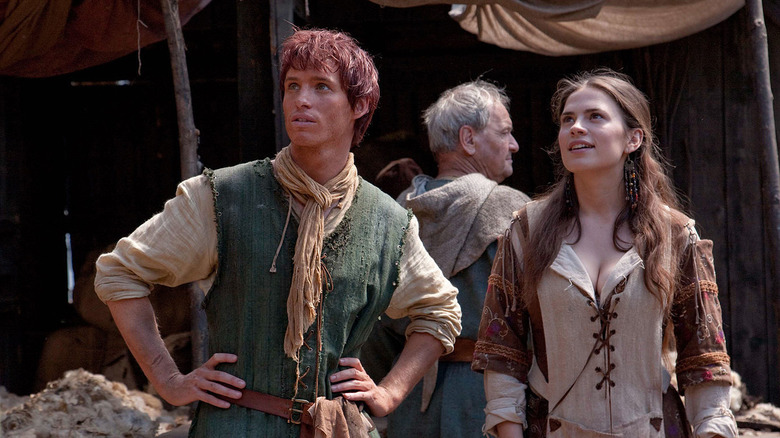 Starz
If there's one thing novelist Ken Follett has always been good at, it's sweeping historical epics. "Pillars of the Earth" is a BBC adaptation of one of his most famous novels, the sprawling story centered around the building of an English cathedral in the 12th century. It covers a staggering amount of territory, from the battles between the heirs of King Henry I for the throne of England to the relatively smaller conflicts that break out within the town of Kingsbridge. 
"Pillars of the Earth" is a famously complicated book, with so many characters that it probably needs a glossary to keep them all straight. But the triumph of this adaptation is how well it streamlines the narrative, allowing the story to unfold over several episodes in easily digestible bites. It features an impressive cast of stars, chief among them Ian McShane, Rufus Sewell (in a rare non-villain role), Donald Sutherland, Matthew Macfadyen, Hayley Atwell, and Eddie Redmayne, whose work here is career-defining. It's a lush historical epic that sweeps audiences up with the depth and richness of its story.
Vikings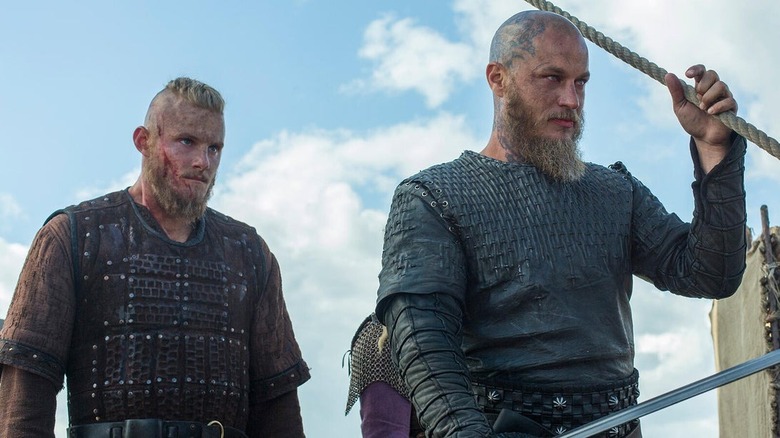 MGM Television
Part of the appeal of "Outlander" is the rugged terrain of an untamed Scotland, and "Vikings" has this quality in spades. Set in the early medieval era, it chronicles the legends of Viking hero Ragnar Lothbrok (Travis Himmel), whose wars of conquest in Anglo-Saxon England and across all of Scandinavia would make his name known throughout Europe. The show begins with the sacking of an English monastery, beginning the complicated relationship between Ragnar and an English monk named Athelstan (George Blagden) that would define "Vikings" at its best. 
In between action set pieces, it explores the intersection between Viking culture and early Christianity in a way that is more engaging than one might expect. "Vikings" aired for nearly its entire series run on History, before airing the second half of its 6th season directly on Amazon Prime. It even earned a spinoff with "Vikings: Valhalla," produced by Netflix and exploring the history of the Vikings a century after the events of the original series.
The Great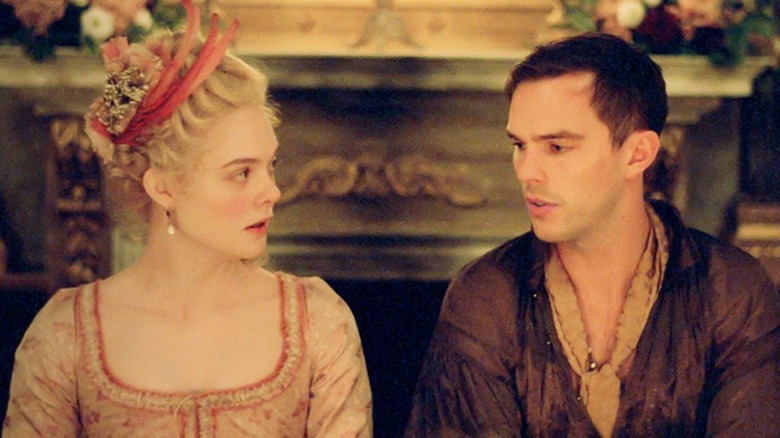 Hulu
The Russian aristocracy in the late 1700s was the very picture of excess, and therefore incredibly easy to satirize. "The Great" takes a bold swing at the chaotic and frequently cruel nature of life in Russian court, by focusing on a young Catherine the Great (Elle Fanning) upon her initial arrival from Germany and marriage to Peter III (Nicholas Hoult). She has the highest of hopes for a happy wedded life, but those are immediately dashed, and she does not spend a great deal of time mourning them: Instead, she plots. Catherine realizes that if Peter cannot usher Russia into a more enlightened age, she will have to — with or without him.
"The Great" features a sharp, brutally frank sense of humor that finds little delight in subtlety. It milks the inherent absurdities and backwardness of the Russian aristocracy for all they're worth, creating a surprisingly fresh and modern take on the almost comical viciousness of life at court in the 18th century.