Slumberland Trailer: Jason Momoa Takes Little Nemo On A Magical Journey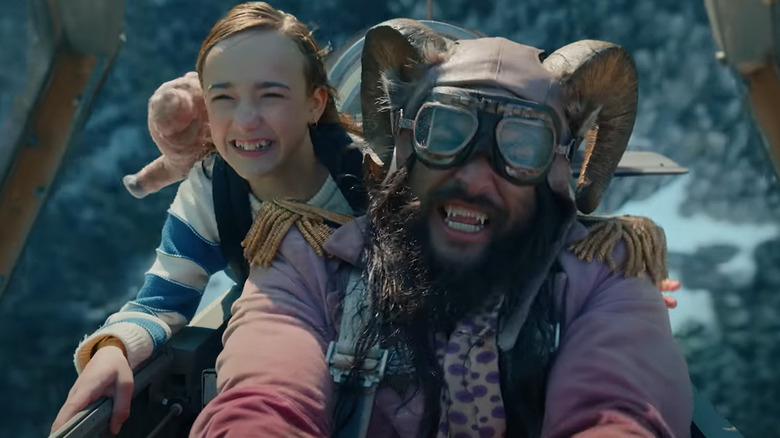 Netflix
Sometimes the real world can be terribly boring, but in the new Netflix movie "Slumberland," young Nemo's (Marlow Barkley) dreams are a delightful escape from her daily drudgery. The poor girl's an orphan, you see, and she wants to traverse the dreamlands to find a way to bring her father (Kyle Chandler) back. Along the way she will be helped by her father's old business partner, a horned dream creature named Flip, played by the always charming "Aquaman" star Jason Momoa. Flip looks sort of like if Mr. Tumnus rode a motorcycle and listened to Adam Ant, which means he's basically the coolest dream-buddy you could ask for. She also has a stuffed plush pig that comes to life, though he's a little more rough-and-tumble than that Piglet fella. 
The trailer for "Slumberland" has arrived, and it gives fans a better idea of what to expect from this high-flying family adventure. Based on the beloved "Little Nemo" comic strip by Winsor McCay, "Slumberland" looks like it might be the perfect family film for this Thanksgiving. 
Watch the trailer for Slumberland
In the trailer, Nemo bonds with her new caretaker, played by Chris O'Dowd. He knew her father and shares stories about him, which awakens something within the girl that helps her journey to Slumberland. The stories her dad used to tell her before bed turned out to be actual adventures he had with Flip, and now she gets to experience them for herself. It's one part "Peter Pan," one part "Bedknobs and Broomsticks," but full of entirely unique characters and designs. 
The comic strip was made into an animated version in 1989 (it released in the U.S. in 1992) and became a beloved cult classic. With the surreal nature of Slumberland, an animated attempt almost seems like the wiser choice, but technology has come a long way and the colorful, creative world of the live-action "Slumberland" actually looks pretty darn whimsical. Then again, some of that might just be Momoa's intense charisma making everything seem more wonderful, but who am I to complain? 
"Slumberland" was directed by Francis Lawrence, who helmed the "Hunger Games" sequel films "Catching Fire" and the two-part "Mockingjay," so he has a pretty good grasp of action-adventure storytelling and fantasy concepts. The movie looks like a lot of fun, and should be more entertaining than listening to Uncle Jim's conspiracy theories or Aunt Carol's re-telling of "The Real Housewives" this holiday season. 
"Slumberland" premieres exclusively on Netflix on November 18, 2022.