The Good News Is The Oregon Trail Is Becoming A Movie Musical, The Bad News Is You Have Died Of Dysentery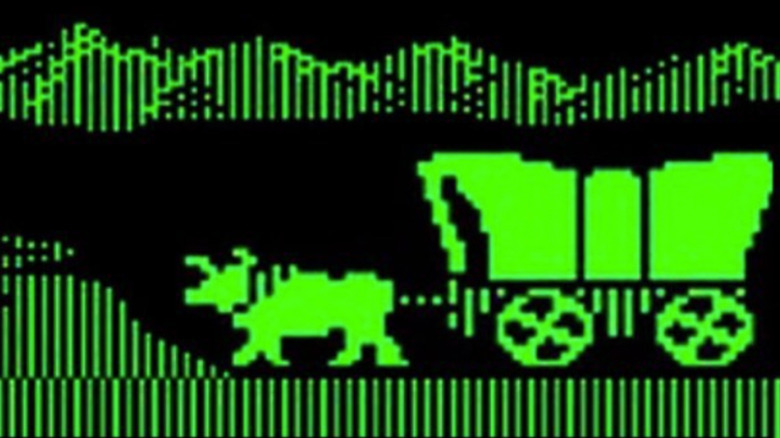 MECC
Do you know what all those movies about the famous Oregon Trail and the immigrants who traveled it needed? A few songs and maybe even some fantastical video game elements. If you follow this train of thought as well, then we've got the perfect news for you. "The Oregon Trail," the video game franchise that has existed for almost as long as personal computers have, is coming to the big screen, thanks to the team behind the upcoming "Lyle, Lyle, Crocodile."
Directors Will Speck and Josh Gordon revealed in an interview with Collider their plans to adapt the MECC-developed game as a musical, not unlike their adaptation of the Bernard Waber book. According to Speck, they will be reuniting with songwriters Benj Pasek and Justin Paul for the film, having come up with the idea while they were working on "Lyle, Lyle, Crocodile."
"We were talking about what we could cook up next, because we really want to do another musical," said Speck. "They mentioned ["The Oregon Trail"], and we now have the rights to it, and we're putting it together alongside them and some other exciting people."
Press SPACE BAR to continue
If it's been too long since you've heard the name "The Oregon Trail," here's a quick refresher: you play a wagon leader that is carrying a group of West-bound settlers across the real-life trail, which spanned over two thousand miles. Due to it being an educational game, its status as a nostalgic piece of media has strengthened over the years from memories of playing it at school with friends.
Oh, and the ways you could die were also pretty funny. Gordon teased to Collider that this aspect of the game will be honored in their adaptation. "It always had this dark band of humor running through it, because your chances of dying from everything from dysentery to a cut [were high]," he joked. "Basically, every move you ended up dying."
Because of this, don't expect it to be a family-friendly feature like "Lyle" is. While they haven't decided whether to aim for a PG-13 or an R-rating, the duo said that it will be a mixture of a serious musical and a wacky comedy.
"For us, that's returning a little bit to our roots in comedy, marrying it with the fun of doing a big musical," Gordon continued, "and also just the ambition of taking that very seriously as well and making a big historical westward expansion epic that's also about dying from dysentery."
While we likely won't see this version of "The Oregon Trail" any time soon, you can catch "Lyle, Lyle, Crocodile" in theaters on October 7.