The Rings Of Power Showrunners Reveal The Most Difficult VFX Scene From Season 1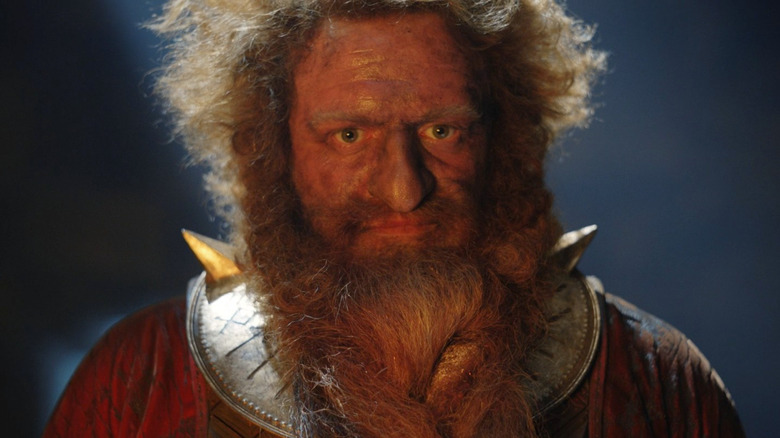 Prime Video
Prime Video's "The Lord of the Rings: The Rings of Power" is an expensive show. That's likely the first thing you heard about it. It makes sense, of course. An entire world imagined by author J.R.R. Tolkien was being created, and it had to compete with the Peter Jackson trilogies "The Lord of the Rings" and "The Hobbit." Though the series is set thousands of years beforehand, in the period known as the Second Age, it's still the same place and requires similar scope.
The films had some very unique challenges that the series has inherited. One of them is making the denizens of Middle-earth and beyond appear at the correct heights for their species. We have dwarves that are much shorter than elves and humans, harfoots who are even smaller, and many scenes with them together. In a recent interview with The Hollywood Reporter, showrunners J.D. Payne and Patrick McKay talked about the hardest VFX scene from season 1, and it involves characters of different heights walking together. 
Jackson used things like forced perspective and different-sized sets/props to create the difference, as well as doubles of different heights, but that's not an easy thing to pull off. Here's how the show did it.
Keeping the heights straight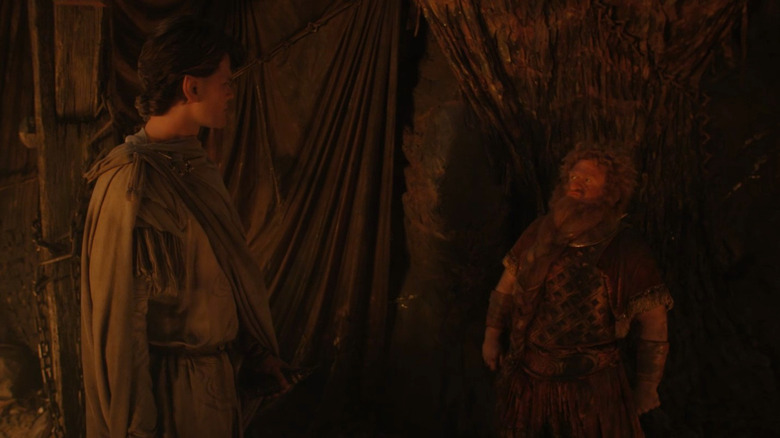 Prime Video
In the interview, it was revealed that the Prime Video series has a visual effects supervisor named Jason Smith who is in charge of making the height differences clear onscreen. The publication explains that the production uses "a dizzying array of camera tricks, different size props, actor doubles, and a headache-inducing amount of math that consumes everybody in the scene."
Smith said that the most difficult scene in the original scripts for the first season of "The Rings of Power" involved a dwarf and an elf walking down a hallway. One might assume that would be besties Elrond (Robert Aramayo) and Durin IV (Owain Arthur). The scene was later switched to a mine-shaft elevator, which was said to be "still a pain to figure out." 
It's actually surprising that the difficult scene wasn't between the Stranger (Daniel Weyman) and some of the harfoots, but so far those scenes have been largely outdoors. It's easier to use forced perspective if you have more room. A hallway or an elevator shaft would make that so much harder. 
The interview doesn't specify if this is one of the scenes we've already watched, but if it is, it's probably the discussion between Durin and Elrond after the latter finds the mithril vein. After all, it's in tight quarters, and the two characters are close together. Perhaps the scene hasn't happened yet. Either way, there are still two episodes left in the first season, with the second beginning to film in London this month.
"The Lord of the Rings: The Rings of Power" is currently streaming on Prime Video.