Helen Mirren Took It Upon Herself To Spice Up Her Character For The Long Good Friday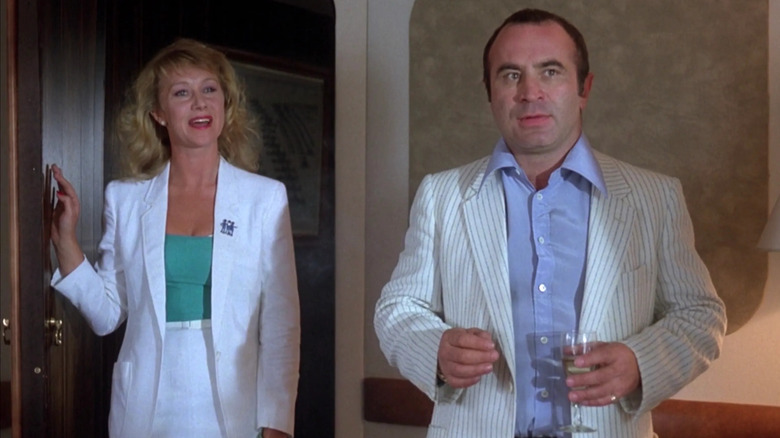 Paramount Pictures
Straddling ground among the crime, drama, black comedy, and action genres, the gritty London gangster movie has become commonplace to the point of parody. Movies like "Get Carter," "Sexy Beast," and a sizeable chunk of Guy Ritchie's filmography present stiff upper lips and seedy underbellies, but Helen Mirren made sure that the gangster movie she signed onto included an active partner, not a passive moll.
In John Mackenzie's 1981 crime powerhouse "The Long Good Friday," Mirren plays Victoria, the decisive, icy-blonde girlfriend of the bellicose criminal boss Harold Shand (played by Bob Hoskins in a breakout role). Speaking with The Guardian for the film's 40th anniversary, Mirren looked back on her character with ownership – not just in her incisive performance, but in her advocacy for Victoria's influence in the film. She recalled:
"When I first read the script by Barrie Keeffe, I was blown away. It was like a piece of literature, and movie scripts don't tend to be like that. This one you read like a novel. With the exception that my female character was terrible – she was very, very dull. She was basically the girlfriend in the corner, and I wanted to bring her into the story. So I signed up with great alacrity and excitement, with the caveat that I wanted to change Victoria – very much to the irritation of the director John Mackenzie. I was a squeaky wheel, being very annoying.

Originally Victoria was just a working-class girl sitting pretty saying: 'Oh Harold, do you think you ought to be doing that?' And I said: 'No, let's make her middle class or even upper middle class.'"
Film scripts don't often read well...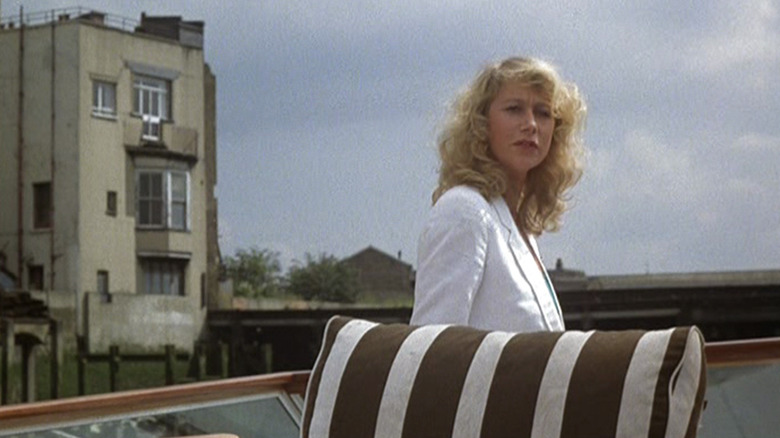 Paramount Pictures
Keeffe's screenplay for "The Long Good Friday" focused on Hoskins' Harold Shand, a man like any other criminal boss, who has lofty aspirations to expand his dominion via shady property development schemes. Shand has local construction leaders in his pocket, and spends much of the movie courting the American mafia's partnership. A self-made businessman aboard his gaudy new-money yacht, Shand promises that the 1980s are "the decade in which London will become Europe's capital" in a proto-portrait of Margaret Thatcher's Britain. "No other city in the world," he bellows, "...has got, right at its centre, such an opportunity for profitable progress."
Victoria is a beneficiary of that profit, and enjoys the gilded spoils and protection that Harold provides. In filling the role, casting director was looking for an actor who embodied the glamor of a gangster moll – but not a Hollywood model. She had been impressed by the London-born actor's theatrical work in the West End, but once Mirren was cast, she still had an uphill battle with regards to her then-threadbare character. 
In a BBC documentary about the film, Mirren forgives Victoria's intangibility on the page – "Film scripts don't often read well, they don't need to read well," she offers – but she had to be vocal on the set in order to bring Victoria out of the margins of the story, a boldness that her co-star Hoskins confirmed and validated moments later:
"A lot of the time, she's right, we had to pull the script towards the woman's intelligence and the woman's control of him in a way. There's times when she tells [Harold] exactly what he's going to do. I think that one of the things that made him who he was, was his relationship with her. Living with her actually defined him."