Rogue Heroes Trailer: Peaky Blinders Creator Steven Knight Takes On World War II For EPIX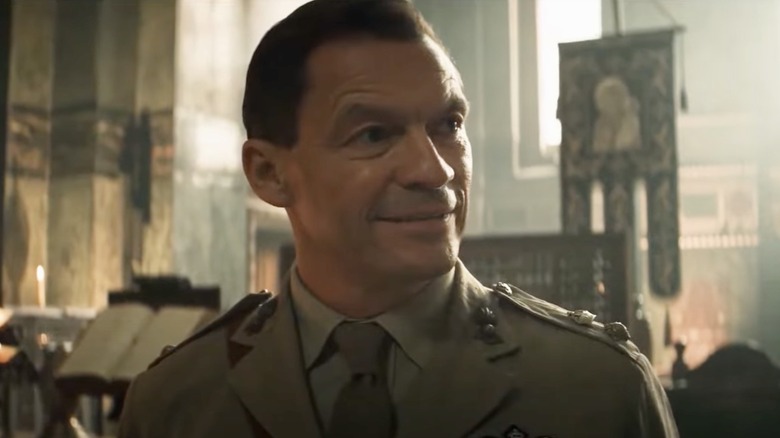 EPIX
"Peaky Blinders" creator Steven Knight has lined up his next TV series with "Rogue Heroes," a World War II drama with attitude about the founding of the Special Air Service (SAS). The series is coming your way this fall on EPIX and BBC One, and now the first trailer for it is here.
Knight is also known for his other collaborations with Tom Hardy — the one-man movie, "Locke," and the one-season show, "Taboo." He's been moving toward the war, anyway, in the upcoming "Peaky Blinders" movie, but while you wait for that, you can get to know a new cast of characters in what looks like a British outpost in the Egyptian desert, as judged by the pyramids in the background. For "Rogue Heroes" (which will go by the title "SAS: Rogue Heroes" in the UK), Knight has enlisted director Tom Shankland and a cast that includes Connor Swindells ("Sex Education"), Jack O'Connell ("The North Water"), Alfie Allen ("Game of Thrones") and Sofia Boutella ("Atomic Blonde"). You'll also see the face of Dominic West ("The Wire") in the trailer below.
Watch the Rogue Heroes trailer
The trailer for "Rogue Heroes" starts out rather ominously, with a bird's-eye view of a caravan in the desert, followed by Nazi iconography, as the voiceover narration speaks of a world with "no order." Then, the needle drop comes, and it's AC/DC, "Dirty Deeds Done Dirt Cheap." This series is obviously going for a devil-may-care vibe as it shows how the men of the SAS have a "license to behave badly." I like how the camera floats up as West's character enunciates, "Special. Air. Service."
Here's the synopsis for "Rogue Heroes."
Rogue Heroes is a dramatized account of how the world's greatest Special Forces unit, the Special Air Service (SAS), was formed under extraordinary circumstances in the darkest days of World War II. Based on Ben Macintyre's best-selling book of the same name, the series centers on David Stirling, an eccentric young officer who is hospitalized after a training exercise gone wrong. Convinced that traditional commando units don't work, Stirling creates a radical plan that flies in the face of all accepted rules of modern warfare. He fights for permission to recruit the toughest, boldest, and brightest soldiers for a small undercover unit that will create mayhem behind enemy lines. More rebels than soldiers, Stirling's team is every bit as complicated, flawed, and reckless as it is brave and heroic.
"Rogue Heroes" premieres this fall on EPIX.