Taissa Farmiga Is Reprising Her Role As Sister Irene In The Nun 2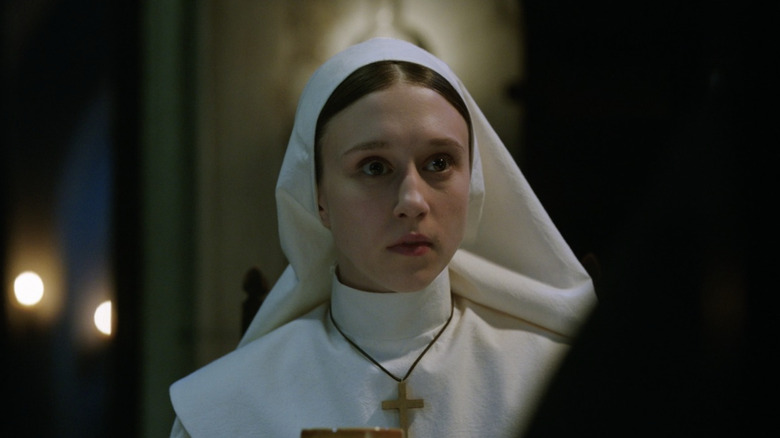 Warner Bros.
The "Conjuring" universe just got a little bit sweeter. Following the announcement that "Euphoria" star Storm Reid had been cast in the upcoming sequel to "The Nun," The Hollywood Reporter announced that Taissa Farmiga ("American Horror Story," "The Final Girls") would be returning to reprise her role as Sister Irene. The film is due to begin production toward the end of October, with "The Conjuring: The Devil Made Me Do It" director Michael Chaves at the helm. 
The box office success of the most recent film helped bring the "Conjuring" universe across the $2 billion mark, something New Line Cinema clearly hopes to repeat with "The Nun 2." The original 2018 film was a spin-off of "The Conjuring 2," which introduced Bonnie Aarons' character of Valak/The Nun into the franchise's canon.
The imagery of The Nun was so striking, Warner Bros. and New Line announced the standalone film only five days after the release of "The Conjuring 2." The film was set in a 1952 monastery, with a priest (Demian Bichir) and a young nun (Farmiga) doing battle with the demon Valak. Farmiga's participation was a bit of meta-casting, as her older sister Vera Farmiga has performed as Lorraine Warren throughout the series since the very beginning. 
Plot details on "The Nun 2" have been kept under wraps, but it's been said that the 1950s-era setting will continue. Sister Irene was truly put through the wringer in the first movie, and it'll be interesting to see what new horrors await her in the sequel.
Give Farmiga something to do!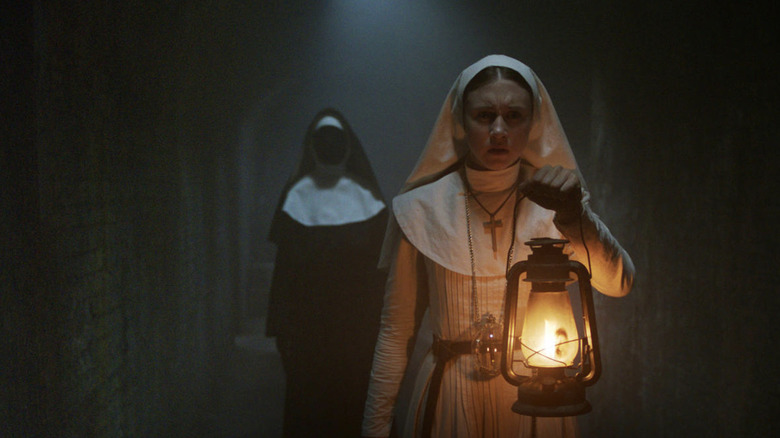 Warner Bros.
Despite the massive financial success of the first film, the creative team behind "The Nun 2" has their work cut out for them, as "The Nun" is considered by most as a dreadfully boring installment of the franchise. Many felt that Farmiga's leading performance was wasted in a subpar movie, so "The Nun 2" could see success by simply giving her more to do. She's more than proven her acting talents in projects like "The Gilded Age" and "In a Valley of Violence," and it's high time she was given the chance to truly shine in the "Conjuring" universe. Fortunately, the screenplay comes from Akela Cooper, who absolutely crushed it with "Malignant," and is behind the highly-anticipated release of "M3GAN." Safe to say, we're in good hands.
James Wan and Peter Safran will again be producing the film via their respective banners, Atomic Monster and The Safran Company, as they have done for all eight of the "Conjuring" films. Judson Scott is overseeing the project for Atomic Monster, with Michael Clear and Gary Dauberman serving as executive producers.
"The Nun 2" is currently scheduled for a theatrical release on September 8, 2023.