Sally Hawkins' Shape Of Water Role Was Handcrafted For Her By Guillermo Del Toro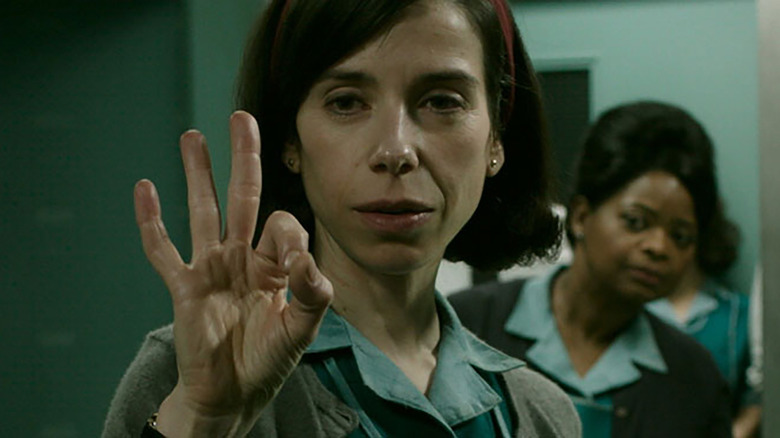 Fox Searchlight Pictures
The nameless amphibian-man (Doug Jones) may be the most recognizable part of "The Shape of Water," but it's his human lover Elisa (Sally Hawkins) who's the movie's protagonist. Hawkins' performance is stirring. Since Elisa is mute, Hawkins never says a word (barring an imagined musical number). She instead lets her actions and expressions speak for her, resulting in a performance even more emotive than if Elisa spoke dialogue aloud.
Director Guillermo del Toro knew ahead of time that Hawkins could deliver the performance he wanted; he's been a fan of hers since the 2005 BBC miniseries, "Fingersmith." In an interview with Gold Derby, the director recounted:
"[Hawkins' character] fell in love with another woman and they had a beautiful affair and I thought the way she did it was so natural, there was no wink-wink, no titillation. So I wrote it for her, speechless, mute, because to me, love renders you speechless."
Del Toro, who "wanted [Eliza and the amphibian-man's] love to not be through talking," knew Hawkins had to be his leading lady. Still, securing Hawkins' involvement took some serendipity.
Meeting Sally Hawkins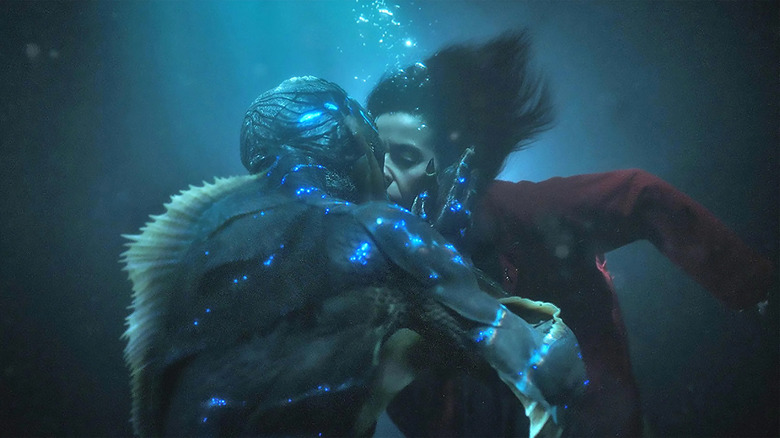 Fox Searchlight Pictures
Del Toro revealed to Vulture how he met Sally Hawkins. Things went into motion in 2014, when he passed word to her agent that he was writing a film for her. Hawkins herself, speaking to Deadline, recalled her agent passing word of the project to her:
"I got the call about 18 months before, when there wasn't even a script. It was all a little vague... but what was most remarkable about it was my agent said, 'It's about a woman who falls in love with a merman.' At the time of receiving that call, I was literally writing some notes on a story that was about a woman who didn't know she was a mermaid. It gave me chills, and I felt something else must have been going on here. You want to believe in the magic."
Later that year, del Toro's old friend Alfonso Cuarón managed to rope him into going to a party celebrating Cuarón's "Gravity" winning at the Golden Globes. After 14 shots of tequila for a "celebratory drink," del Toro headed for the exit and then spotted Hawkins. He remembers:
"I say, 'Sally — Guillermo.' I hugged her. And I said, 'I'm writing a movie for you where you fall in love with a fish-man!' She says, 'Great!' And that was our first meeting."
Despite the unconventional first meeting and far-out premise, Hawkins was flattered. As she put it to Deadline, "Guillermo could have asked me to do anything and I'd have been there. It's Guillermo del Toro."
Once she officially signed on, Hawkins worked with ASL coach Amanda Richter to accurately portray Eliza's disability. As for acting silently, del Toro gifted her a Blu-ray box set of silent movies, featuring stars like Buster Keaton, to model her performance.
Envisioning every actor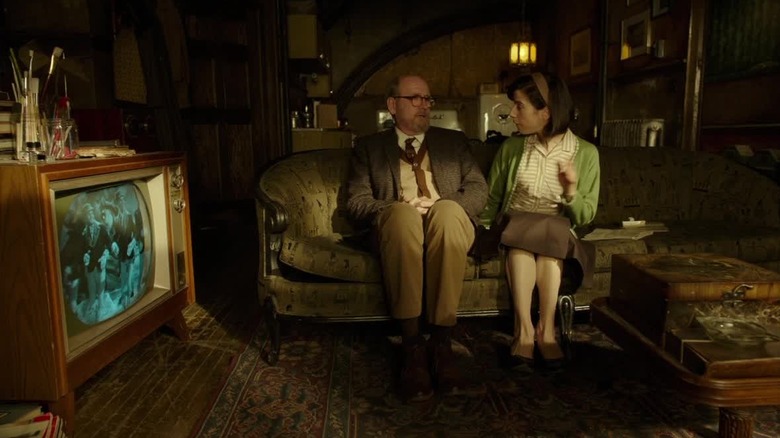 Fox Searchlight Pictures
Hawkins said of del Toro writing the part for her, "A lot of directors do that; they write for the voice in their head." Indeed, Hawkins wasn't the only actor that del Toro had pre-planned. Aside from Elisa and the amphibian-man, there are three main supporting characters in "The Shape of Water": Eliza's best friend Zelda (Octavia Spencer), her closeted neighbor Giles (Richard Jenkins), and the blackhearted Colonel Richard Strickland (Michael Shannon). Del Toro had (almost) all five picked out from the start.
Jones had worked with del Toro before and specializes in characters dressed up with prosthetics. Considering he'd previously played the amphibious Abe Sapien in "Hellboy," Jones was a natural pick for "The Shape of Water." Octavia Spencer signed up for a simple reason: "[She's] been a fan of [del Toro] for decades" — her scheduled 30 minute meeting with del Toro to discuss the project turned into a three hour one because they couldn't stop talking.
What intrigued Michael Shannon about his character was how the film flipped the morality of old monster movies like "Creature from the Black Lagoon." In "The Shape of Water," the amphibian "monster" is the hero and the All-American man the villain. Shannon explained, "The inversion of that perception is interesting because it ultimately erodes the whole notion of heroes and villains. Realistically, it's always so much more complicated than that."
There was one actor del Toro wanted who he couldn't get — Ian McKellen as Giles. Del Toro was inspired by McKellen playing the legendary filmmaker James Whale (another gay man) in "Gods and Monsters." McKellen's real-life queerness would've definitely add meta subtext to Giles, but Jenkins' performance is magical too. Even if things don't go as planned, they can still work out.