Barry Keoghan Landed His Role In The Batman With An Audition For A Different Villain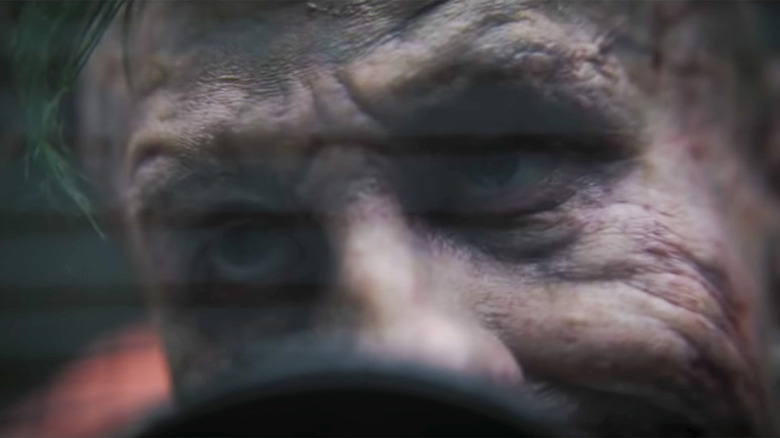 Warner Bros.
When Matt Reeves' "The Batman" arrives in theaters earlier this year, there was as much fan discussion about potential sequels as the film itself. While audiences were impressed by Paul Dano's turn as a Zodiac Killer-inflected Riddler, speculation was immediately dialed to a fever pitch by an end-of-the-movie cameo appearance by the Joker. 
At the conclusion of "The Batman," the Riddler has been apprehended and put into Arkham Asylum. By coincidence, the obfuscated Joker — seen only distorted or in extreme close-up — has already been imprisoned in the cell next door. The two trade a few words about how they now understand their respective callings as Batman villains. Like all modern superhero movies, the teaser trailer for a sequel was embedded in the film itself. The character was credited as "Unseen Arkham Prisoner" and was played by Irish actor Barry Keoghan. 
Only a few weeks after "The Batman" opened, Reeves further teased audiences by releasing a deleted scene wherein Batman (Robert Pattinson) visited the Joker in prison to get some insight on the Riddler. The "Manhunter"-inspired scene implied that the arch nemeses had already met prior to Reeves' film, and that the Caped Crusader's most notable villain was already an active part of his universe. 
In a new interview in British GQ, Keoghan revealed that the Joker wasn't on his radar when he auditioned for "The Batman." Indeed, the production didn't call the actor at all, and he — because he was enthused about the prospect of a new Batman feature film — merely mailed in an unsolicited audition tape wearing a Riddler outfit. That was enough, it seems, to get the casting agents thinking.
A Film By Barry Keoghan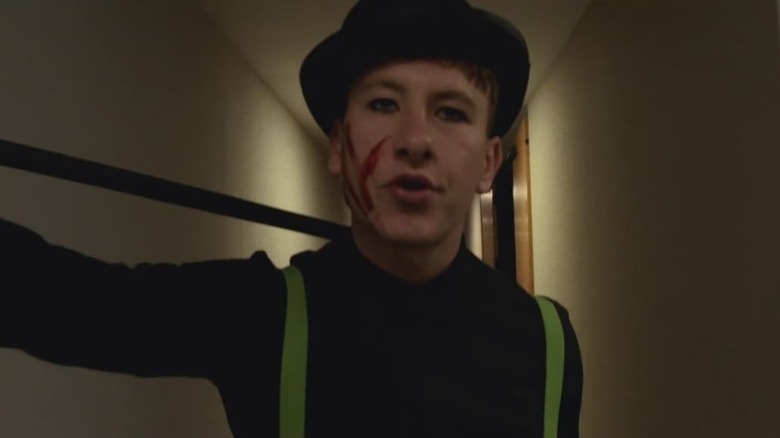 Barry Keoghan
The audition tape, which British GQ posted on their Twitter account, featured Keoghan wearing a makeshift Riddler costume of his own design, and walking in slow motion down a hallway to the strains of Camille Saint-Saëns' "Danse Macabre." Keoghan's costume included a black sweatshirt, heavy eyeliner, a black bowler hat (an accessory commonly seen on the Riddler's head), a pair of bright green suspenders, and a silver-tipped cane. The vibe was certainly inspired by Alex DeLarge, the character played by Malcolm McDowell in Stanley Kubrick's 1972 film "A Clockwork Orange." 
According to the GQ interview, Keoghan had merely heard that "The Batman" was happening, and made the video himself out of excitement. "I wanted to be Riddler," he said. His reel was credited simply as "A Film By Barry Keoghan." Eventually Keoghan would pass the reel to Dylan Clark, the producer of "The Batman," as a means to discussing the possibility of acting in the film. It seems Keoghan was too late; Jonah Hill had already been cast as the Riddler. Eventually, Hill would drop out and be replaced by Dano. Keoghan, still hopeful, implored that Clark keep his reel regardless. It must have worked, because four months later, Keoghan was called by his agent ... about the Joker. "But," his agent added, "you can't tell anyone." 
Keoghan was already a known quantity from his intense and excellent performances in Yorgos Lanthimos' "The Killing of a Sacred Deer" and Christopher Nolan's "Dunkirk," and when his name first appeared in the credits of "The Batman" on IMDb, some people became curious. On opening night, audiences understood the secrecy. Keoghan — wearing heavy prosthetic makeup that mutilated his face into a craggy, toothy grin — was this universe's version of the Clown Prince of Crime.
Keoghan's heroes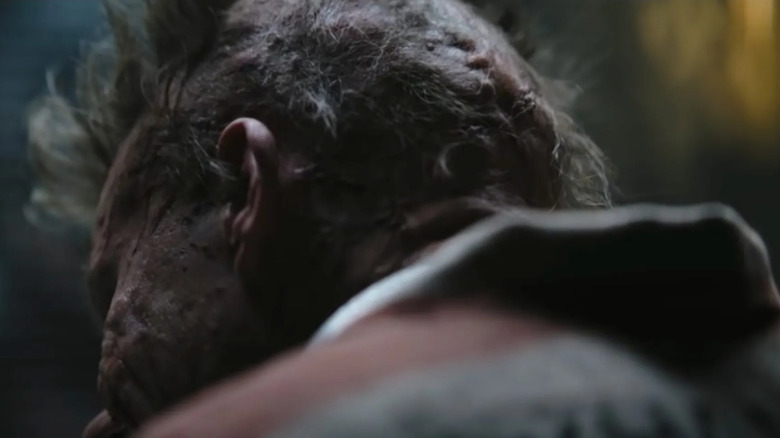 Warner Bros.
Appearing in a comic book movie seems to have long been a dream for Keoghan, now 29. Back in January of 2013, the actor Tweeted at no one less than Stan Lee himself, imploring that he be made a superhero. This came at a time when the Marvel Cinematic Universe had put out its first ultra-smash, "The Avengers," and Keoghan — along with every other working actor — was keen to get in on the action. 
Eventually, Keoghan would get his wish, appearing as the mind-controlling immortal Druig in Chloé Zhao's intriguing and downbeat 2021 film "Eternals." Perhaps fitting the actor's screen presence, "Eternals" was unconventional when compared to the usual colorful comic book adventure stories of the MCU. "Eternals" wasn't so much an action film as a contemplation of human agency and its function in the ploys of an uncaring God. 
Keoghan's career choices have led him to work with interesting directors on multiple fascinating projects. In "Sacred Deer," he plays a creepy young man who has somehow placed a curse on a suburban family, causing them to come down with an unknown illness. "Dunkirk" was an ambitious WWII evacuation story told over three separate time frames. He appeared in the unconventional and arty "The Green Knight" as a rogue obstructing Sir Gawain. His next film will be Martin McDonough's "The Banshees of Inisherin," incidentally the third film he will share with Colin Farrell. He is currently filming "Saltburn," the new film from "Promising Young Woman" director Emerald Fennell. 
Keoghan's future as the Joker is set, although his superhero future as Druig may have already been cut short. At the San Diego Comic Con in August, the company was notably light on a certain announcement. In Keoghan's words: "[Marvel] didn't really mention 'Eternals 2,' so ..."