Huluween Dragstravaganza Stars On Bringing Camp And Silliness To 'The Gay High Holy Day' [Exclusive Interview]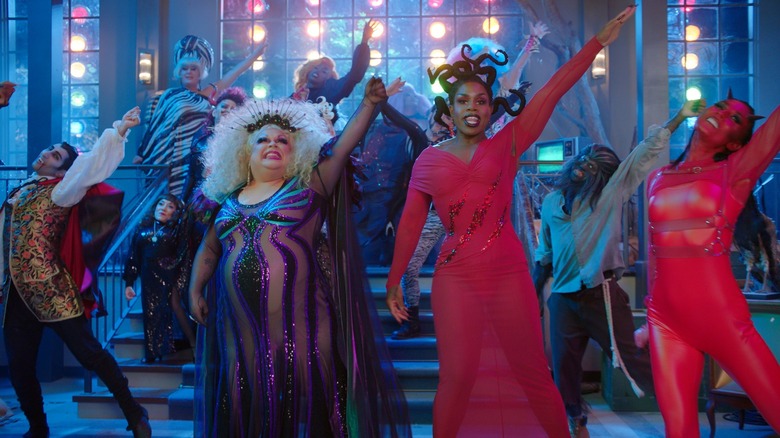 Hulu
October is here, which means that spooky season is in full force! Over at Hulu, the streaming platform is kcied the month right with its "Huluween Dragstravaganza," a special hosted by the fabulously indomitable Ginger Minj and Monét X Change. "Dragstravaganza" also includes several other drag stars in a variety full of tricks and treats and more than one delightfully spooky musical number, such as the "Next American Slasher" song you can check out below.
I had the chance to talk with "Huluween Dragstravaganza" co-host Ginger as well as her fellow drag star Manila Luzon, who had her own presence in the show. Read on for that fabulous discussion.
This interview has been condensed and lightly edited for clarity.
'It's like this big queer umbrella of talent'
I got to see the special and I thought it was fantastic, and I loved both of your parts in it — how did you come to be involved with the special?
Ginger Minj: Well, for me, my agent called and said, "Hulu is interested in you coming to host this 'Huluween Dragstravaganza.' We don't have a whole lot of details, but the dates don't work with your calendar." I suggested that I clear my calendar and make the dates work, because Halloween is the gay high holy day. It's the night where all the new drag babies are born, and we needed a chance to share that with the whole world. And then when I found out who else they were calling and booking for this gig and I knew I definitely had to be a part of this.
Manila Luzon: Yeah, I was definitely telling my agent, "I'm going to make this work." I moved some tours around and I took a pay cut just to be on this, because this is a great opportunity to get to do something really special, and to do it with some of the best drag performers out there. It was something that we weren't going to miss for sure.
Ginger: Yeah, it's not just drag performers. I mean, we've got Selene Luna, we've got Gay Uncle Mario — it's like this big queer umbrella of talent and it's nice to see how all of it fits together.
'Everybody just bent over backwards to make us feel seen and heard'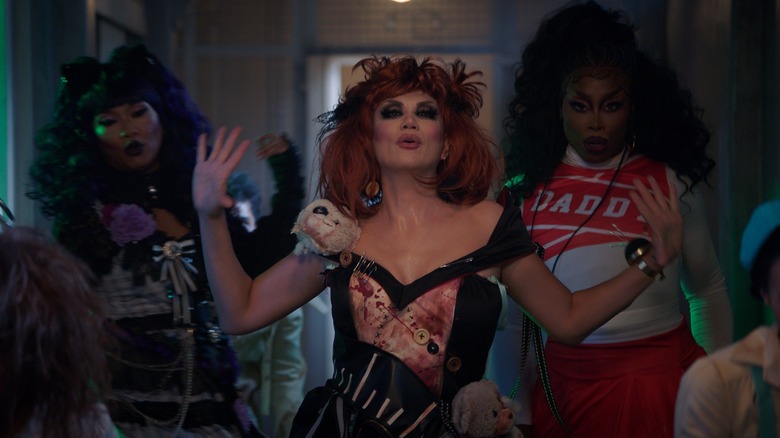 Hulu
Did you have any input on what your parts were in terms of the skits and what you did?
Manila: Well, I really was excited because as a drag performer from reality TV, I'm usually just playing myself. So I was really excited to relinquish control and just be like, give me the role and I'm going to have some fun playing a person that's not me and being kind of crazy and wacky. I know that Ginger got to do a little more improv with Monét when she was hosting, so that's exciting.
Ginger: Monét and I had such a good time. I mean, we've known each other for a very long time and we've hosted drag shows together before, so there was this automatic rapport and they were very kind. We got a little jealous because the other girls got to do all this crazy stuff, all this blood and guts and costume changes, but ours was very scripted segments. But they were very good about telling us, all right, we're going to do two scripted takes and then we're going to give you a fun run and you're just going to improv and do what you want to do.
It was very cool to see a lot of the stuff that we improv is what made it into the final cut. They made it very comfortable for us — everybody just bent over backwards to make us feel seen and heard, and valid, and supported.
Manila: The writers Jackie Beat and Justin Martindale were so good at infusing our personalities. Once we were cast, they really tailored it for us specifically and it was really great. It felt like they were listening to us. They wanted the best performance out of all of us, and we all came together as a community and made this thing something special.
'Booooobies!'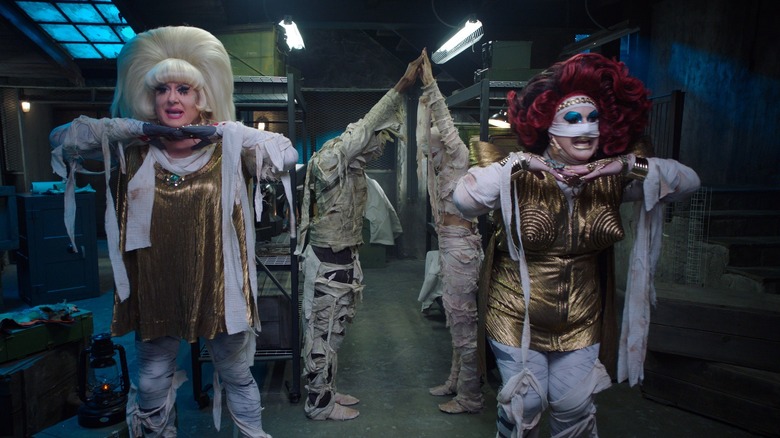 Hulu
And one thing that's special definitely has, as it should, is a lot of great jokes and puns. And I wonder if either of you have any favorite Halloween-related puns or jokes that you want to share?
Ginger: I love dad jokes anyway, and don't even remember the setup of the joke — I just know that the punch line is "Booooobies!"
Manila: "Dragstravaganza" is so campy and so silly — it's like a living cartoon and we had so much fun. And when there is a pun to be made, we take that opportunity. If it's funny, then it's got to be delivered.
Ginger: It has to. It's the rules.
That's awesome. And what do you hope that folks who watch it come away feeling?
Ginger: I hope they feel great. There's this whole political thing going around about if drag queens are appropriate for everybody or are they destroying the fabric of America? We're not destroying the fabric of America — we're just rhinestoning it and making it more fabulous. I think that anybody who's ever been to an actual drag show will understand that it's like this is like an episode of the "Carol Burnett Show" — you've got standup comedy and songs and sketches and dancers and all these kinds of things. So there's something for everybody, and it's a safe space for literally anyone and everyone to come and just be themselves. And I think that this special really captures that and puts it out there for the whole world to see.
Manila: And Halloween is about putting on a costume and getting to play dress up and make believe, and to let your costume bring out a part of your personality that you don't usually get to express. So we're really excited that hopefully this "Huluween Dragstravaganza" will open up people's minds to be able to express themselves in different ways with just the way they choose to dress or how they choose to express themselves. And it's also a good time. It's absolutely hilarious and fun.
"Huluween Dragstravaganza" is now streaming on Hulu.