The Best TV Shows And Movies Coming To Hulu And Disney+ In October 2022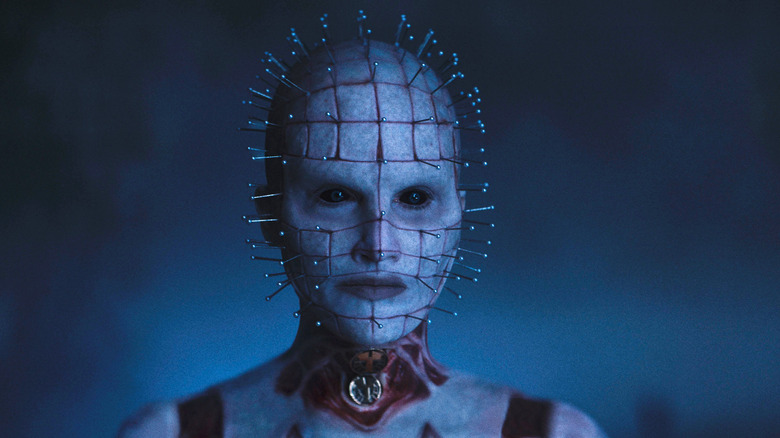 Hulu
Spooky season is upon us, which means it's time for the biggest streaming services to roll out their Halloween specials and whatever classic scary movies or TV series they currently hold the rights to. But before we get into that, let's run through some of the non-spooky (or even non-spoopy) offerings headed your way this October.
If you're among those pouring money into Mickey Mouse's pockets (who isn't, right?), there are a number of noteworthy titles arriving on Disney+ and Hulu that month. Perhaps chief among them is "Schitt's Creek," the beloved Canadian sitcom that only just left its former home at Netflix to set up camp at Hulu. There are also, in a pleasant surprise, several Pedro Almodóvar movies dropping onto Hulu in October. If you've always meant to catch up on the revered Spanish filmmaker's work but haven't because there's simply too much to watch as is, now's as good a time as any to remedy that.
And don't forget "Rosaline!" — director Karen Maine's comedic re-telling of "Romeo and Juliet" will stream exclusively on Hulu and may yet prove to be a winning skewering of Shakespeare's tragedy (one that, by the look of it, has big Gen Z energy). With that said, here are some appropriately horror-flavored titles to watch out for in October 2022, along with everything other film and TV show headed to Hulu and Disney+ that month.
Let Me In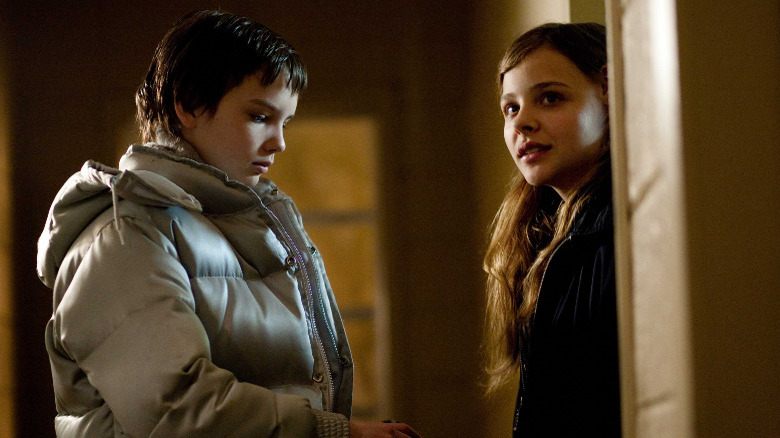 Relativity Media
The main issue with "Let Me In" is that "Let the Right One In" exists and it's great. But "The Batman" and "Planet of the Apes" writer/director Matt Reeves' remake of the 2008 Swedish vampire drama (itself based on the 2004 novel of the same name) is a worthy blood-sucker flick in its own right and merits checking out if you never have before.
For those not familiar, Kodi Smit-McPhee stars in Reeves' horror movie as a bullied young boy growing up in Reagan's America who comes to befriend the girl (Chloë Grace Moretz) who only just moved in next door, only to learn she's really a much-older vampire. It hits all the same coming-of-age themes as "Let the Right One In" but does so in its own way and with a style that's distinctly Reeves' (like a stunning single-take car crash or a grisly climax that's as tense as they come). 
Bittersweet and disturbing, thrilling yet contemplative, with moving performances from not just the kids but also their older costar Richard Jenkins, "Let Me In" goes to show there are, in fact, U.S. remakes that actually do justice by the international hits that inspired them ... And not just "The Departed," either.
Hellraiser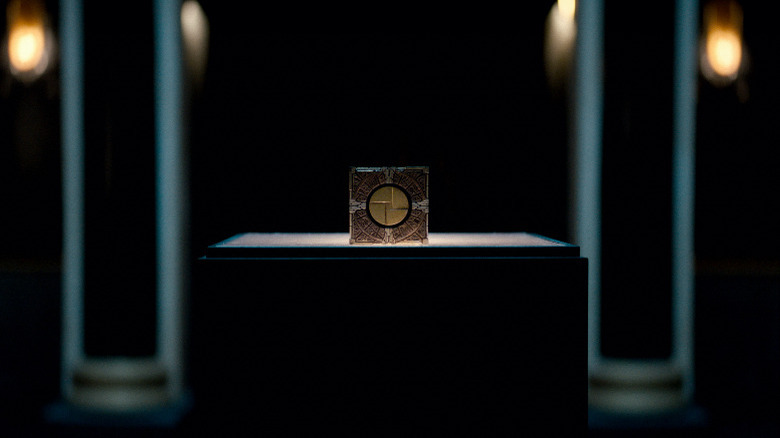 Hulu
Are you ready to see what sights Pinhead has to show us in this confusingly-named reboot? Yes, this is a reboot and not a legacy sequel, even though it follows the legacy sequel title trend started by "Halloween" and "Scream." 
Odessa A'zion stars in "Hellraiser" (2022) as Riley, a young woman struggling with addiction who accidentally summons the demonic Cenobites after getting her hands on a mysterious, ancient puzzle box. Jamie Clayton co-stars as the extra-dimensional Pinhead, making her the successor to longtime "Hellraiser" actor Doug Bradley, as well as the first trans woman to inhabit the role. Count me among those eager to watch the talented "Sense8" alum put her spin on such a legendary horror character.
Admittedly, outside of Clive Barker's original 1987 film (itself adapted from Barker's novella "The Hellbound Heart"), the previous "Hellraiser" movies are notorious for being, to put it kindly, a very mixed bag. All the same, with director David Bruckner — who's evolved into one of the most fascinating artists in the modern horror scene — and his "The Night House" writers Ben Collins and Luke Piotrowski leading the way, early signs point to this new entry being more pleasure than pain. Er, you know what I mean.
Werewolf by Night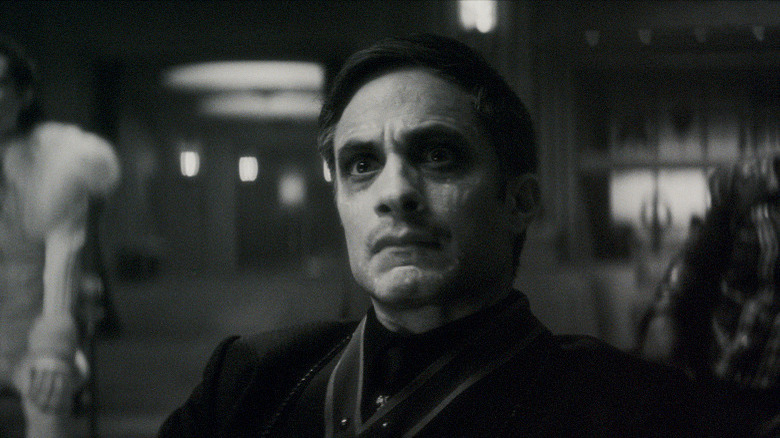 Disney+/Marvel Studios
A bloody black-and-white love letter to old-school Universal monster horror with some Marvel Cinematic Universe zaniness added for good measure? "Werewolf by Night" certainly has my attention.
Directed by Michael Giacchino (yes, that Michael Giacchino), "Werewolf by Night" stars Gael García Bernal as Jack Russell, a monster hunter who, in an ironic twist of fate, comes down with a bad case of lycanthropy. The hour-long Disney+ special is based on the Marvel comic book series of the same name and sees the MCU delve even further into the realm of horror after this year's "Moon Knight" series (which I personally dug) and the Sam Raimi-directed "Doctor Strange in the Multiverse of Madness" (a film that's at its best when it allows the "Evil Dead" helmer to indulge his wilder, more sinister sensibilities).
By now, it's commonly accepted when Marvel Studios hypes the latest MCU release as being unlike any other project before it, that's probably a bit of a fib. However, judging by the initial buzz from critics, "Werewolf by Night" might just be the first one to truly deliver on that promise.
The New Mutants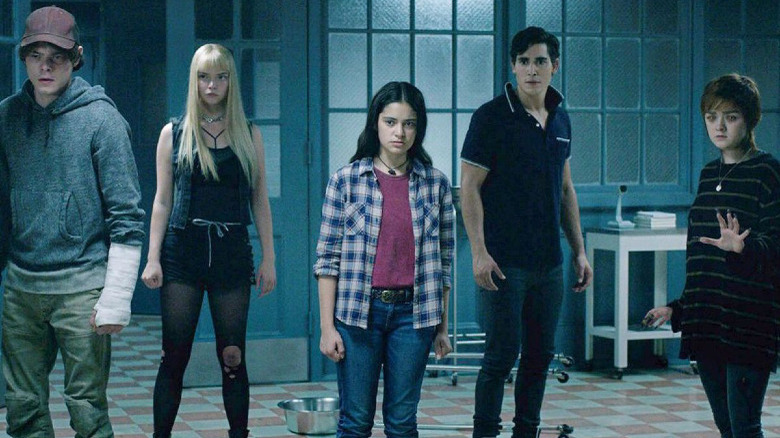 20th Century Studios
I'll be honest: I've seen "The New Mutants" and it is not a great movie. But it is an interesting film — the kind worth taking a look at now that it's streaming for "free" on Disney+, especially if you've always been curious about Fox's ill-fated attempt to take the "X-Men" movies in a darker, more terrifying direction.
Anya Taylor-Joy, Maisie Williams, Charlie Heaton, Blu Hunt, and Henry Zaga star as the titular mutants, a group of young adults trapped in a secret facility where it's hard to say who the bigger danger is: The captors or the inmates. As directed by Josh Boone of "The Fault in Our Stars" fame, "The New Mutants" is part slasher/thriller pastiche, part "Buffy the Vampire Slayer" riff, complete with all the coming-of-age drama, monster metaphors, and even queer romance of that cherished TV series.
The only downside? "The New Mutants" is very much less than the sum of its parts, which is all the more frustrating given how promising those individual elements are. Still, while it may be a mess, it's also the kind of risk-taking mess that leaves an impression, more than other, more vanilla superhero movies. And with Halloween right around the corner, what better time to find out just how scary (or maybe just scary-bad) you think this film really is?
Crimes of the Future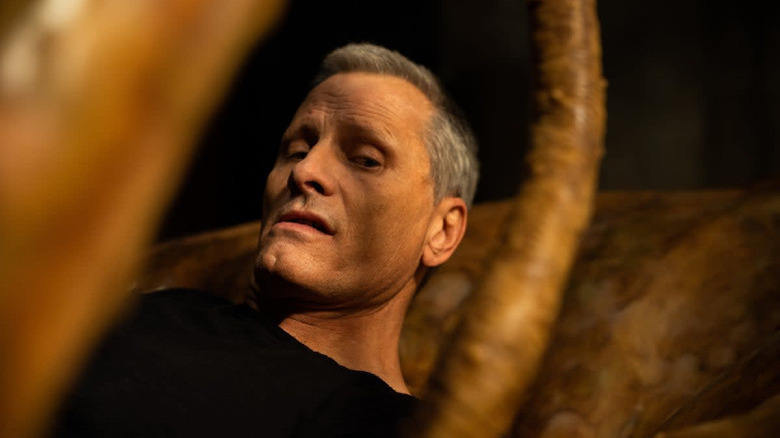 Neon
Insect-like machinery? A future where "surgery is the new sex?" Viggo Mortensen croaking and groaning while dressed like Kermit's doppelgänger Constantine from "Muppets Most Wanted?" Yes, writer/director David Cronenberg is back to his old body horror ways with his latest film, "Crimes of the Future."
Mortensen stars as Saul Tenser, a performance artist who makes his living growing and removing new organs from his body (the result of his unusual condition, dubbed "accelerated evolution syndrome") in front of crowds in a future where humans no longer feel pain. "Crimes of the Future" is, as /Film's Chris Evangelista and many other critics have pointed out, pretty much Cronenberg playing his greatest hits. But it also makes for an insightful capstone to his larger oeuvre of horror work, not least of all in the way it explores the blurring line between the organic and synthetic in human bodies.
And did I mention Kristen Stewart is genuinely laugh-out-loud funny in this? In a world where everyone tends to be inexpressive and monotone due to that whole not-feeling-pain thing, her turn as an awkward investigator with the National Organ Registry (one who's unbridledly horny for Saul's "organs") is a true highlight.
Movies and TV shows coming to Hulu in October 2022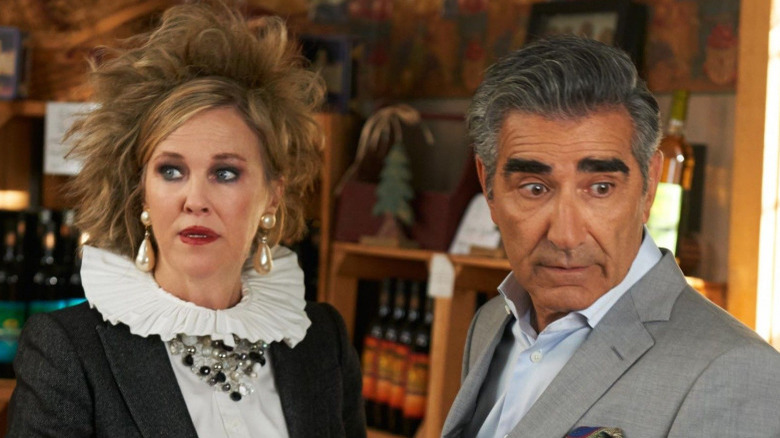 CBC Television
Available October 1, 2022:
Huluween Dragstravaganza (2022)
Berserk: The Golden Age Arc – MEMORIAL EDITION: Complete Season 1 (SUBBED)
My Hero Academia: Complete Season 6 (SUBBED)
Spy x Family: Season 1 Part 2 (SUBBED)
A River Runs Through It (1992)
The ABCs Of Death (2012)
The ABCs Of Death 2 (2014)
About Time (2013)
The Abyss (1989)
After Midnight (2019)
The Age Of Innocence (1993)
Aliens In The Attic (2009)
All About My Mother (1999)
All My Puny Sorrows (2021)
America's Sweethearts (2001)
American Ultra (2015)
An American Citizen (1992)
As Above, So Below (2014)
Bad Milo! (2013)
Beerfest (2006)
Beyond JFK (1991)
Blade (1998)
Blade 2 (2002)
Blade: Trinity (2004
Blazing Saddles (1974)
Broken Embraces (2009)
Casino (1995)
Catch and Release (2006)
Cedar Rapids (2011)
Charlotte (2021)
The Covenant (2006)
Crouching Tiger, Hidden Dragon (2000)
Dark Shadows (2012) 10th Anniversary
Dear White People (2014)
Desperado (1995)
The Devil Has A Name (2019)
Diary of a Wimpy Kid: Rodrick Rules (2011)
Did You Hear About The Morgans? (2009)
Don't Be Afraid of the Dark (2011)
Don't Say A Word (2001)
Double, Double, Toil and Trouble (1993)
El Chicano (2018)
Evil Dead (2013)
The Exorcism of Emily Rose (2005)
Fired Up! (2009)
Fright Night (2011)
The Fugitive (1993)
The Gallows (2015)
The Girl With The Dragon Tattoo (2011)
Godzilla Vs. Mechagodzilla II (1993)
Godzilla Vs. Destoroyah (2000)
Godzilla Vs. Spacegodzilla (2000)
Godzilla, Mothra, And King Ghidorah: Giant Monsters All-Out Attack (2003)
Godzilla Vs. Megaguirus: The G Annihilation Strategy (2003)
Godzilla Against Mechagodzilla (2004)
Grandma's Boy (2006)
The Green Hornet (2011)
The Hand That Rocks The Cradle (1992) 30th Anniversary
Higher Learning (1995)
Honeymoon (2014) Added
How to be Single (2016)
The Hulk (2003)
I Saw The Devil (2010)
It Might Get Loud (2008)
Jack And Diane (2012)
Layer Cake (2005)
Let Me In (2010)
Like Mike (2002)
Looper (2012)
Lords of Dogtown (2005)
Marrowbone (2017)
Mary Shelley's Frankenstein (1994)
Monster House (2006)
The Mortal Instruments (2013)
National Lampoon's Dorm Daze 2 (2006)
The New Age (1994)
No Eres Tu Soy Yo (2011)
O Brother, Where Art Thou? (2000)
Piranha 3-D (2010)
The Pursuit of Happyness (2006)
Q & A (1990)
Robin Hood (2010)
The Rocky Horror Picture Show (1975)
The Roommate (2011)
Salt (2010)
Satanic (2016)
The Sixth Sense (1999)
The Skin I Live In (2011)
Spirit: Stallion Of Cimarron (2002)
Splinter (2008)
Spy Next Door (2010)
Stripper (1986)
Sunchaser (1996)
That Night (1993)
Todo Cambia (2000)
The Transporter (2002)
Turtle Beach (1992)
Twister (1996)
Tyrel (2018)
Unbreakable (2000)
Undercover Brother (2002)
V/H/S (2012) 10th Anniversary
V/H/S 2 (2013)
V/H/S: Viral (2014)
Vanishing On 7th Street (2010)
Wild Wild West (1999)
Winchester (2018)
The Wheel (2021)
Women On The Verge Of A Nervous Breakdown (2006)
X-Men (2000)
XX (2017)
Available October 2, 2022:
Red Election: Complete Season 1
Available October 3, 2022:
A Sinister Halloween Scary Opposites Solar Special
America's Funniest Home Videos: Season 33 Premiere
Schitt's Creek: Complete Series
RBG (2018)
Available October 4, 2022:
The Good Doctor: Season 6 Premiere
The Bachelorette: Complete Season 18
Available October 5, 2022:
Abominable and The Invisible City: Complete Season 1
Mob Psycho 100 III: Complete Season 3
Available October 6, 2022:
Locked Up Abroad: Season 12 Premiere
SurrealEstate: Complete Season 1 Syfy
Available October 7, 2022:
Hellraiser (2022)
Alaska Daily: Series Premiere
Grey's Anatomy: Season 19 Premiere
Station 19: Season 6 Premiere ABC Added
Available October 9, 2022:
To Catch a Smuggler: South Pacific: Season 9 Premiere
Available October 10, 2022:
Grimcutty (2022)
The Rising of the Shield Hero: Complete Season 2 (DUBBED)
Available October 11, 2022:
Chainsaw Man: Complete Season 1 (SUBBED)
Antlers (2021)
Available October 12, 2022:
Available October 14, 2022:
Rosaline (2022)
Dashcam (2021)
Pil's Adventure (2021)
See For Me (2021)
Available October 15, 2022:
Catfish: The TV Show: Season 8
My Friend Dahmer (2017)
Poetic Justice (1993)
The Boy Downstairs (2017)
Available October 16, 2022:
Being Flynn (2012)
Benediction (2021)
Sinister 2 (2015)
Available October 17, 2022:
The Paloni Show! Halloween Special!
Available October 18, 2022:
Duncanville: Final 6 Episodes
Available October 20, 2022:
Annabelle: Creation (2017)
Bitterbrush (2021)
Available October 21, 2022:
Matriarch (2022)
Abandoned (2022)
Wyrm (2022)
Available October 22, 2022:
The Hair Tales: Two-Episode Series Premiere
Available October 24, 2022:
Available October 25, 2022:
The French Dispatch (2021)
Available October 29, 2022:
Available October 31, 2022:
Crimes of the Future (2022)
The Way Way Back (2013)
Movies and TV shows coming to Disney+ in October 2022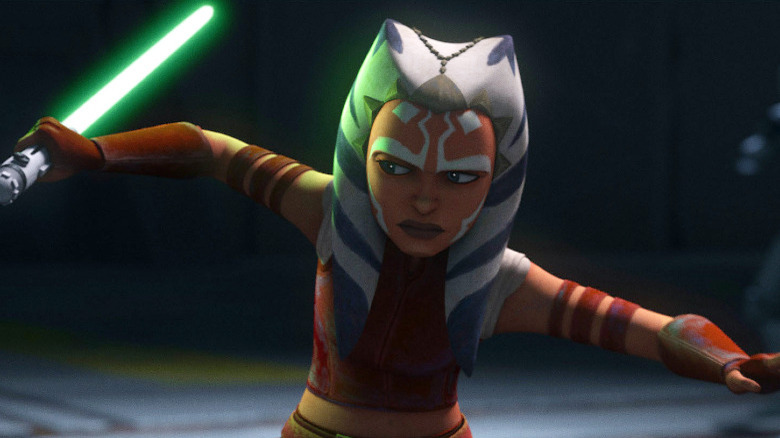 Disney+/Lucasfilm
Available October 3, 2022:
Dancing with the Stars – Episode 3 (Live)
Available October 5, 2022:
Puppy Dog Pals (S5, 1 episode)
Spidey and His Amazing Friends (S2, 4 episodes)
The Simpsons (S33)
World of Flavor with Big Moe Cason (S1)
Zombies: Addison's Monster Mystery (Shorts) (S1)
Shipwreck Hunters Australia – Season 1 Premiere – All Episodes Available
Andor – Episode 5
The Mighty Ducks: Game Changers – Episode 202 "Out of Bounds"
Available October 6, 2022:
She-Hulk: Attorney at Law – Episode 8
Available October 7, 2022:
Calling All Monsters Music Video (Short)
Drumline
The Peanuts Movie
Werewolf by Night – Premiere
Available October 10, 2022:
Dancing with the Stars – Episode 4 (Live)
Available October 12, 2022:
Big City Greens (S3, 4 episodes)
Sofia the First (S1, S2, S3, S4)
Ultra Violet & Black Scorpion (S1, 6 episodes)
The Villains of Valley View (S1, 5 episodes)
Big Shot – Season 2 Premiere – All Episodes Streaming
Andor – Episode 6
The Mighty Ducks: Game Changers – Episode 203 "Coach Classic"
Available October 13, 2022:
She-Hulk: Attorney at Law – Episode 9
Available October 14, 2022:
Into the Woods (Sing-Along Version)
The New Mutants
Available October 17, 2022:
Dancing with the Stars – Episode 5 (Live)
Available October 18, 2022:
Dancing with the Stars – Episode 6 (Live)
Available October 19, 2022:
Alice's Wonderland Bakery (S1, 4 episodes)
Bear in the Big Blue House (S1, S2, S3, S4)
PB&J Otter (S1, S2, S3)
Raven's Home: (S5, 8 episodes)
Spider-Man: The New Animated Series (S1)
The Incredible Dr. Pol (S21)
The Spectacular Spider-Man (S1)
Wicked Tuna (S11)
Andor – Episode 7
The Mighty Ducks: Game Changers – Episode 204 "Draft Day"
Available October 21, 2022:
Available October 24, 2022:
Dancing with the Stars – Episode 7 (Live)
Available October 26, 2022:
Eureka! (S1, 4 episodes)
Star Wars: Tales of the Jedi – Premiere
Sumo Do, Sumo Don't – 2-Episode Premiere
The Mysterious Benedict Society – Season 2 Premiere
Andor – Episode 8
The Mighty Ducks: Game Changers – Episode 205 "Icing on the Cake"
Available October 28, 2022:
Alvin and the Chipmunks: The Squeakquel
Marvel's Hulk: Where Monsters Dwell
Available October 31, 2022:
Dancing with the Stars – Episode 8 (Live)