Would Nana Visitor Return To Play Star Trek's Kira Nerys In The Future? [Exclusive]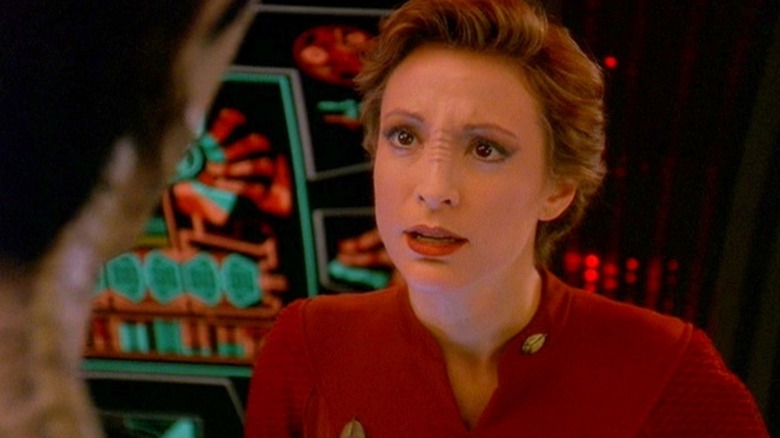 Paramount Domestic Television
The "Star Trek" universe has grown a lot in recent years, with "Star Trek: Discovery" already four seasons in, "Star Trek: Picard" delivering an update on the "TNG" crew, and the advent of the surprisingly delightful prequel series "Star Trek: Strange New Worlds." But if there's one show that can be counted upon to put new twists on all things Trek, it's the animated underdog sitcom "Star Trek: Lower Decks." The series has a reverence for franchise lore that's countered only by its good-natured sense of humor about the long-running saga's sillier aspects. It also has a knack for bringing familiar faces (or, rather, voices) on board.
In this week's episode of "Star Trek: Lower Decks," titled "Hear All, Trust Nothing," the U.S.S. Cerritos crew partners with classic Trek characters from "Star Trek: Deep Space Nine," including Bajoran Colonel Kira Nerys (Nana Visitor) and Quark (Armin Shimerman), the super-capitalist Ferengi who the show reveals finally struck it rich after "Deep Space Nine" ended.
Kira and Quark's return is a treat for fans of that series, as "Lower Decks" is never afraid of stomping on hallowed Trek ground for the sake of good comedy. While Kira shows her leadership skills overseeing trade negotiations alongside Captain Carol Freeman (Dawnn Lewis), Quark ends the episode under arrest for using stolen tech to make his lucrative replicator machine. /Film's Danielle Ryan spoke with Visitor, who played Kira for 173 episodes of "Deep Space Nine" before making her return to the role this week.
Trek is 'meaningful work'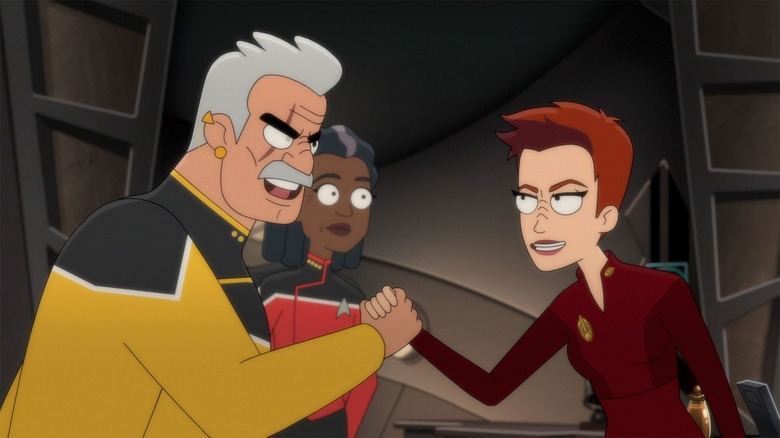 Paramount+
During the interview, Visitor was asked if she was open to returning to the character in the future, and confirmed that she'd definitely be down to play Kira again, be it in live action or animation. "Oh, yes," she enthused, adding, "Yes. I mean, it's very hard to find as meaningful work, I have to say, as something that is created, not only to entertain but also to offer possible views of what we look like in the future." To that end, the actor also explained how the "Star Trek" shows can help the world brainstorm solutions to real-world problems, saying, the franchise "gives people a very safe, non-threatening way to look at new ideas, to look at diversity, to look at what's next," including space travel and engineering innovation.
Like any great Trek crew member, Visitor seems to take an optimistic and rather scientific approach to what "Star Trek" is capable of, and reveals that she's working on a book about the women in STEM who were inspired by the series. It makes sense that Visitor would embrace a return to the role that she calls most meaningful, given that she's seen firsthand – she mentions a visit to the European Space Agency – how its open-minded take on scientific exploration can lead to real-world change.
Though Visitor's return is just a hypothetical at this point, the "Star Trek" world has been bringing back a whole host of fan-favorite characters lately, so the prospect of Kira's return in more than a guest spot doesn't seem impossible. Season 3 of "Star Trek: Picard" is set to bring back almost the entire "The Next Generation" crew, while "Lower Decks" always has a blast with special guests like Visitor and Shimerman.
New episodes of "Star Trek: Lower Decks" air every Thursday on Paramount+.