Playing Peaky Blinders' Bonnie Gold Was A Perfect Fit For Jack Rowan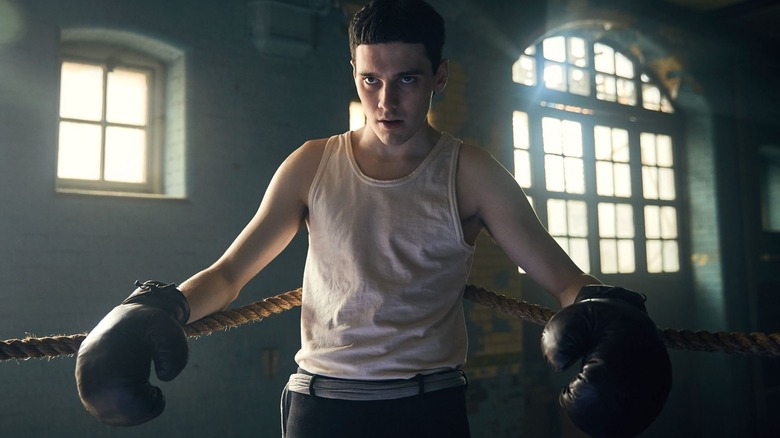 Netflix
In season four of "Peaky Blinders," viewers were introduced to scrappy newcomer fighter Bonnie Gold. Played by Jack Rowan, Bonnie was brought into the story as a bargaining chip between Thomas "Tommy" Shelby (Cillian Murphy) and Bonnie's father Aberama Gold (Aidan Gillen). Aberama continues to help the Peaky Binders after Luca Changretta (Adrien Brody) begins his quest for revenge against the Shelby family and, in exchange for his assassin-related services, Tommy will help Bonnie achieve his dreams of becoming a professional boxer.
For Rowan, the role wasn't as difficult as one might expect. He brought his own experience as an amateur boxer into his interpretation of Bonnie, and it served him well.  As Rowan explained to The Gentleman's Journal, while the role didn't require much of him, there was something undeniably special about it:
"It combines my two passions. It was really just a bonus that the series had already been so successful — because the only thing that really separates me and my character is the era; he's just a kid who likes to fight, and so am I. But Bonnie as a character, isn't really a talker. It's not the meatiest acting role I've ever done. It's more about the look and the attitude."
This role also ended up motivating him to get back into the ring again. "When I got given the part, it gave me proper motivation to train [boxing] again." he shared with NME. "In the past, I had a fight to prepare for. So I almost saw this job as a fight."
Time to travel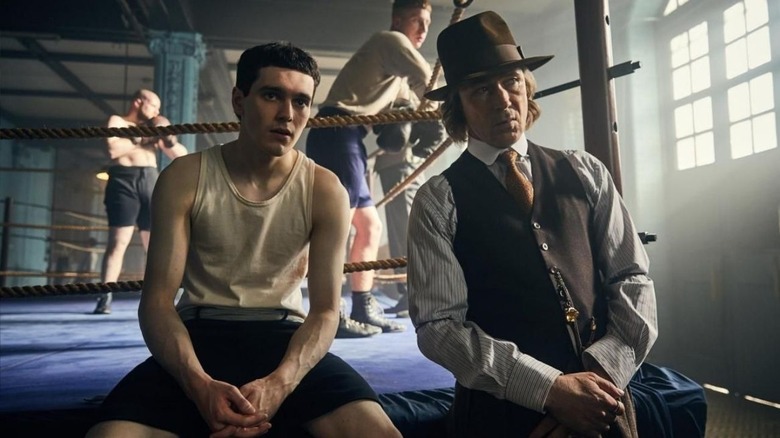 Netflix
Aside from his similarities with the character, one of Rowan's favorite parts of working on "Peaky Blinders"a was how instantly they were transported back in time, giving him a new appreciation for the time period. That said, all roads do lead back to fighting for the young man, as he freely admitted that he would love to have seen how the fights played out back in the day.
"One of my dreams would definitely be to take a time machine back to some of the old fight nights," he admitted to The Gentleman's Journal. "I like the old days when it was just about fighting. Even if I still boxed seriously, I wouldn't be one for the flashy shorts — and, back in the day, it was just about basic boots and leather gloves. I loved trying that out."
Unfortunately, Bonnie's path on the show could only last for so long. As he revealed to Digital Spy, the character's fate was up in the air for a bit. "When I got the part, it was very much sort of see how it goes, as in see if the character is received quite nicely," he shared. "There were aspirations to continue the character, but you know how it is." 
A job conflict ultimately was what cut Rowan's time short, but he's happy that the character got a dignified ending. From start to finish, it seems Bonnie Gold truly was the ideal role and experience for the young actor.