Cool Stuff: The Smile Soundtrack Is Getting A Vinyl Release From Mondo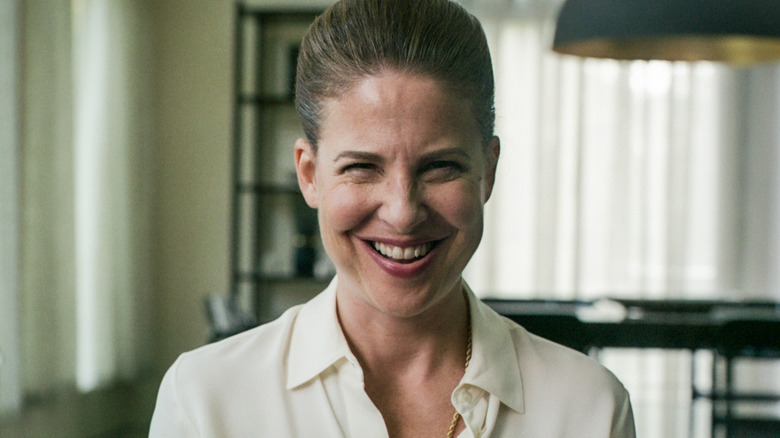 Paramount Pictures
Oh, won't you smile a while for me, reader? We ask this for one very special reason, and that's because the people over at Mondo are releasing the soundtrack for recent horror hit "Smile" on vinyl. Cristobal Tapia de Veer's eerie score is currently available to stream, but why do that when you can have it on vinyl, complete with exclusive artwork?
Thankfully, you don't have to wait to pre-order de Veer's score in a two-disc vinyl set. From the images provided by Mondo, one of these discs will be silver and another will be pearly-white. Both, however, will be covered with sleeves designed by Matt Ryan Tobin. One of these sleeves is a bit more grungy, while another is adorned with some menacing hand-drawn smiles, not unlike the ones Dr. Rose Cotter (Sosie Bacon) sees drawn by her patient Laura (Caitlin Stasey).
Tying this release together is the actual cover for the set. A drawing that resembles those on a hospital pain scale chart is shown slashed open, its mouth being that of a creepy ... well, you get the picture.
A fitting release for a fitting soundtrack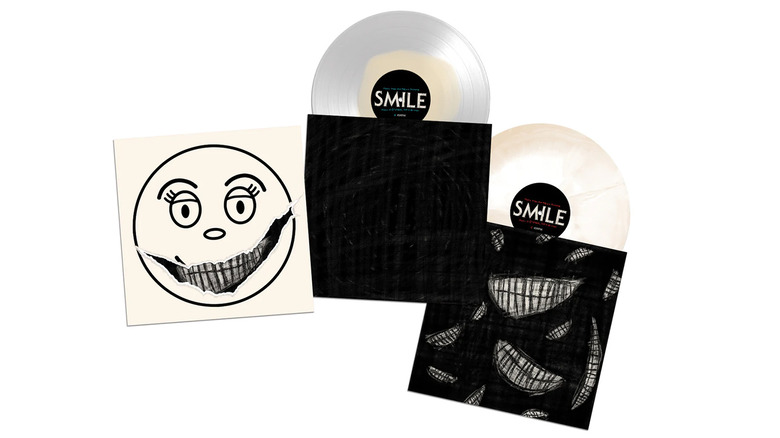 While /Film's Chris Evangelista was a bit mixed on "Smile" in his review, it's hard to argue that one of its highlights was this score. Like the best horror movie themes, its simplicity actually makes the scenes they accompany creepier. Plus, that art really is stellar, continuing the trend of creative marketing for this movie.
"Smile" is now playing in theaters, and Mondo's release of its score is currently available for pre-order here. Check out the liner notes included in the release from film music writer Charlie Brigden below:
Smile is graced with a unique and terrifying score by Chilean-Canadian composer Cristobal Tapia de Veer ('Utopia', 'The Girl With All The Gifts'), who brings his acclaimed mysterious and otherworldly style to provide a fearsome musical underscore for Rose's frightening journey. The score is full of dreamy synth tones and ethereal drones, lulling you into a false sense of security before unleashing a wall of piercing metallic tones stabbing your eardrums and psyche. Vibrating and rumbling whalesong-like colours make you feel that you're being dragged onto a new plane of existence, and all you can do is ride the wave – and remember to SMILE.