Sideshow's Superman: Call To Action Premium Format Statue Comes To The Rescue [Exclusive]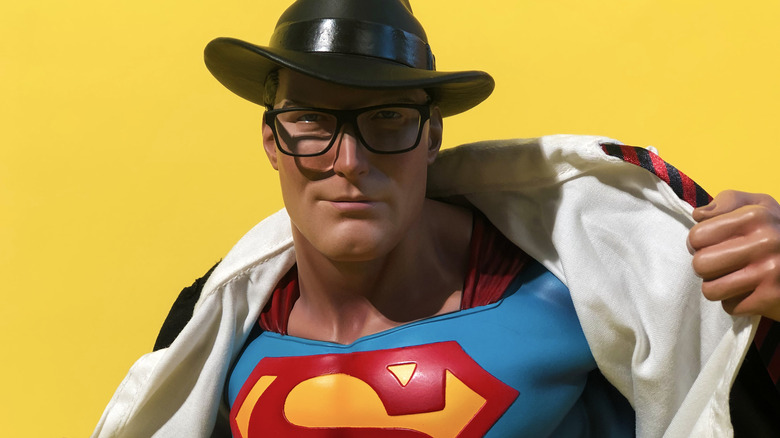 Max Evry
Late last year we took a detailed look at Sideshow Collectibles' Batman Premium Format Figure, which was part of the company's ongoing DC collection where their artists put their own spins on iconic characters, including Superman. However, they have also created a statue that provides a more traditional interpretation of the Man of Steel as he transitions from his Clark Kent persona to the big blue Boy Scout we all know and love. 
The Superman: Call to Action Premium Format Figure brings together the signature look of the hero sans any of the more modern texturing and stylization. It depicts Clark Kent in an action pose, running while opening up his Daily Planet work clothes to reveal the Superman emblem underneath, and includes a switch-out head so he can be in full Supes mode. You can even imagine that the red underwear is underneath Clark's pants if you're a traditionalist. The portrait and body evoke a perfect combination of Christopher Reeve from the Richard Donner movies as well as the John Byrne comics run from the mid-1980s (which was, incidentally, inspired by Reeve). The folks at Sideshow have provided us with the Call to Action statue (retail price $600) so we could do another one of our detailed unboxings, so let's get to it. 
The art box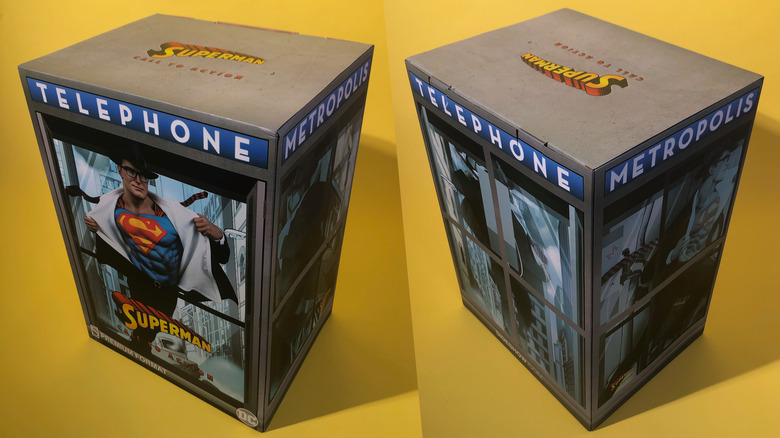 Max Evry
This has to be one of the best uses of an art box yet from Sideshow, taking full advantage of the fact that the dimensions are the same as the phone booth Superman often uses as his own personal fitting room. While the front of the box shows the statue itself emerging from the booth, the other three sides have artwork depicting previous stages of the clothes change. 
Packaging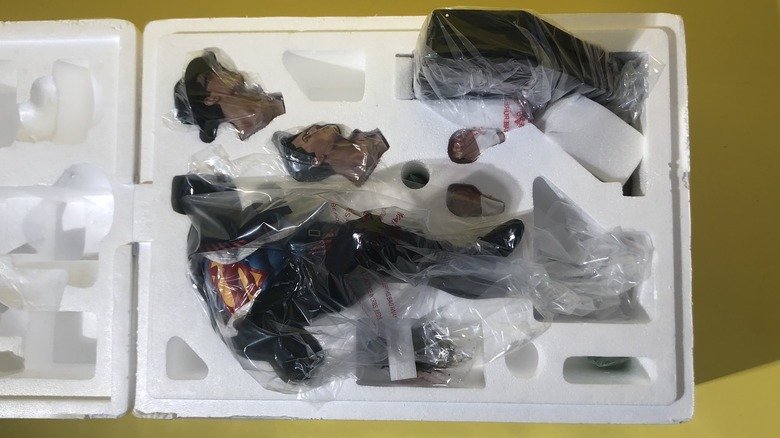 Max Evry
As far as packaging goes this one keeps to Sideshow standards of excellence, with extra cushions provided for more delicate items. It is also a thoughtful time saver to already have the clothes on the body and ready to go, with no need for an extra secret compartment to keep those cloth items flat. 
Base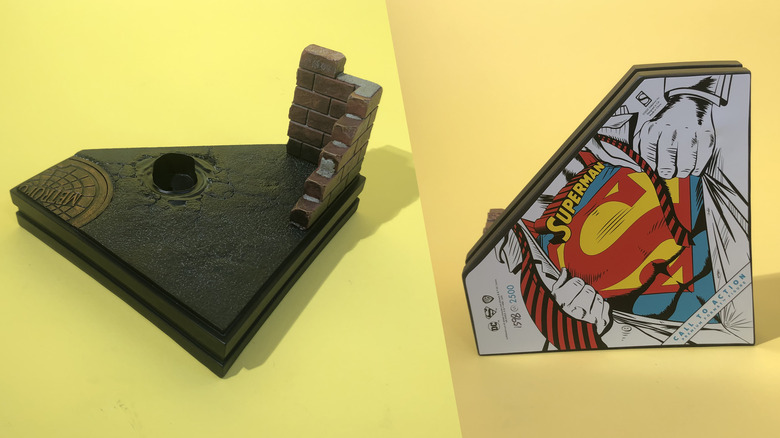 Max Evry
The base is a perfect artistic representation of Superman's environs, with a little bit of brick, a hint of a manhole cover with the Metropolis name, and a puddle for him to step in. It's all done in the shape of his world-famous "S" symbol, while the underside features artwork clearly inspired by artist John Byrne's alternate cover to his landmark "Man of Steel" comic from October of 1986. 
Splash accesory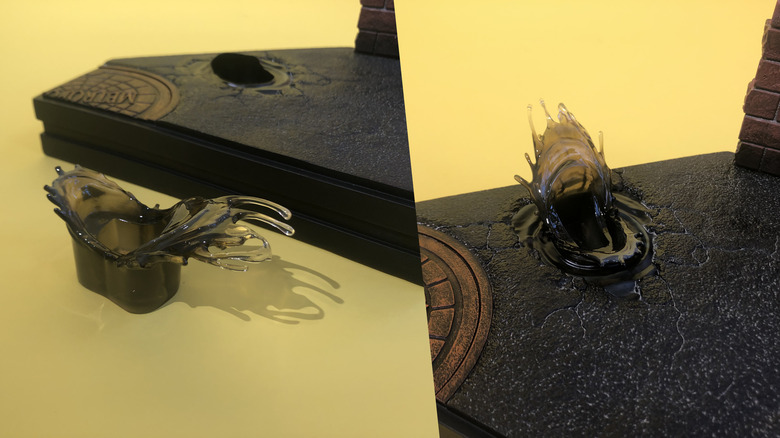 Max Evry
While the rest of the statue is made of polyresin, this carefully colored water splash insert appears to be translucent plastic, as one might expect from a more delicate item like this. It also happens to be the piece that the entire weight of the body rests on, so it needs the durability of plastic. 
Figure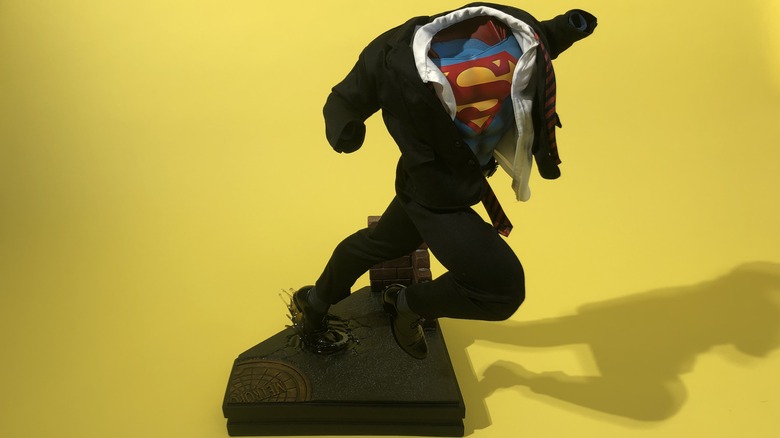 Max Evry
Once you key the figure into the splash puddle it is pretty remarkable how the weight is carefully distributed to hold up something that seems to almost defy gravity. As you can see, the remaining three key holes are very accessible and require little maneuvering. 
Hand attachment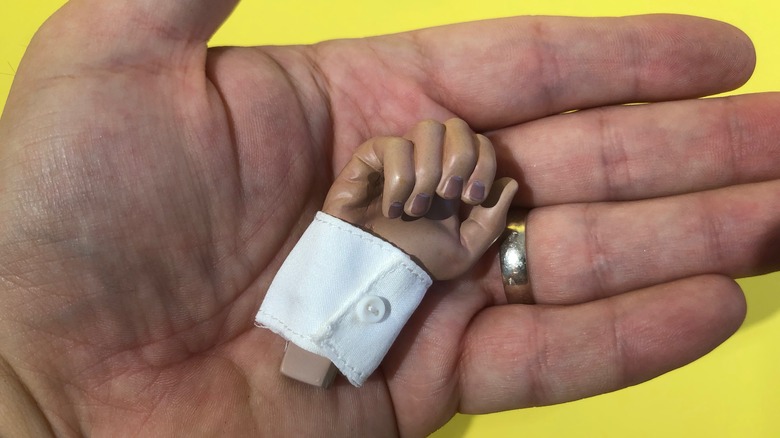 Max Evry
Here's a quick little detail on one of the two hand attachments, which come with the shirt cuffs attached. There's even tiny little buttons carefully sewed on, even though you might never see those from the angle they're attached from. 
Head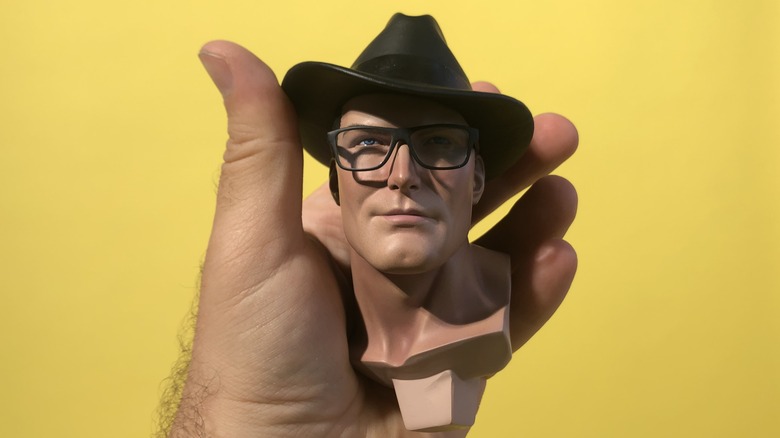 Max Evry
Here's the "main" head of Superman still donning his Clark Kent glasses and fedora, but even with the disguise it's hard to hide that bulging neck and superhero chin. As mentioned in the intro, the portrait bears a strong resemblance to the late Christopher Reeve, who portrayed Superman onscreen from 1978 to 1987 in four films of varying quality. Beyond that, though, sculptor Matt Black has captured the essence of the character's strength as well as his humanity, as evidenced by that vague smile as he heads into battle. 
Full reveal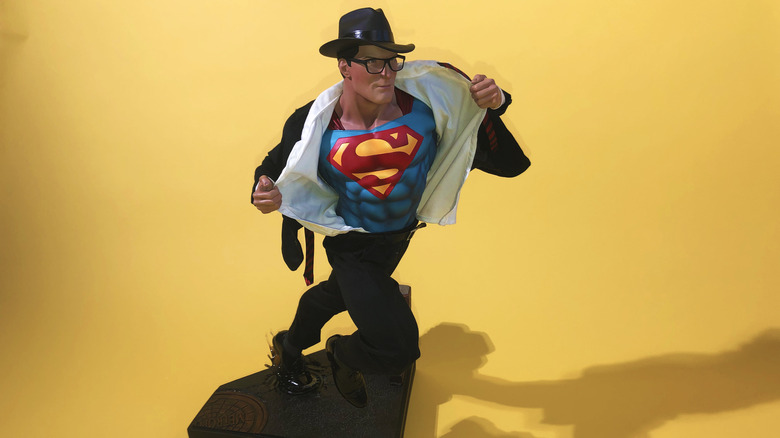 Max Evry
Seeing Supes in his full glory like this is enough to make one wish for Warner Bros. to just scan this baby right into their hard drives and make an animated movie that looks just like this. It really feels like a definitive version of the character, ripped straight from the deepest levels of the Superman myth. 
Reverse view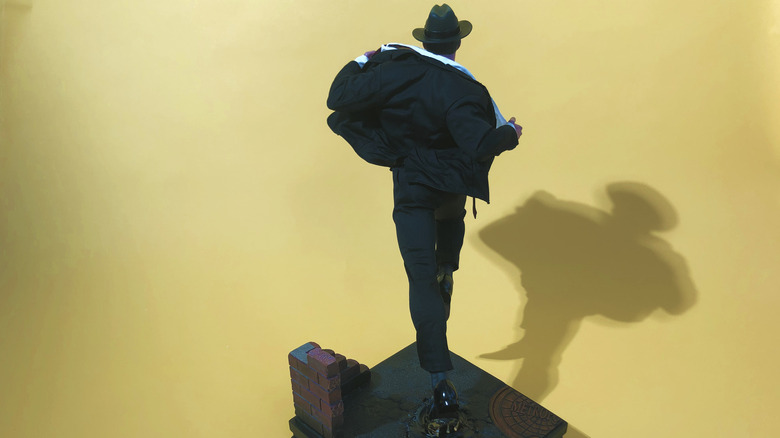 Max Evry
It's arguable that you could even tell this is specifically Superman if you only saw this statue from the back. The costume fabrication by Tim Hanson goes a long way to making this look like a man taking off a suit jacket and not a doll with cheap cloth on it. 
Profile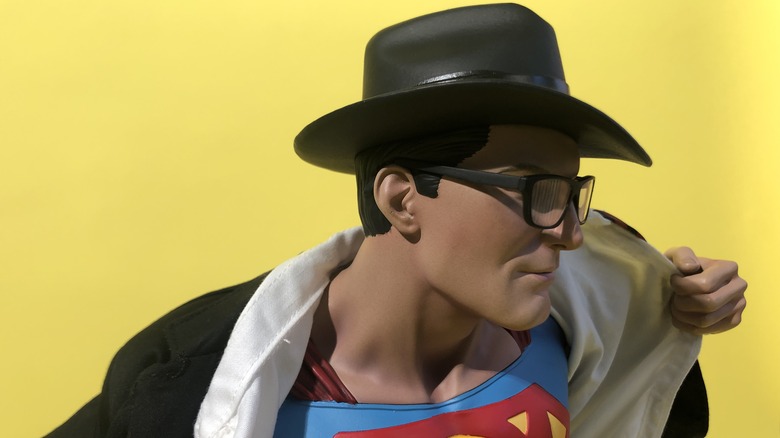 Max Evry
You can see even more hints of Christopher Reeve in the profile, which is sharp and dynamic. The glasses also have a level of realism to them you may not be used to in a "toy," although this is much more akin to a commercial work of art. 
Chest emblem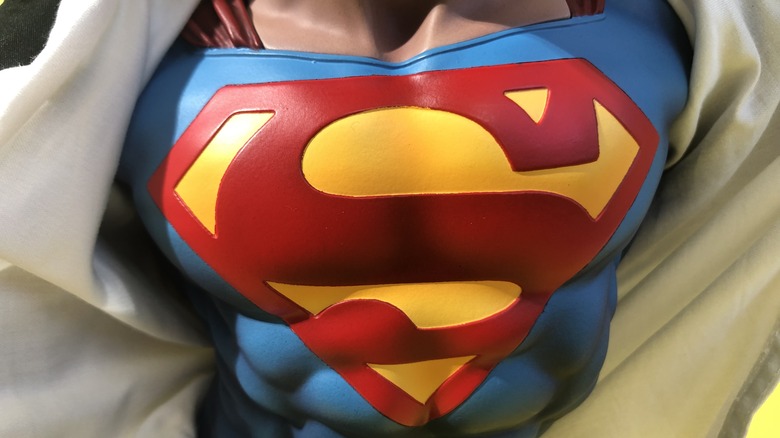 Max Evry
You've gotta love the way the "S" icon is subtly raised for maximum pop effect. You can also see some subtle shading along the muscle definition courtesy of painter Bernardo Esquivel. 
Hands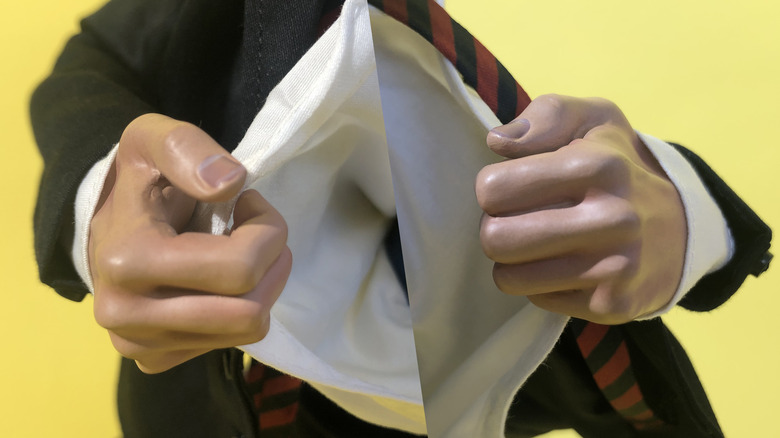 Max Evry
Hands are often the most challenging part of any work of art, and here they are appropriately realistic and powerful. Their pose also perfectly grips the cloth, which has some extra bendable material sewn into it so you get a better interaction.
Belt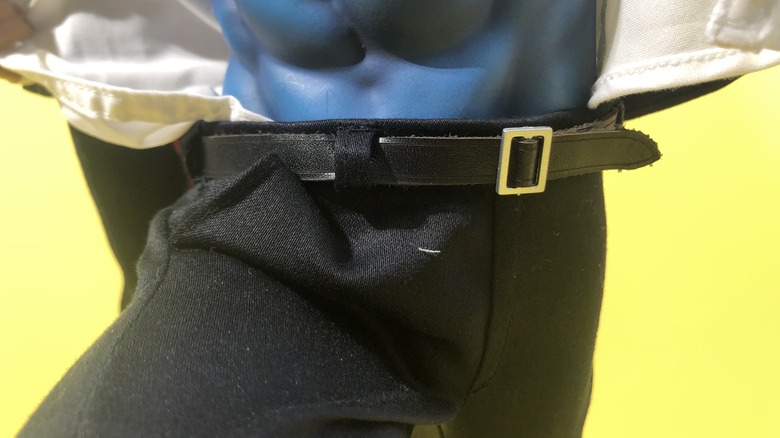 Max Evry
The belt loops around the pants perfectly, and really goes a long way to selling the scale of the clothes, which is no small achievement in a statue that only stands 19.5" inches tall and 13" inches wide. The stitching on everything here is phenomenal. 
Shoes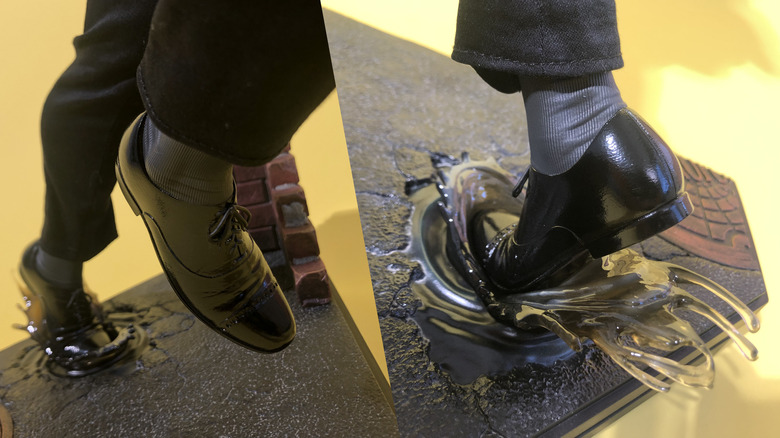 Max Evry
Speaking of amazing craft work, here are the leather formal business attire shoes that Clark wear. Normally, the boots or other footwear on a statue like this are fine but unremarkable, but these are really exquisite in both texture and shine. Even the socks have carefully detailed folds.
Alternate head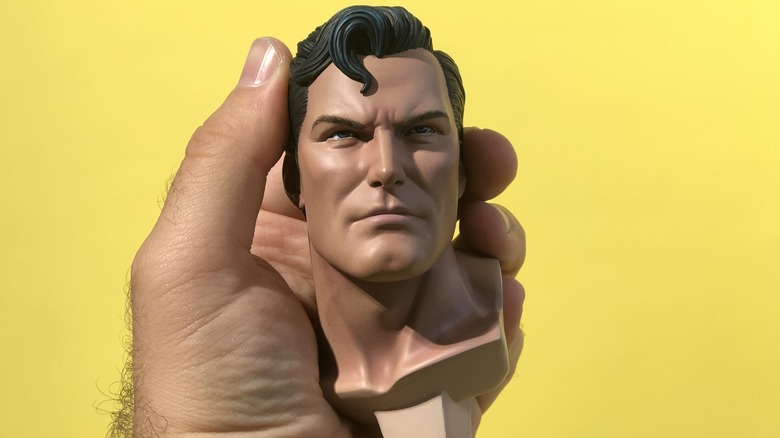 Max Evry
Unlike some Sideshow statues where the alternate portrait is strictly for early bird purchasers who get in on the Exclusive edition, this extra head comes standard with the Limited Edition which consists of 2500 statues produced altogether. Besides being a more serious look to the square-jawed hero, it also adds a tint of blue to the hair to give the piece an extra comic book-y flair. 
Alternate full reveal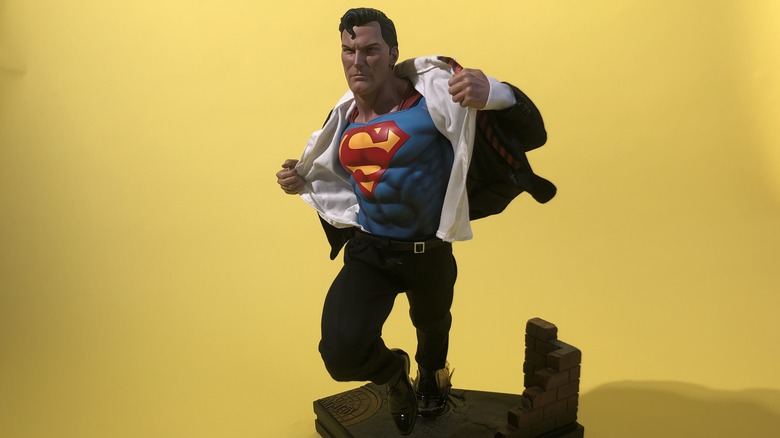 Max Evry
Once you place the head on the statue it gives it a totally different (but still powerful) vibe. Both heads have a natural flow with the entirety of the piece, which makes the recommend here for Superman fans pretty strong indeed. 
Statue of steel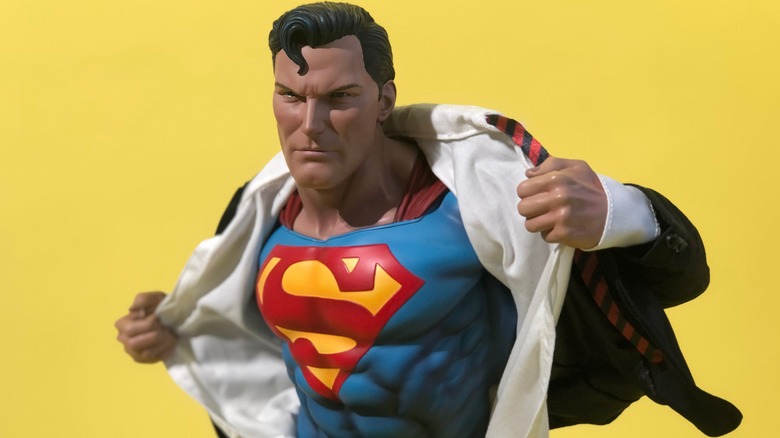 Max Evry
Let's face it, if you've gotten this far in the unboxing you know by now what an exceptional piece the Superman: Call to Action Premium Format Figure really is. While Warner Bros.' DC division diddles around on what they're going to do with the Man of Steel movie-wise, Sideshow has shown how to bring the character from the page to real life with both respect and dynamism. That's gotta give a comic book fan a little beacon of hope, right?