The Rings Of Power Episode 6's Epic Battle Scene Has An Indiana Jones Connection [Exclusive]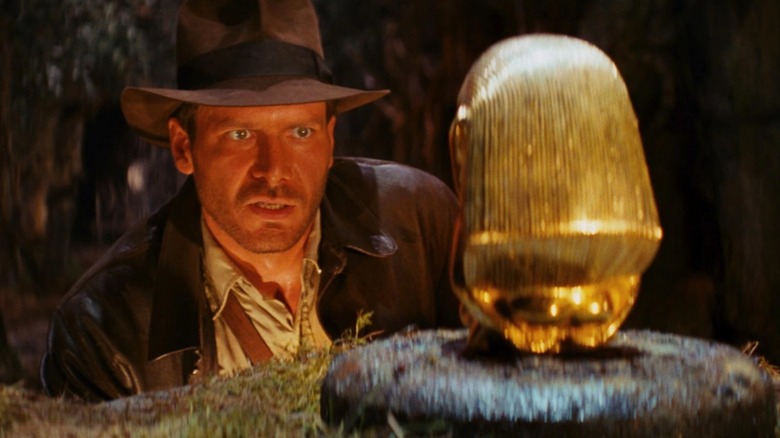 Paramount Pictures
Warning: spoilers ahead for "The Rings of Power" episode 6.
"The Lord of the Rings: The Rings of Power" was all action this week with an episode that saw our Middle-earth heroes engage in not just one major battle, but several. "Udûn" starts with a looming orc army and ends with the epic eruption of Mount Doom, and every moment between brims with either action or the anticipation of action. The episode was directed by Charlotte Brändström, who has previously helmed episodes of "Outlander" and "The Witcher," and it includes some of the show's most impressive visuals and strongest emotional beats to date.
It also, apparently, includes a surprise connection to another major franchise. In an interview with /Film's Vanessa Armstrong, VFX producer Ron Ames revealed that the episode got a boost from an unlikely hero: Indiana Jones.
"In this particular case, everything was completely planned," Ames says of the battle sequences' use of special effects, "led by [director Charlotte Brändström] and our second unit director, Vic Armstrong, who I love." Ames then offers a surprising aside, saying of Armstrong, "He is the most famous stuntman in the world. He is Indiana Jones." This isn't just a flattering comparison: Armstrong actually is the stunt double who stood in for Harrison Ford in the "Indiana Jones" films, bringing some of the most famous action scenes of the past several decades to life.
The show's crew includes an action legend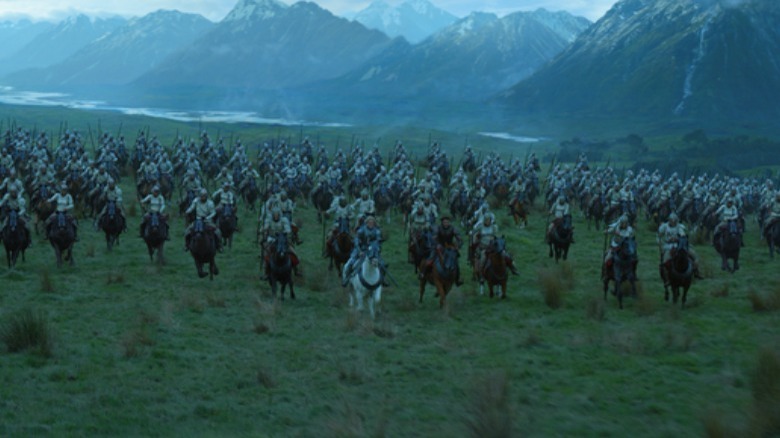 Prime Video
Back in 2011, the Guinness Book of World Records considered Armstrong the most prolific stuntman of all time. If anyone knows action, it's this man, who has worked as a stunt coordinator or performer in over 100 projects, including several James Bond films, superhero tentpoles like "Thor" and "The Amazing Spider-Man," and movies from filmmakers including Martin Scorsese, Paul Verhoeven, David Lynch, and of course, Steven Spielberg. While Armstrong isn't credited for stunt work on "The Rings of Power," he does have the title of "action director" on the show's first two episodes, and has served as the second unit director on all six episodes to date.
As random as the "Indiana Jones" connection may be, it's unsurprising that a seasoned action pro worked on the sequences in "Udûn." The episode's battle — and that great chase on horseback — come together stunningly in an hour that delivers finale-level action two episodes before the season's end. "Vic is really just this classic British filmmaker and so much fun to be with," Ames says, describing one of his scenes in this episode as "a straight up classic British horse battle."
An impressive team and cutting edge tech brought Udûn to life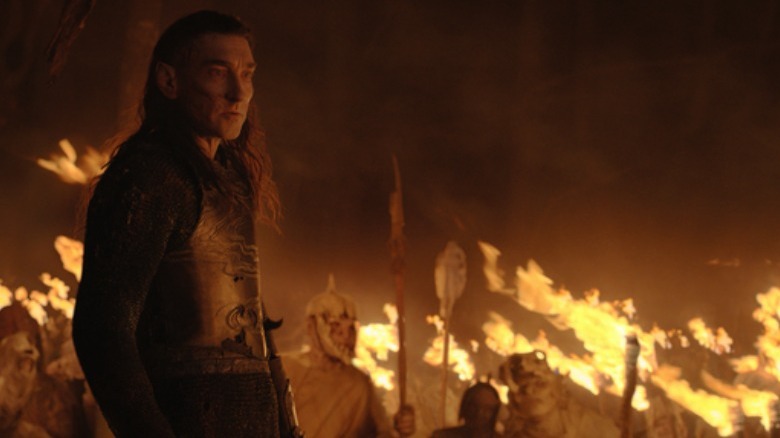 Prime Video
The VFX producer also explained that the sequence came to life via cutting-edge pre-visual storyboarding, saying, "We broke it down beat by beat, and we did that using super modern techniques from virtual production — we were using virtual cameras with game engine technology to lay it out and storyboard it." And of course, in a full circle moment, the stunt team was also heavily involved in the planning. "We also used old fashioned methods and just got out there with a camera and through each beat with the stunt people," Ames says.
Too often, single artists seem inclined to take all the credit for a project that goes right, so hearing the "Rings of Power" team shout each other out at every possible turn is refreshing. After all, it takes a village to make something like this week's episode of the show: a village the includes, among others, effects coordinators, stunt people, and Indiana Jones.