Luthen's Ship In Andor Appears To Borrow Elements From Abandoned Millennium Falcon Concepts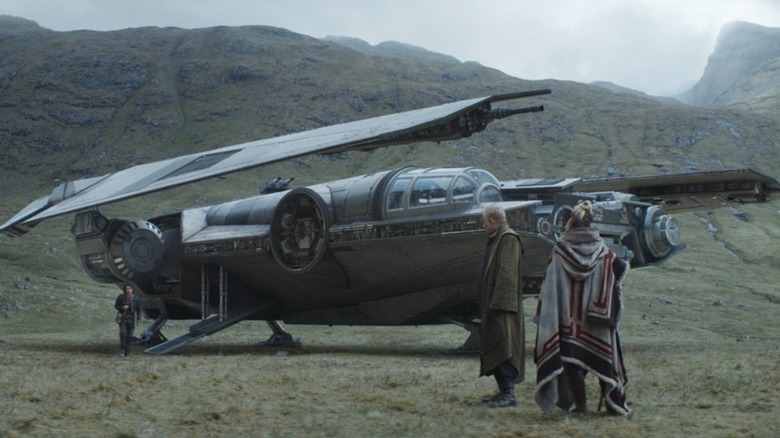 Lucasfilm
In the fourth and latest episode of "Andor," "Aldhani," viewers got another look at the inside and outside of a new "Star Wars" ship, piloted by Luthen Rael (Stellan Skarsgård). It's the same ship we saw at the very end of the third episode, "Reckoning," but Luthen and Cassian Andor (Diego Luna) were in such a hurry to get off Andor's planet, Ferrix, that they didn't have much time to stop and admire the ship's design. However, the inside of the cockpit somewhat resembles that of the most famous "Star Wars" ship of them all, the Millennium Falcon. And when Andor and Luthen set down on a new grassy planet, the titular Aldhani, in episode four, things have calmed down a little and we have a few more seconds to see the outside of the ship.
It turns out the ship's design may have borrowed a few elements from some redesigns of the Millennium Falcon that were worked up for another prequel, "Solo: A Star Wars Story," back while it was in preproduction. StarWars.com gave a behind-the-scenes glimpse of these designs back in 2018 when "Solo" was in the middle of its opening week in theaters. James Clyne was credited as a visual effects art director for ILM (Industrial Light & Magic) on that film, and he shared some of his early concepts, many of which involved filling in the open mandible on the front of the Millennium Falcon. Below, you can see some examples.
Burgers and space antiques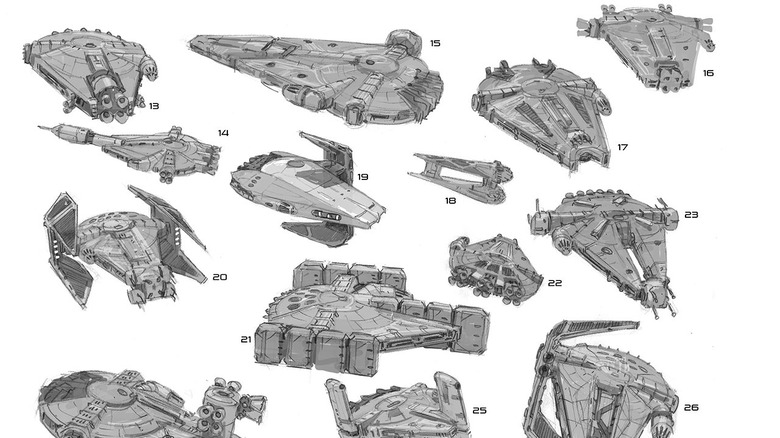 StarWars.com
You'll notice that one of the drawings shows the Falcon with wings like a TIE Fighter. We don't have any official confirmation that these designs influenced that of Luthen's ship, but given the overall similarities with the cockpit, hull, and wings, it's not a stretch to think that they did.
We saw in episode four that Luthen's antique shop on Coruscant is packed with Easter eggs and that it pulls from many different alien cultures. Clyne doesn't appear to be listed as a crew member for "Andor;" Toby Britton, Gordon Champ, and Su Whitaker are among the names handling the series art direction. Yet if those old designs for "Solo" were being done in-house at ILM, someone there or at Lucasfilm could have very well dusted them off and pulled inspiration from them, much like Luthen himself harvesting antiques.
Back in 2020, one of the things we learned from the "Star Wars: Identities" exhibition — where Ralph McQuarrie and Joe Johnston 's original concept art was on display — was that the Millennium Falcon's asymmetrical cockpit design was itself leftover from an earlier ship. Funnily enough, George Lucas is said to have based the Falcon's radial shape on a hamburger, which goes along with what StarWars.com says about them "starting with basic shapes and adding exhaust ports and other myriad details to create a piece of machinery that seemed like a believable method for traversing the stars."
All I can say is, I'm still waiting for some enterprising (sorry, wrong franchise, I meant falconing) chef at "Star Wars:" Galaxy's Edge or some such place to put a Millennium Falcon burger on the cantina menu. In the meantime, "Andor" is streaming on Disney+.