How Howard Hawks Cracked The Code On Making Marilyn Monroe A Star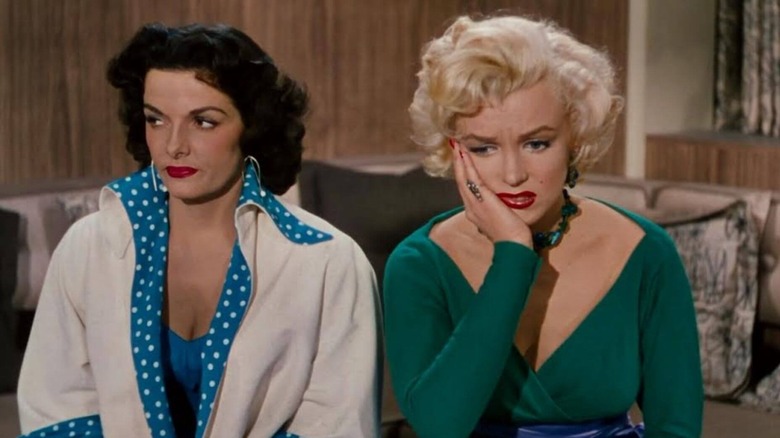 20th Century Studios
Marilyn Monroe may be the biggest Hollywood star of all time, but everyone started somewhere. The actress spent years taking minor roles before she finally landed a lead. It took the keen eye of director Howard Hawks, known for such hits as "The Big Sleep," to truly see Monroe's talents. Her roles in Hawks' comedies set the tone for the rest of her career, including all of her most notable films.
Every actor has a breakout role or two before they blow up. Some of the roles that got Monroe noticed were under the direction of major Hollywood names like John Huston and Joseph Mankiewicz. The actress had a small speaking role in the 1950 film "The Asphalt Jungle" as Angela Phinlay, the mistress of a murderous lawyer. The same year, she sparkled as the aspiring showgirl Miss Casswell in "All About Eve." Monroe earned these parts with the reluctant help of Darryl F. Zanuck, the head producer at 20th Century Fox at the time.
Hawks first caught a glimpse of Monroe in "Asphalt Jungle" and was immediately impressed — so impressed that he gave her a major supporting role in his 1952 rom-com, "Monkey Business." This was Monroe's first time as a major player in a comedy, and it gave Hawks a better idea of where her talents lay. He realized that Monroe was much better suited for rom-coms than melodramas. The director told Zanuck to re-think the roles that he cast Monroe in, but his warning fell on deaf ears — at first.
Monroe wasn't made for noirs — she was a comedian!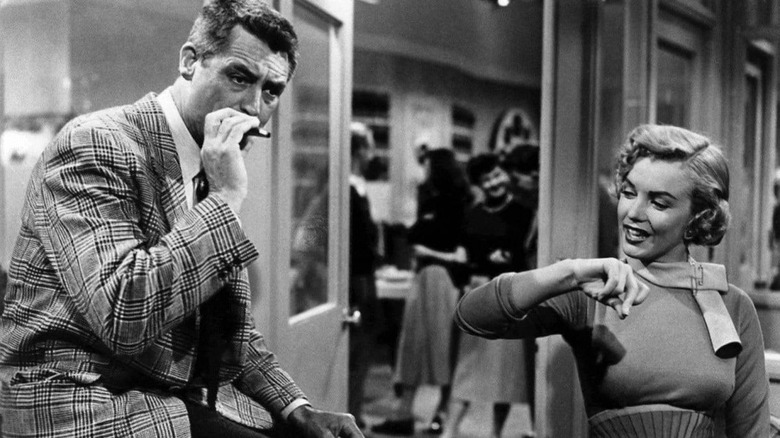 20th Century Studios
The same year that "Monkey Business" was released, Monroe also had a starring role in the gritty mystery "Don't Bother to Knock." Sadly, the film was not met with very much interest from fans or critics. Monroe's star was growing rapidly, but the attendance of her movies didn't yet reflect her popularity.
After "Don't Bother to Knock," Monroe was set to play a femme fatale in the high-budget noir, "Niagara." Zanuck was concerned that the film would fall flat after the failure of "Knock." He finally decided to revisit his conversation with Hawks, who had previously warned the producer against casting Monroe in dramatic roles. "Howard, we ought to have a great big star here and we're losing money," Zanuck confided in the director (via Marilyn Monroe).
Hawks had a very simple solution for Zanuck's problem — the same one he had offered in 1952. "You're making realism with a very unreal girl," he explained to the producer. "She's a completely storybook character. And you're trying to make real movies." Hawks knew that Monroe's persona was larger than life, and Zanuck was finally ready to listen to his advice. "What should she do?" he asked Hawks.
Luckily, the director had a project up his sleeve that would be a perfect fit for Monroe, and Fox already owned the rights to the story. Even so, he still had to convince Zanuck that Monroe was the right woman for the role.
But Fox took some convincing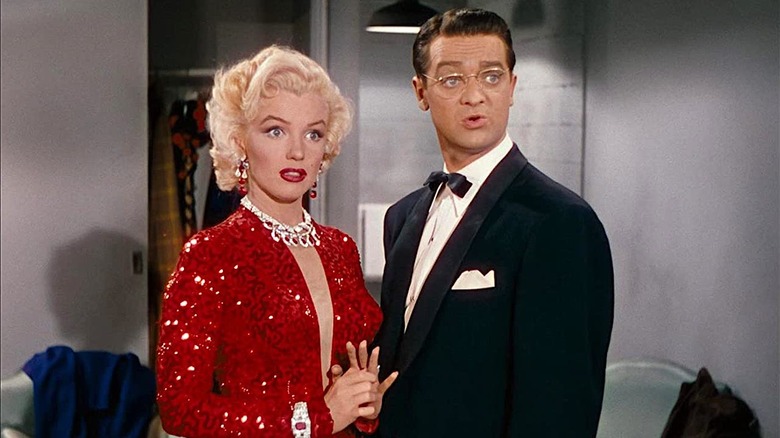 20th Century Studios
At the beginning of her career, Monroe was cast mainly in noirs and melodramas, but Hawks saw a different kind of potential in her. The filmmaker thought she would be better suited for a musical under his direction. Zanuck, however, took a bit more convincing.
It was Hawks himself who suggested casting Monroe as Lorelei Lee in "Gentlemen Prefer Blondes," and Zanuck was resistant to the idea at first. The film was intended to star Betty Grable, for one thing. For another, the producer had doubts about Monroe's musical capabilities. "She couldn't do that," Zanuck insisted. Thankfully, Hawks had more faith in the actress. "The hell she can't," he replied.
The director had to go one step further to convince Zanuck that casting Monroe would be a good idea. He assured the producer that he could secure Jane Russell, a personal friend of his, for the other leading role. Russell was a huge star at the time, and her films were often in high attendance. With the producer satiated, Hawks began working on one of the most popular films that he or Monroe ever made.
"Gentlemen Prefer Blondes" proved Monroe's talents as a comedic actress once and for all. From there, she was cast in her most iconic rom-coms like "The Seven Year Itch" and "Some Like it Hot." It was Hawks who first truly discovered Monroe's niche and, for that, cinematic history is forever in his debt.